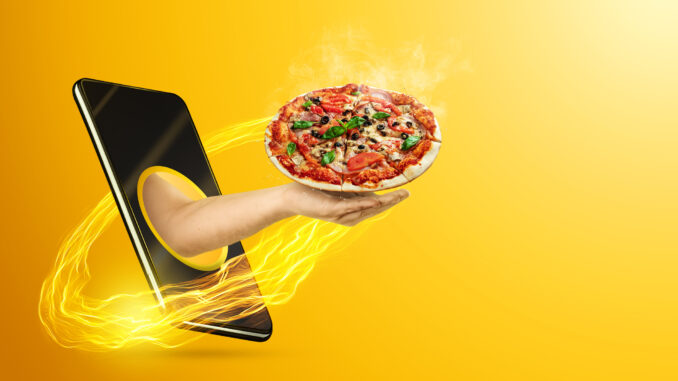 The second installment of The New Normal for Restaurants study* conducted by Philip Daus, Dave Clement, and Patrick Ding of Simon-Kucher & Partners, a global strategy and marketing consulting firm, and Lucid, a programmatic research technology company, revealed that consumers indicate they will spend twice as much per month at restaurants that meet cleanliness standards than at those that don't meet cleanliness standards. The study compares pre, during, and post-crisis trends and topics such as consumption trends and order channel evolution, restaurant visit criteria (including the evolving importance of sanitation and food preparation), and willingness-to-pay.
Digital proliferation during COVID-19 lockdowns will continue after the pandemic
During the pandemic, apps/websites peaked to 31 percent of all orders (up from 23 percent pre-pandemic) and is expected to remain elevated even once all lockdown orders are lifted at 27 percent of all orders, the same as drive-thru orders. Utilization of app/website ordering does vary across demographics — urban, upper income and young consumer segments anticipate ordering via digital platforms most often after COVID-19 with more than 30 percent of their restaurant orders being made via website/app. Restaurant websites and apps will be more prominent than 3rd party apps (57 percent vs. 43 percent), especially amongst quality-focused customers.
Other consumption means that are expected to remain elevated post-pandemic include delivery and curbside pick-up, though their prominence will drop from their pandemic peaks. Additionally, consumers indicate that picking up food in common spaces such as apartment lobbies and city centers is increasingly important to them when balancing convenience and health and safety.
Philip Daus, Managing Partner and head of the North American Restaurant Practice at Simon-Kucher, says, "Interestingly, due to the increase of delivery and curbside pick-up channels, another factor that has gained significantly in importance is food temperature. This implies that companies with their own fleet infrastructure can now create a true competitive advantage. It also gives rise to new business models, such as 'virtual food courts' as a group of restaurants brands that relies on their own delivery fleet, creating a superior customer experience."

Restaurant visit criteria continues to evolve as sanitization and food temperature become more important
Sanitization standards, which did not rank highly prior to the pandemic, remain a top purchase criteria suggesting this value driver is here to stay as a result of COVID-19. The most important sanitization practices center around employee cleaning processes: hand sanitizer for employees, employee handwashing, and surface cleaning frequency.
Food temperature has increased in importance over the course of the pandemic, reflecting the increase in delivery, app and alternative channel ordering and consumption which drives awareness of temperature.
"Innovative business models such as delivery as a service, ghost kitchens, and virtual brands can help companies grow profitability while meeting new demands of consumers. The key will be understanding how consumer preferences and needs vary by segment – age, income, urbanicity, identifying where these consumers are located and differentiating these channel strategies accordingly," explains Dave Clement, Partner and industry expert out of Simon-Kucher's New York office. "The good news for restaurants is that the importance of price has decreased relative to other purchase criteria and there is incremental willingness-to-pay for convenience and cleanliness."
Increased willingness-to-pay is expected post-pandemic
When asked to evaluate the importance of various restaurant visit criteria, price of menu items had notably decreased in importance, indicating that consumers now value cleanliness and sanitation more than cost. Due to the shift in visit criteria, consumers also indicate post-COVID-19 willingness-to-pay will be six percent greater than pre-COVID-19 willingness-to-pay. The increase in willingness-to-pay, which varies by region and customer groups, will be most prominent at fast food and fast casual restaurants (as compared to casual dining and fine dining restaurants).
"There are a lot of opportunities when it comes to how brands think about their delivery pricing structures," says Daus. "We've found that consumers react better to menu price inflation than to an increase of delivery fees, however there are some menu items – typically the traffic drivers or hero items – with high price recollection and high price sensitivity that need to be treated very carefully. Overall, the trend towards digital and a change in channels opens the door to new, exciting pricing strategies for restaurants."
Complete study findings are available upon request.
*About the Study:
The New Normal for Restaurants: Consumer Behaviors After COVID-19  Lockdowns study was conducted by Simon-Kucher & Partners and Lucid between November 19 – November 24, 2020 . These insights were developed based on results of a US survey of 577 restaurant consumers representative of US demographics. Those focus was on the QSR and fast casual restaurant categories.