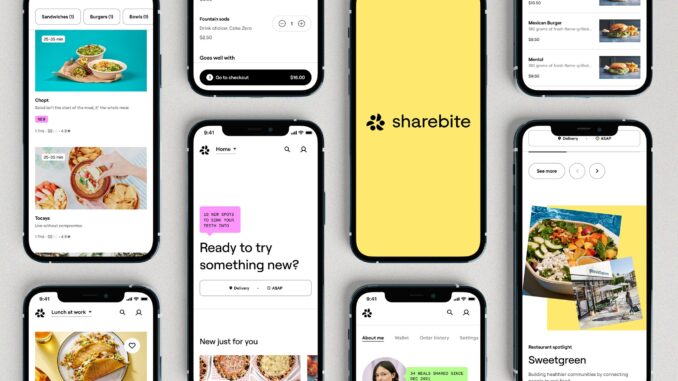 With a tightening labor force, companies are increasingly looking to augment employee benefits and food is a leading choice for driving employee well-being and fostering high-performing cultures, especially for global companies and hybrid work models. Corporate client food ordering and benefits platform Sharebite has reportedly closed a $39 million Series B financing round to expand its footprint and launch products that serve the evolving needs of these modern workplaces. This new investment rounds brings the company's total funding to $56 million.
Founded in 2015 by Dilip Rao and Mohsin Memon, New York-based Sharebite bills itself as the most comprehensive corporate food ordering platform in the United States. The platform is designed to help companies centralize and simplify food ordering and expense management for employees who work in offices and remotely. Sharebite also wears a philanthropic hat. According to the company, every transaction supports a meal donation to food-insecure families via Sharebite's non-profit partners, including City Harvest and Feeding America.
The Series B investment was led by technology investor Prosus. This investment marks Prosus' entry into the United States' food tech space, as Sharebite joins a leading portfolio including several of the world's largest food tech companies. Additionally, the round was backed by Fiserv and Contour Venture Partners, along with existing investors, Reign Ventures, London Technology Club, Packy McCormick's Not Boring Fund, and others.
Sharebite's enterprise-focused technology enables companies to easily deliver food to employees and manage expense allocation across all levels of the organization. During the COVID-19 lockdown, Sharebite supported local restaurants by waiving all commission fees and it tripled its donations to New York City's largest food rescue organization, City Harvest. It also coordinated the delivery of nearly one million lunch orders from local restaurants to first responders and frontline workers at every New York City hospital.
"Since day one, our technology was purpose-built for companies as an enabling mechanism for maximum employee engagement," says Dilip Rao, CEO & Co-founder of Sharebite. "Our Series B funding round enables us to further accelerate our market share within the highly profitable corporate segment. "With the backing of world-class partners like Prosus, along with Fiserv, Contour Ventures, Reign Ventures, and others, we will launch new products and optimize our offering to help companies create a better place to work for employees, with food benefits."
Sharebite, which currently employs approximately 150 people, serves such corporate clients as Activision Blizzard, WeWork, Neuberger Berman, and Harry's, by centrally managing employee food ordering and facilitating contactless deliveries at designated drop-off points inside office buildings. In early 2021, Sharebite launched its first fintech product called Passport which enables companies with hybrid work models to equitably provision meal allowances to employees so that they can purchase meals at any restaurant they choose.
Sharebite restaurant partners benefit from the economies of scale associated with preparing and delivering large quantities of orders in batches ordered in advance. The company reportedly seeks to enable its corporate clients to save money, inspire workforces, support local restaurants and commit to helping the community, which, at least on the surface, would appear to be both an economically worthwhile and socially redeeming goal.