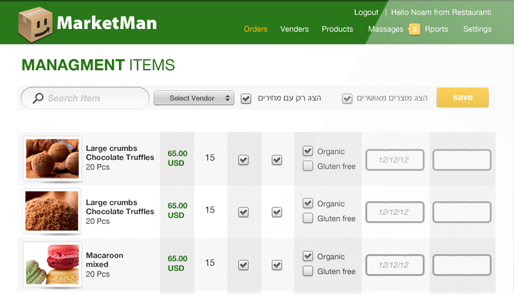 While technological advances have vastly improved front-of-house operations, back-of-house operations have largely remained stagnant. Many restaurants continue to be reliant on outdated phone, mailed or even faxed order forms and invoices, slowing down restaurant operations. Many continue to engage in antiquated processes, including sourcing inventory by word of mouth, paying with checks and ordering from up to a dozen different suppliers.
One next-generation solution designed to seamlessly connect the silos between operator and vendor through streamlined software is MarketMan. Founded in Tel Aviv, Israel in 2013, MarketMan, which is said to have more than 2,000 customers, has announced that is now building on its rapid Middle Eastern and European success through partnerships with major restaurant groups in the U.S. market.
The solution provider has even moved its headquarters to New York City.
Among its initial success stories in the U.S. market is Mr. Chicken, an 8-unit U.S. based restaurant chain, which, using the solution, has unified and streamlined procurement and inventory. With Square's POS platform enabled through MarketMan, Mr. Chicken operators get access to advanced analytics showing them real-time costs while simultaneously automating inventory orders through suppliers like U.S. Foods. These small changes have reportedly eliminated vast amounts of time spent reviewing inventory.
According to a company spokesperson, MarketMan has enabled its restaurant clients to realize an average of 2-5% reduction in food costs within the first year, with clients reporting an average boost in order efficiency by up to 50%, on average. MarketMan's integrated ordering platform is designed to allow day-to-day operations to migrate seamlessly between multiple vendors and suppliers without disruption.
Increasingly, restaurants are focused on improving back-of-house efficiencies. Marketman is one of several advanced solutions that address the problem of manual, disorganized processes in inventory management. The goal, in all cases, is to facilitate closer collaboration and technology integration between restaurant operators and food services suppliers and to automate as many of the related processes as possible.