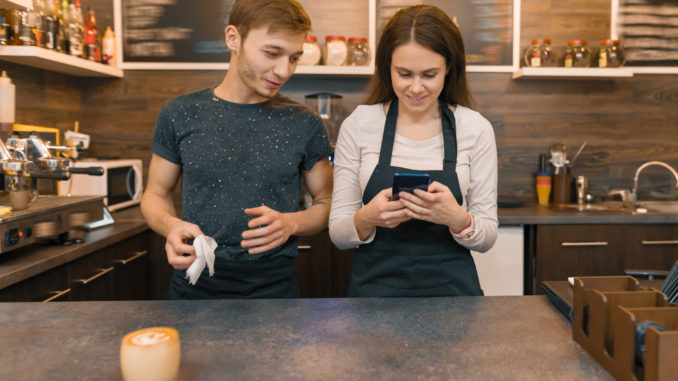 Nudge Rewards has emerged as one of the leading mobile-first hospitality solutions in guest-facing employee communication and engagement. According to the company, its customers have seen adoption rates exceed 80%, with frontline employees at 6,000-plus restaurant and retail store locations checking in 10 times a week on average.
The company's growth is bound to continue with the announcement this week that it has closed a $9.3 million funding round led by Chicago-based Jump Capital, with support from existing investors.
Nudge positions itself as a set of frontline employee engagement and performance tools built on a foundation of behavioral theory and social mechanics. Based in Toronto, Canada, Nudge has reportedly delivered nearly 10 million "nudges" to the frontline to date, supported by an average 4.7 app rating.
A nudge is a quick, digestible messages delivered via an app that guest-facing workers download to their smartphones. The messages are intended to motivate improved staff performance and, in turn, improved guest satisfaction.
The messages can take the form of pop quizzes on featured items and messages about sales contests. Employees are rewarded for logging in to the app and viewing the content. Mobile campaigns are designed upon choice architecture. According to the company, this is a way of "presenting choices that positively influence behaviors, without disrupting the voluntary nature of 'nudging.'"
The psychology behind the app is that employees are driven to perform better when they are empowered rather than audited. The app is designed to draw on behavior theory to build meaningful employee programs from the bottom-up. And, by all indications, it works well.
In addition to scaling go-to-market capacity, the funding will be put toward growing the Data Science team in order to advance innovation through machine learning and AI within the emerging category of employee experience management, driven by predictive insights into frontline team performance that directly correlate to business outcomes, such as profitability and retention.
The company has seen demand rise rapidly over the past three years as restaurants and other brands increasingly realize the need for an effective way to influence and inspire their frontline as a means of solving inconsistent execution and performance. In the past year, Nudge has increased headcount by more than 40% and grown revenue by nearly 200%.
Meanwhile, the average contract size from customers has reportedly tripled in the last three years and Nudge's annual revenues increased by 200% in each of the past two years, to the mid-single-digit million level. Customers typically spend between $65 and $85 on the app for each month per store location.
The company recently released Manager Insights, which provides frontline managers with access to actionable team performance data at their fingertips, better enabling them to coach employees toward improving location metrics.
This latest round brings the company's total financing to over $15 million, which includes funding from Jump Capital and existing investors BDC, Brightspark, Generation Ventures, and Standup Ventures. With a founding team that is two thirds female, Nudge's leadership is active in local programs that work to close the gender gap in tech.