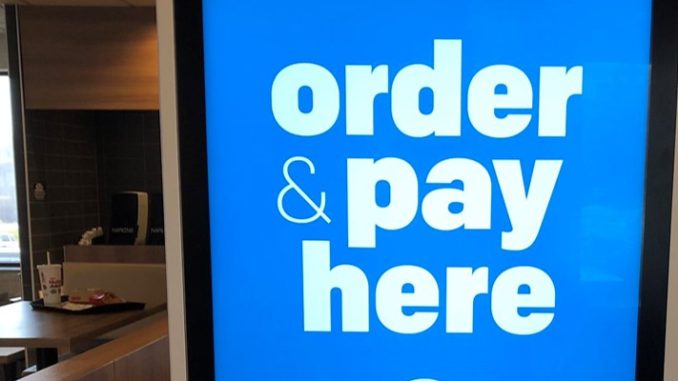 The National Restaurant Association, in partnership with Technomic, has released a new study on the state of restaurant technology, entitled "Harnessing Technology to Drive Off-Premises Sales."
According to the research findings, 79% of consumers have placed orders using a restaurant's website or app within the last year. When it comes to delivery, the report found that 91% of consumers placed orders via a restaurant's app or website within the past year. Sixty percent (60%) used a third-party delivery service, such as DoorDash or Grubhub, for delivery orders.
When using a restaurant's app or website for delivery, the report found that consumers are clear on what features they prioritize. This includes:
Alerts when the order has left the restaurant and when it's near the delivery destination
Ability to track the entire progress of the order and the delivery driver
Ability to order ahead of time
Compatibility with mobile payments options and the ability to store payment information


When it comes to technology at the restaurant level, the report found that 29% of restaurant owners and operators say they are lagging the industry. Operators indicate three leading reasons why they are not adopting more technology in their operations:
Cost is too high
Not enough customer demand to justify the cost
Just not a priority
Once an operator has decided to invest in technology, it can be difficult to identify which solution is best-suited for the operation and difficult to seamlessly deploy that new technology and train the staff on proper use. Of those operators using new technology to support off-premises orders, over one out of ten have experienced challenges.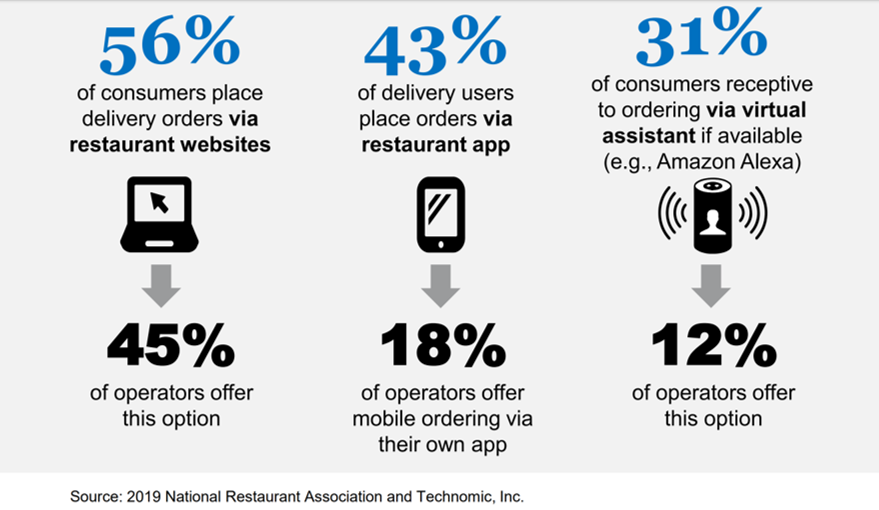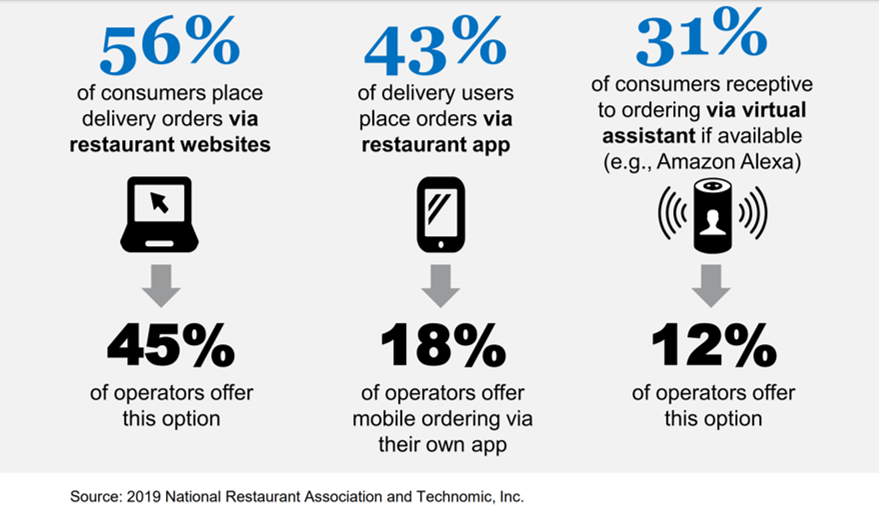 The report found that with the restaurant drive-thru experience consumers are looking for screens to track order accuracy, touchscreen ordering, LED menu boards and frictionless payment options, including the ability to pay ahead and more mobile payment options.
Restaurant owners and operators are more focused on organization fundamentals that are less customer-facing, such as better inventory software that integrates to the POS system, software for business analytics and mobile apps.
Online surveys were conducted in April 2019 with two groups:
A nationally representative sample of foodservice consumers who order delivery, takeout or drivethru at least once every 2-3 months, and
A national sample of 400 restaurant operators (170 limited-service and 230 full service) who offer delivery, takeout or drive-thru.
A few other key findings:
With respect to investing in order delivery technology, 40% of restaurant operators report having added or updated their internal technology, such as POS systems, for order delivery.
52% of restaurant operators say they've remodeled in order to add off-premises services, which may include adding in-store kiosks, to-go counters or other similar features.
27% of restaurant operators are reducing consumer payment friction by adding or updating customer-facing order and payment amenities.