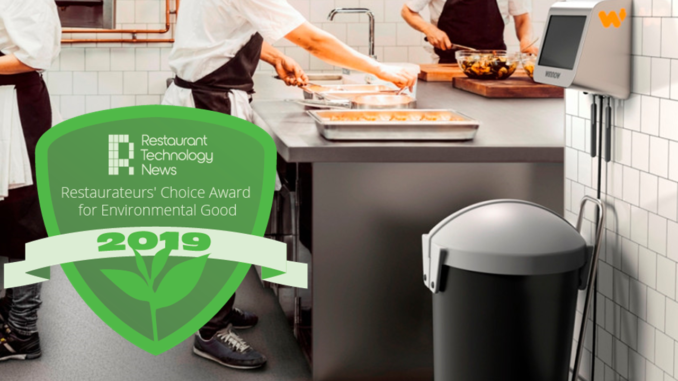 Restaurant Technology News, the hospitality industry's premier source of information and insights related to technology innovation at the world's leading quick service, fast casual and full service restaurants, has announced the winners of its "Restaurateurs' Choice Award for Environmental Good" achievement awards competition.
This annual event was established to recognize excellence and innovation in providing and/or utilizing next-generation technologies to achieve sustainability and eco-friendly practices in restaurant operations. Meanwhile, the winners of the "Hoteliers' Choice Award for Environmental Good" have been announced by sister publication Hotel Technology News.
It has been said that if food waste were a country, it would be the third largest emitter of greenhouse gasses after the United States and China. According to the United Nations' Food and Agriculture Organization, approximately one third of food produced globally each year goes to waste. In the United States alone, food waste is estimated to be between 30 to 40 percent of the total food produced annually.
It's no surprise, then, that focus areas for 2019 were in the areas of excellence in utilizing technology to reduce restaurant energy consumption and food waste and also excellence in utilizing eco-friendly restaurant materials.
Following are the eight winners:
ComplianceMate. The company offers an advanced temperature monitoring system for commercial kitchens.  In 2019, Semtech Corporation announced that Laird Connectivity, a global leader in wireless connectivity solutions, has integrated LoRa® devices and LoRaWAN protocol in temperature monitoring sensors developed for ComplianceMate, helping restaurants reduce food waste due to spoilage as well as lower refrigeration energy consumption.
CrunchTime. With CrunchTime's advanced approach to inventory management, restaurants can monitor consumption and food waste at scale on a day-to-day basis. CrunchTime's advanced BizIQ reporting guides decisions on everything from menu design to menu implementation, helping restaurants lower their total food inventory level by upwards of 25%, resulting in minimal food waste.
GND Solutions. The India-based solution provider is helping to prevent food waste and extend shelf life by making it easier to monitor food from refrigerator to table. In 2019, the company announced that it has integrated LoRa devices from SemTech Corporation, and the LoRaWAN® protocol into its new smart refrigeration solutions for restaurant applications. So far, the results have been decidedly positive.
Power Knot. The company's LFC biodigester reduces restaurants' carbon footprint by disposing of food waste that would otherwise be hauled to a landfill. It uses a series of processes in which microorganisms break down biodegradable material in the presence of oxygen. The LFC environment accelerates the digestion of most food products within 24 hours by using a proprietary mixture of microbes and enzymes. The output is grey water that is environmentally safe, and suitable for discharge down the drain or to enrich landscapes.
Riegel Linen. The company introduced RieNu napkins, made of 100 percent post-consumer recycled polyester. To convert plastic water bottles into table linens, bales of plastic bottles are collected, sorted and inspected to eliminate foreign materials. PET bottles are sterilized, dried, and crushed into small chips. The plastic chips are melted down and then extruded into a new fiber. The finished fiber is spun, woven, dyed, and sewn into napkins and tablecloths.
Tenzo. The company's algorithm-based platform analyzes restaurant data in real time about sales, labor costs, customer feedback, and inventory. The solution is designed to provide restaurants with as much granular information as possible so the businesses can predict, among other things, how much food to order in any given week, helping managers avoid food waste.
Winnow. This technology solution takes a novel approach to the problem of food overproduction. It works by taking photos of wasted food as it's thrown away and uses the images to train itself to recognize what has been discarded. According to the company, kitchens using Winnow tend to see a 40 to 70% reduction in food waste within 6-12 months.
Zume. The company uses real-time food consumption data and predictive analytics to help restaurants better predict demand, connect it with production and drive better resource decisions down the food supply chain to help eliminate food and energy waste. In 2019, Pizza Hut began testing the company's pre-molded fiber delivery box, designed to be a sustainable alternative to cardboard, which are industrially compostable and made from sustainably harvested plant fiber.
Winners are provided with a licensed image of the "Restaurateurs' Choice Award for Environmental Good" badge and granted the right to display it on their own websites.
Restaurant Technology News is the hospitality industry's premier source of information and insights related to technology innovation at the world's leading quick service, fast casual and full service restaurants. Our reporting, research and opinion pieces reveal how forward-thinking restaurant operators are upgrading their technology capabilities to improve operational performance and the quality of the guest experience, as well as to reduce waste and improve environmental sustainability, and how top solution providers are advancing the frontier on next-generation restaurant technologies.