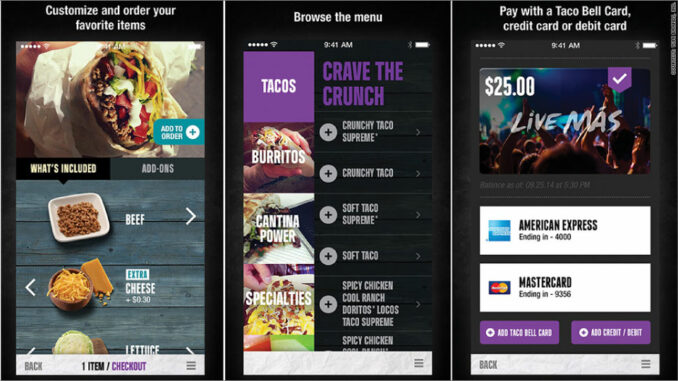 In its ongoing efforts to create an innovative omnichannel customer experience, Taco Bell, which ranks as the fourth largest fast-food chain in the United States with more $10 billion in sales in 2018, announced last week that it will continue to invest in guest-facing technologies. The latest initiative will help the company, which has more than 7,000 locations, to show guests the most relevant menu items, promotions and content based on their individual customer profiles.
Taco Bell will deploy AI technology and analytics capabilities, making it possible to provide customers with relevant menu recommendations and promotions based on their past ordering history via the branded app. The data that is collected will also allow the company to serve up tailored offers based on individual dietary preferences as well as other factors like location, weather, and location-specific pricing to provide guests with a more relevant and customized experience.
If the details of the latest technology-enabled initiative is somewhat vague, the goals are crystal clear: "Taco Bell is all about satisfying our fans with the most craveable dining experience imaginable. Of course, we know each of our fans has their favorites and their own preferences. As a forward-looking company, we're using the latest machine learning and AI technology to better deliver on those individual preferences," said Derrick Chan, Director eCommerce, Taco Bell, in a press statement.
According to a recent study by PSFK, 79% of diners are interested in personalized menu recommendations, so the latest investment would seem to be get bet. The personalization initiative is part of Taco Bell's collaboration with technology solution provider Certona, a Kibo company, which began last year with the integration of its platform capabilities into the restaurant brand's mobile app. "Certona's advanced capabilities in personalization, data science and omnichannel experiences enables Taco Bell to create continuously compelling 1:1 interaction with its fans," said Meyar Sheik, President & Chief Commerce Officer, Kibo, in a press statement.
Among other recent technology-enabled initiatives, the largest server of burritos and tacos last year installed kiosks with 22-inch touch-screen monitors in nearly all of its restaurant locations. The goal was to give customers a digital ordering experience. The kiosk technology was developed in partnership with solution provider Elo. The custom application is managed in-house and deployed on large-format displays powered by EloView.
The company is able to manage kiosks at thousands of locations across the country from one central location to enable a consistent customer experience. Taco Bell strives to stay relevant with customers' ever-changing preferences and we are honored that the ICX Association recognizes our efforts, said Rafik Hanna, senior director, IT, Taco Bell, in a company statement.
On a related note, Taco Bell also last week announced new global sustainable packaging commitments, including banning the toxic chemicals per- and polyfluoroalkyl substances (PFAS), phthalates, and BPA from consumer-facing packaging. The company is aiming to make all consumer-facing packaging recyclable, compostable or reusable by 2025.
Taco Bell is a subsidiary of Yum! Brands, Inc., which also owns Pizza Hut and KFC, both of which, like Taco Bell, have introduced new vegan options, enabled by the latest food science innovations, to their menus over the past year. According to estimates, livestock production is responsible for more than 50 percent of global greenhouse gas emissions, not to mention massive water consumption (animal farming is responsible for upwards of 33 percent of all freshwater use in the world) and contamination.
Most recently, in September, KFC declared that it was moving beyond the chicken coop (or, rather, the factory farm, where chickens spend their short lives crammed into warehouse-like buildings) with a test run introducing vegan chicken nuggets also in partnership with Beyond Meat. The test was a success, by all accounts. Neither Pizza Hut nor KFC appear to have made similar environmental commitments with respect to sustainable packaging, however.