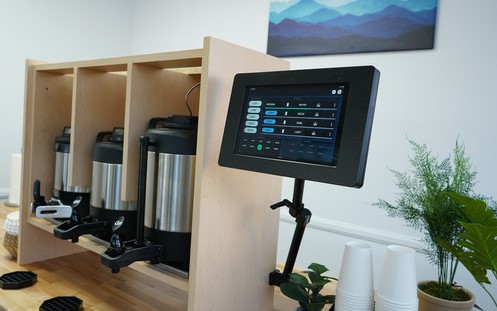 Restaurant technology innovation and process automation is happening on multiple fronts, now even in the realm of coffee-making. Case in point: National fast-casual restaurant Panera Bread, which operates 2,118 bakery-cafes in 48 states and in Ontario, Canada under the Panera Bread or Saint Louis Bread Co. names, is evaluating and testing a new system is designed to improve the coffee monitoring process.
The artificial intelligence-powered system is designed to eliminate the need for manual checks of the coffee urns and providing easy and accurate insights into coffee volume and temperature. This allows Panera associates to brew a new batch in a time-sensitive manner so that coffee stays fresh and hot for guests.
The system monitors key coffee metrics such as volume, temperature and time data, and combine these with predictive analytics to guarantee a quality cup of coffee and a more efficient team member experience. The system, dubbed CookRight Coffee, was developed by Miso Robotics, known for its restaurant robotics and intelligent automation. The product line is Miso's newest iteration of their CookRight system and is engineered to evolve as it learns its environment and adds new enhancements over time.
Miso Robotics is primarily funded by individual investors and is one of the most successful crowdfund stories in history. With nearly 18,000 shareholders, the company has raised more than $50 million in crowdfunding to date and is currently in their Series E round, which kicked off with a market valuation of $500 million.
Restaurant technology innovation and adoption is nothing new for Panera. Recent roll-outs for the 30-year-old company include updated ordering kiosks, automatic loyalty identification, and a fully digitized menu both in-cafe and in drive-thru. Earlier this year, Panera launched a new feature on its mobile app that allows guests to order  meals on their own devices for plated dine-in service. Dubbed Contactless Dine-In, the new feature is designed to help guests avoid lines or shared devices like kiosks or pagers, and joins curbside, drive-thru, pick-up and delivery.
Members of Panera's loyalty program who have push notifications enabled on the mobile app will be alerted of this new service as soon as they step into the bakery-café . Upon opening the app, guests just need to select the Dine-In option to place a contactless dine-In order and the café will receive the order. Once ready, the guest receives an email and, if opted in, can also choose to receive a text and/or push notification, and the food is served plated at the Panera pick-up counter. This just-in-time order ready notification allows guests to quickly get their meal, avoiding waiting at the counter.
"Panera is constantly innovating our technology to respond to the ever-shifting needs of our guests, and Contactless Dine-In is a great example; in fact, we sped up the national rollout to provide a solution for today's guest concerns," said George Hanson, SVP, Chief Digital Officer, Panera Bread, in a press statement.
Contactless Dine-In is designed for guests who would like to dine in the bakery-café, but would prefer to avoid waiting in the cashier line, using the kiosk, or waiting at the order pick-up area.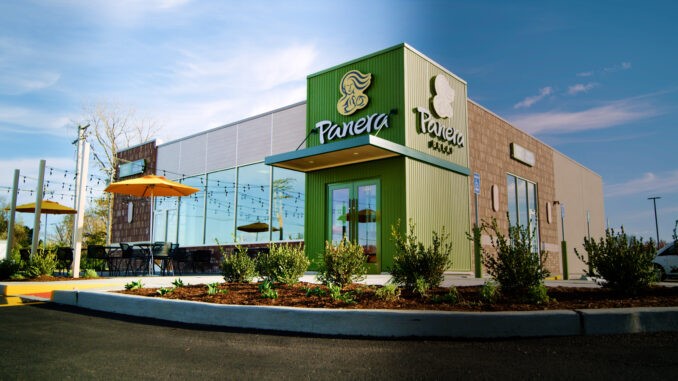 Early in the pandemic, the Missouri-based company deployed next-generation technologies to improve the curbside meal pickup experience. In particular, it launched Panera Curbside, a geofence-enabled service designed to allows guests to safely and easily get their meals served straight to their car.
Panera was one of the first major restaurant chains to offer free Wi-Fi, extended its Wi-Fi radius beyond the bakery-cafe doors and implemented geofencing technology as the company strives to provide guests with a better and faster curbside experience. With the addition of geofencing, for those who opt-in, the bakery-cafe will be notified automatically when the guest arrives.
Looking to the future, Panera's plans include blockchain and metaverse technologies. Earlier this year, the company filed a trademark application that will allow it to have NFTs that serve as digital currency to purchase virtual menu items. According to the application, Panera will develop virtual restaurants and real-life food delivery applications under the name "Paneraverse".
In the meantime, the focus is artificial intelligence-powered coffee system. "Panera has a long history of tech innovation in service of meeting the needs of our guests and associates when they walk through our doors each day," said George Hanson, SVP and Chief Digital Officer of Panera. "CookRight Coffee is a gamechanger when it comes to convenience and operational efficiency, and we are extremely excited to take our coffee station into the future with Miso Robotics."