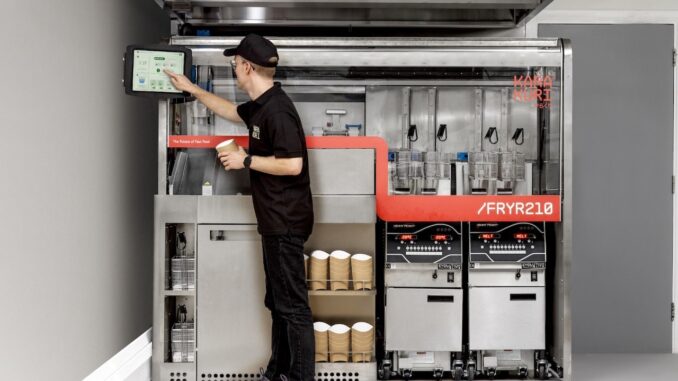 Perfect fries will soon always be in the hands of consumers as Karakuri, the company revolutionizing quick service (QSR) and fast casual restaurants with intelligent, robotic kitchen automation, today unveiled its new family of /FRYR™ automated fry lines. These intelligent, high-precision frying solutions enable restaurants to save time and reduce waste while ensuring perfectly cooked fried food is available, exactly when needed.
/FRYR210 is the first model in the range of automated fry lines. It combines robotics and real-time data analysis to provide restaurants with optimal fried food production of up to 130lbs/60kg of french fries per hour. Simultaneously, /FRYR210 improves food quality and consistency by ensuring the SOP is adhered to 100% of the time.
/FRYR210's automation works with existing fry wells, extraction and fire suppression to allow employees to spend less time in front of the fryer and more time on value added, customer-focused tasks within the restaurant.
"With more than 22 billion pounds of French fries eaten each year globally, frying is a massive business. Every restaurant knows that serving consistently crispy, fluffy fries will keep customers coming back for more," said Barney Wragg, CEO and co-founder of Karakuri. "Our new family of /FRYR automated fry lines is changing the game for QSR and fast casual restaurants. It strikes the perfect balance of food, people and intelligent automation allowing restaurants to deliver expertly fried food with total consistency and availability, at a price point that works for their bottom line."