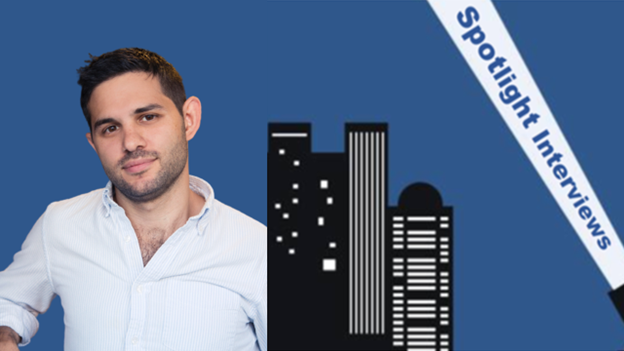 Restaurant technology solution provider meez this month closed a $11.5 million Series A funding round to accelerate growth for its first-of-its-kind digital professional recipe tool. A professional chef, Sharkey, who serves as CEO of meez, founded the startup only two years ago. The recipe tool transforms how food and beverage professionals manage and execute recipes, digitizing every aspect of the recipe workflow. Unlike a recipe stored in a spreadsheet or notebook, meez recipes can be shared and taught to colleagues, scaled and converted to any unit of measure, and used to make better business decisions, including ones related to menu pricing. We recently sat down with Josh to learn more about his background working in fine dining and fast casual restaurants, how he came up with the idea for meez, in the first place, and how he has brought his idea to fruition with a fast-growing company that already serves the needs of over 10,000 chefs and over 1,200 kitchens in a variety of sectors of the food industry.
Meez is billed as a "first-of-its-kind, digital recipe platform." What does that mean, exactly? What benefits does meez offer and what makes it different from other recipe resources or databases?
Until meez, the only 'recipe software' available to food professionals has come primarily from ERP or Inventory Systems. Unfortunately, those systems care almost exclusively about two outputs: recipe costs and what to order or produce. This means the ability to easily write recipes in those systems goes out the window.
To obtain those costs, a chef must first input a tremendous amount of metadata about their ingredients (e.g. prep yields and unit measure conversions). This takes way more time than they have, meaning most of these systems never have accurate or complete recipe costing information. There is rarely a source of truth of what is used in a kitchen to train and communicate a recipe.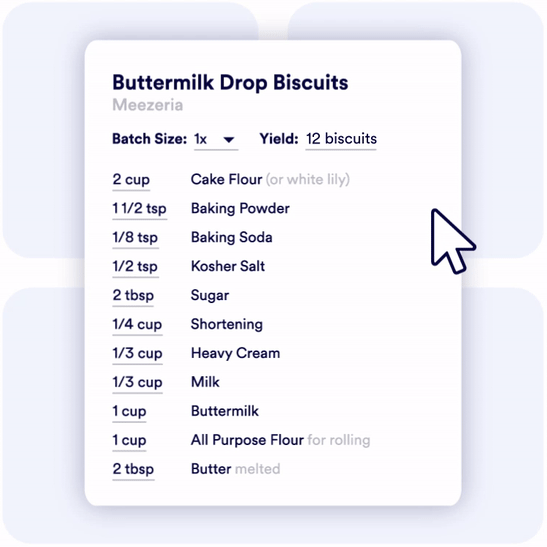 meez is dedicated to the entire workflow of cooking. Our UI feels more like a word doc, but performs like a super charged ERP system. All of this important ingredient data is built directly into the tool and is accessible as a chef creates their recipe.
For chefs, mixologists and other culinary professionals, recipes are our IP, our identity, the story we tell to our customers and to our team. Yes, we absolutely need to get the cost of our recipes, but more importantly we need to communicate the How and the Why! Until meez, there wasn't a digital tool that amplifies the entire recipe process from beginning to end. The entire world of process and workflow had been wholly ignored.
Our tool transforms recipe content so that you can quickly create and iterate, organize and search, share and distribute content, collaborate, train your team, produce and execute, and of course get recipe costs, nutrition and allergens. meez is not the All-in-One business management tool, but it is most certainly shifting the paradigm of kitchen operations as the first All-in-One Recipe management platform.
How are restaurants utilizing meez? Are your customers able to quantify the benefits financially in terms of, say, time and cost reduction?
Restaurants with meez are optimizing profit margins, executing more consistently, training new team members much faster, organizing and distributing their content efficiently and securely, and seeing real time automatic updates of allergens and nutrition data.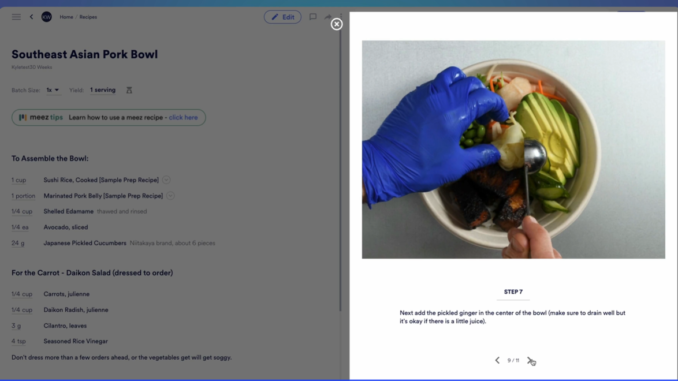 From a food cost perspective, customers use meez to get laser accurate food costs because all of the yield and conversion data is built in. They can then engineer their recipe, understand the impact of what ingredients they use and how much of each of those ingredients, portion sizes etc. to achieve optimal profit margins. Many operators have eye opening moments, when they finally see a true food cost with yield loss baked in. For example, with meez, a 12 unit fast casual group was able to ascertain that one of the main proteins in their bowls was not accounting properly for yield. It had an actual margin that was 25% less than they had assumed! With meez, they were able to save over $200k per year.
From a training and execution perspective, we have seen operators reducing their time to roll out new menu items and train new employees by 80%.
How does meez help drive menu innovation? How important is that to restaurant success?
Menu innovation is critical to the success of a restaurant and is the bedrock of what meez is built to do. Two of the most important elements to nailing customer retention are delivering a consistent product, and the ability to innovate and provide new and exciting options. One of the unfortunate difficulties as you begin to scale your food business is maintaining innovation given the complexities of getting in new product, the R&D process, training your team on new information, and updating current work flows like prep schedules, order guides and menu details. meez works to remove all of those barriers. We do this by providing immediate feedback loops for chefs in regard to costs, allergens, nutrition, sub-recipes and more. We also provide a dynamic database of all of your content so that you can cross utilize recipes, riff on new versions of old stars, and easily share updates with your team in real-time while ensuring they never see an outdated recipe.
Who are some of your customers and what categories or types of restaurants are likely to benefit most from your platform? Any success stories you can share?
There are over 10,000 chefs and over 1,200 kitchens using meez in a variety of sectors of the food industry from Fine Dining to Fast Casual, QSR, Retail Food Markets, Meal Kit and Delivery Companies and caterers. Our customers include Think Food Group, Erewhon Market, Maman, Alta Marea Group, and hundreds of small to medium size restaurants primarily in North America.
You're a chef and restaurant industry veteran. Tell us a bit about your career trajectory and what led you to identify the unmet market need that eventually became meez, in the first place?
I have been cooking in restaurants since I was 16 years old, spending the first 12 years working in the upper echelon of fine dining in NYC and abroad before opening my first restaurant in 2009 in NYC. The next 11 years were spent owning and operating restaurants ranging from fast casual to fine dining and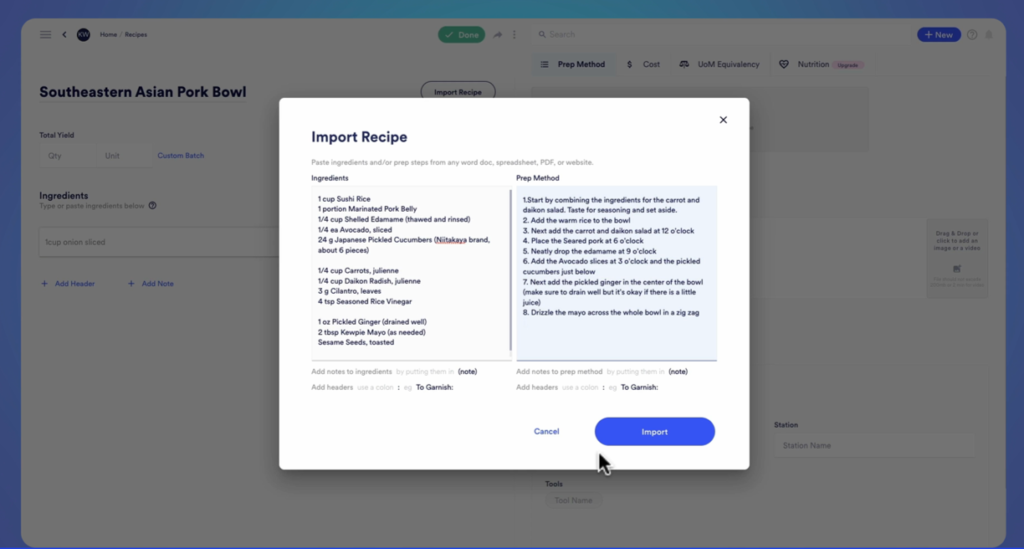 virtual concepts. The original insight for meez came early on in 2003 when I lost a coveted notebook filled with recipes, ideas, and techniques I had been documenting from the restaurants where I worked. I wanted a way to digitize these so I would never lose the information again. That novel idea grew into much more as I continued to cook, and then lead kitchen teams and ultimately owning and operating food businesses. It was through all of these experiences that I was continually realizing there was no technology being built to solve the needs of the chef. I searched for feedback constantly from my culinary peers to confirm if it was just me having these problems, and when it was clear that it was a universal pain point, that's when I decided to shift my focus into building what today is meez. While at first I wanted to digitize recipes, that evolved into streamlining R&D, then simplifying how to quickly get recipe costs, then quickly training and rolling out new menus, and on and on.
How were you able to bring the idea for meez to fruition? What was involved in terms of technology development? How were you able to secure financial backing to turn it into a real business?
I began funding the project myself while operating my restaurants. I quickly realized there was a gap that I needed to fill in terms of use case. Most of my experience in the industry was in the fine dining and fast casual world. But I knew if I wanted this tool to become universally adopted, I also needed to solve for the larger business and multi-unit groups. So I partnered up with Aurify Brands, which enabled me to build meez within the ecosystem of a group that was both creating new brands and running existing brands as well as franchisee/franchisor relationships. Aurify funded the initial build of meez after the proof of concept showed results that enabled Aurify to save over $600k annually from menu optimization and training efficiencies.
Was it tough to transition from "restaurant chef" to "restaurant technology provider"? It would seem to be a very different skillset. Also, just out of curiosity, how did you come up with the name "meez"?
There are far more parallels between being a chef and being a technology startup founder than there are being a restaurant owner and a startup founder. I have found that the skill set of being a chef has served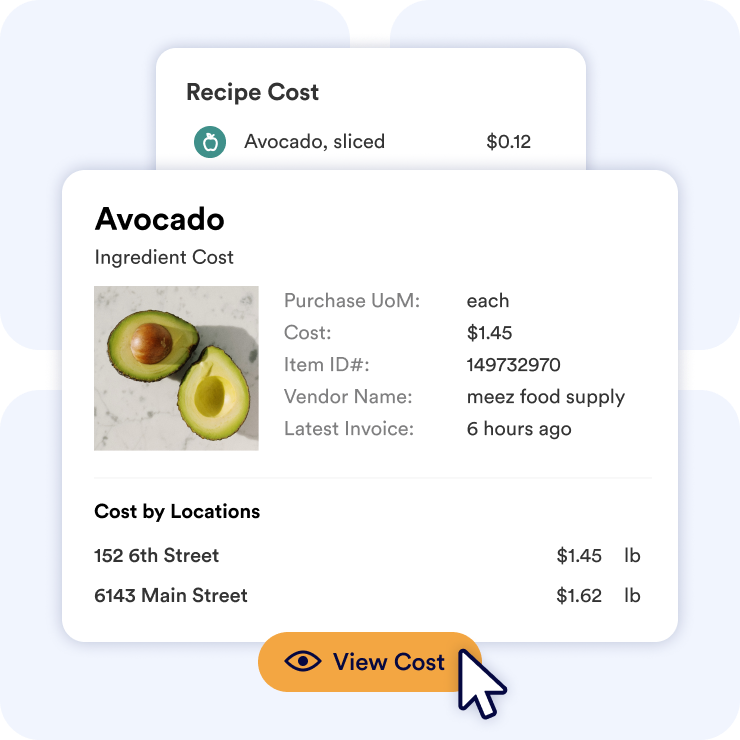 me very well. For example how to prioritize time well, being maniacal about planning and organization, the notion of constant iteration and improvement, and the pursuit of making complex things, feels simple. That said, there has been a steep learning curve on the business side, especially as it relates to fundraising, modeling out future growth, and management / leadership. In a restaurant, I knew how to do almost every employee's job, so managing them seemed easlier. In the technology world, I am a newbie. So becoming a great leader when almost every job was foreign to me from the start was challenging. It has made me a better leader for it, but not without a lot of mistakes along the way. For example, I had no idea what a 'product manager' was, why we needed one, or what it meant to be a great one. It has actually been so fulfilling to step into this new world and dive deep into a new vertical of work and lexicon of business language, and I learn something new every day.
meez was an obvious choice for me. It was really the only name I thought of when starting the company. It is the phonetic spelling of the word 'mise' which is derivative of the French phrase 'mise en place'. A phrase that almost any chef in the world can identify with. It essentially translates to 'everything in its place' but it has a much deeper meaning as a chef. It is a way of approaching your work. Being prepared and organized. To me, you can not truly innovate if you do not first have your mise en place set. I have memories of working at a restaurant called Bouley in NYC, and the chef coming in just before service and changing up half the menu, and we had to scramble to quickly prep new mise en place (yes, it's a noun too, I'll explain). There's no way we could have as a collective kitchen team been able to quickly pivot, create new dishes, make pasta dough on the fly etc. if we didn't have our mise en place 100% set and organized. It's the security of knowing you're prepared for the inevitable chaos of the kitchen. That is what we strive to do with our company. Meez provides a next level foundation for chefs, organizing their IP and creating the mathematical and visual infrastructure for them, so they can spend their time innovating and executing.
Mise en place is the phrase, but in kitchens the word mise is also a noun; for example if you start to prep a recipe, you'll "gather your mise."
What do you like most about your work at meez?
First off, I love my job.  It's funny, up until recently, cooking in restaurants is what brought me the most joy over the past 20-plus years.  But I realized when I decided to start meez, that I could have a much bigger impact on the industry at large if we did it right.  And I believe now I am deriving even more joy than ever before running this company.
It's so heartwarming to hear chefs react to the tool, to see my team get excited about the future with meez, not to mention I still geek out every time we have a new release because I love what we're building so much.  All that to say, what brings me the most joy is seeing how chefs have engaged not only with the tool but with us as a company, providing feedback and insights and even coming to work with us.  And I am genuinely excited every day at the endless possibilities in store for us as an industry as we continue to build meez together.
Do you miss working in the kitchens of Michelin-starred restaurants?
I do, although I have more time to cook at home which is great. Any chef will tell you there is something more visceral, rewarding and exhilarating about cooking in great kitchens. There's nothing like the sense of urgency, pushing boundaries, focusing on precise execution at every step, and working with a great team. I try to bring as much of that culture into the meez as I can! Hopefully my team loves it too
During the pandemic, you used meez's technology to launch a philanthropic initiative called Recipes for Relief. Can you tell us about the initiative and its outcomes?
During the pandemic, we decided to postpone the launch of meez to the food industry, and instead pivoted for the short term to help chefs, restaurants, and mixologists generate revenue while their businesses were closed. We did this by allowing chefs unfettered access to the meez platform to create digital interactive recipes and sell them to their customers at a 'pay-what-you-want' price. This enabled chefs to generate tens of thousands of dollars, with 100% of the proceeds going directly to the chefs and/or their business.
Anything else new and noteworthy in terms of big customer wins, strategic partners, new platform capabilities, etc.?
meez recently closed an $11.5M Series A funding round led by Craft Ventures, following a successful $6.5 Seed round earlier in 2022, and has been named the official recipe management partner for a well-known food wholesaler.
We also launched a free version of our tool, which includes many core measures such as recipe creation and organization, dynamic scaling, and sharing. The free offering allows industry professionals to use meez as the home for their recipes throughout their entire career and allows them to share creations with friends and peers.
What's next for meez? What will be the company's primary focus areas for the next
Our new investment will be used to build out meez's product and engineering teams. We will also be launching new premium features that allow chefs to instantly assess how their recipes contribute to the profitability and success of the business. These features will empower executive chefs to fine tune their menu items in response to sales, demand, and margin data.