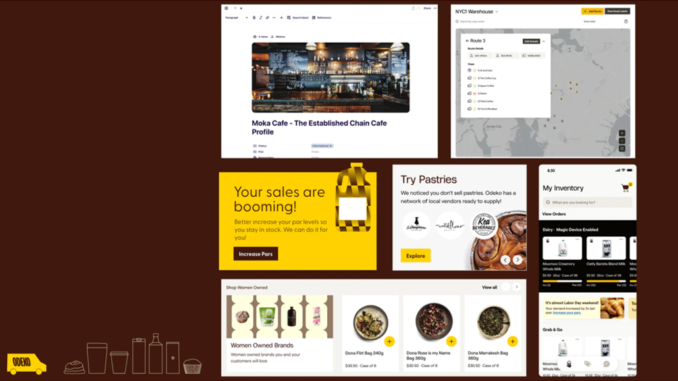 Odeko, a New York-based online distributor for local coffee shops, has raised $53 million in a recent Series D round of funding. The round was led by existing investor B Capital with contributions from GGV Capital and Tiger Global Management, along with new investors such as Amex Ventures, KSV Global, and FJ Labs.
Odeko reportedly plans to use the funds to further develop its technology, which helps independent cafes and coffee shops order supplies and manage their inventory. The company also offers a consumer-facing online ordering system. With this funding, Odeko intends to keep growing its operations, enter new markets, and scale its technology development.
Odeko claims that it can deliver shop essentials like lids, cups, syrups, and dairy faster and cheaper than traditional distributors. It offers overnight deliveries from its own warehouses in 16 markets and uses its scale to keep costs low. Odeko's platform streamlines operations and removes friction from day-to-day tasks, according to Sami Ahmad, general partner with B Capital. As a result, shops can reportedly save up to 21% on products ordered through Odeko and can save 10 hours a week spent managing vendors.
Odeko has established itself as the go-to operational partner for independent coffee shops and cafes across the U.S. It currently has more than 10,000 businesses using its platform, and it has added six new markets in the past year, including Dallas, Miami, and Portland. The company is one of a growing group of supply chain startups looking to digitize and localize restaurant deliveries and provide better inventory data.
There is no fee to order goods from Odeko, but the company charges shops 5% on customer orders through its mobile and web apps. CEO Dane Atkinson said in a statement that Odeko's goal is to ease the burden of operational and environmental challenges that customers face daily so that they can focus their time and resources on building the parts of their business they love, while serving their neighborhoods and communities. He expressed gratitude to the investors for their continued support.
Odeko was founded in 2019 and has now raised a total of $177 million. The recent funding round brings its total equity investment to date to $177 million, which includes a $12 million Series A in 2020. Atkinson did not disclose the company's valuation, but it was reportedly 25% higher than its previous round of $77 million in Series C capital announced in 2022, according to Crunchbase data.