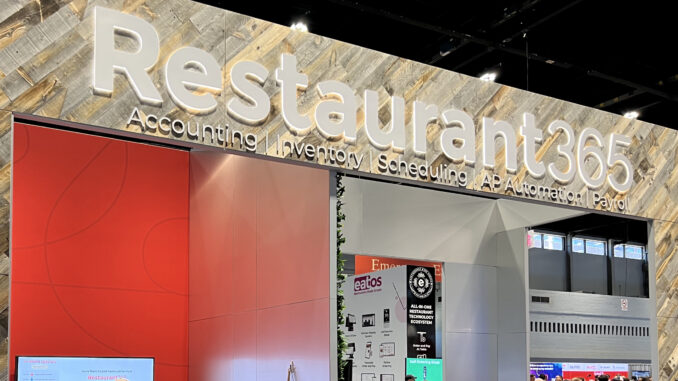 Restaurant365, a leading restaurant enterprise management software provider, has secured $135 million in a funding round co-led by investment firms KKR and L Catterton. This funding round also includes participation from existing investors such as ICONIQ Growth and Bessemer Venture Partners. The investment will reportedly be used to enhance Restaurant365's suite of products and expand its market share within the restaurant industry.
Based in Irvine, California, Restaurant365 offers operators a suite of innovative solutions to drive sales, manage food costs, and optimize labor. The company's comprehensive software suite integrates key accounting, operational, and payroll processes into a single cloud-based platform. This integration simplifies day-to-day management for operators and provides them with accurate and timely reporting, giving them a clear and complete view of their businesses.
According to Tony Smith, CEO and Co-Founder of Restaurant365, the company's continuous growth is a testament to its dedicated team's commitment to positively impact the restaurant industry. The company is reported to have recently achieved remarkable milestones of $100 million in revenue and $1 billion in value.
The investment comes from KKR's Tech Growth strategy and L Catterton's Growth Fund, both of which bring valuable expertise and experience to the table. KKR highlights Restaurant365's impressive growth trajectory, with its software currently powering over 40,000 restaurant locations. The company's software has also played a crucial role in helping struggling operators navigate through challenging times.
Restaurant365 plans to allocate the funding towards further product enhancements to meet the evolving needs of the restaurant industry. This will include focusing on Accounting, Store Operations, Workforce, and Intelligence product suites. The company plans to continue to develope their solutions that "bridge the gap between accounting and operations by centralizing all data, helping restaurant operators to become more efficient, accurately forecast, and tackle any challenge or opportunity with speed and accuracy."
The restaurant industry has faced significant challenges, particularly during the COVID-19 pandemic. However, signals indicate a positive trajectory for the industry. The National Restaurant Association predicts growth in sales, the creation of new jobs, and strong consumer desire to dine out. This favorable outlook presents an expanded market for companies like Restaurant365 and other technology solution providers catering to the restaurant industry.
The funding round for Restaurant365 reflects investors' confidence in the company's growth and potential and represents one of the largest investments in the restaurant technology space in recent years. Early last year, SpotOn closed a $300 million Series F funding round, raising the company's valuation to $3.6 billion. More recently, Odeko, a New York-based online distributor for local coffee shops, raised $53 million. In December, MarginEdge raised $45 million in a Series C funding round, only a few months after closing a Series B round. A month earlier, TouchBistro secured $110 million in growth financing for its all-in-one restaurant management system.
With a proven track record of serving restaurant operators and supporting them through challenging times, Restaurant365 is well-positioned to drive continued success. The strategic investments from KKR and L Catterton, along with the continued support from existing investors, solidify Restaurant365's position as a leader in the industry.