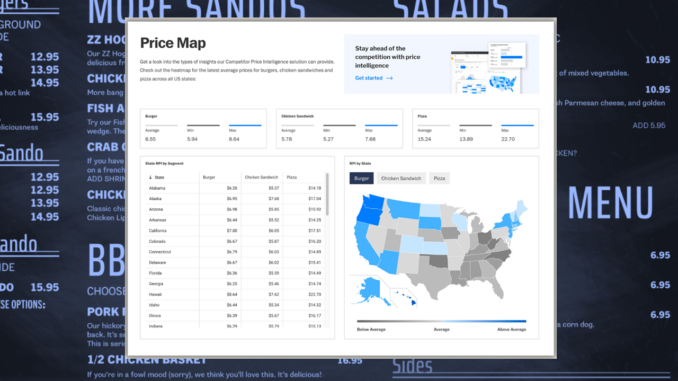 Revenue Management Solutions (RMS), a world leader in data-driven analytics and tech-enabled solutions for restaurants, has launched its Competitor Price Intelligence solution. The competitive price platform includes a proprietary Restaurant Price Index (RPI) that analyzes menu price evolution so users can benchmark pricing across as many as 170,000 quick-service, fast casual, casual dining and fine dining locations. 
For the first time, restaurant operators can access clean, validated monthly price change data from a simple dashboard interface, revealing insights into the increasingly competitive pricing landscape. Using a proprietary AI technology, the solution continually compares menu prices for all restaurant segments across 50-plus brands in all US states and select countries internationally. 
Revenue Management Solutions developed the solution to address clients' most significant concerns. 
"RMS developed our Competitor Price Intelligence and RPI based on nearly 30 years of menu engineering and pricing strategy," said RMS Chief Client Officer Bob Donofrio. "With data exclusive to the restaurant industry, operators have a meaningful snapshot of price direction accessible through an easy-to-use, cloud-based platform, with actionable insights to drive pricing strategies, revenue and profitability." 
Competitor Price Intelligence is much more than a pricing data dump. Leveraged on RMS' expertise and combined with the user's input, the solution delivers pre-categorized, like-for-like menu item comparisons. The dashboard includes comprehensive pricing data for in-store and delivery prices in any US region or market and for major brands internationally using local currencies. Updated monthly, the insights and data timeliness are unmatched by third-party sellers.
Additionally, users can: 
Define their competitor set and menu categories  

Compare prices across targeted segments and cuisine types

Easily tag and compare by location 

Filter by geography and menu category

Understand how an item is priced 

Track industry and competitor pricing activity over time 
As mounting costs and inflation pressure the industry, RMS is previewing its Price Map insights with a monthly heatmap featuring the latest average prices for burgers, chicken sandwiches and pizza across all US states.
"We asked the world's leading restaurant brands, through client feedback and focus groups, what they needed to succeed in today's highly charged environment," said RMS CEO John Oakes. "The overwhelming answer was competitor pricing data. Timely data wasn't accessible, and operators didn't have the staff to make sense of it. Our Competitor Price Intelligence will change that." 
Does your company have news it would like to share with our readers? If so, we invite you to review our editorial guidelines and submit your press release for publishing consideration.