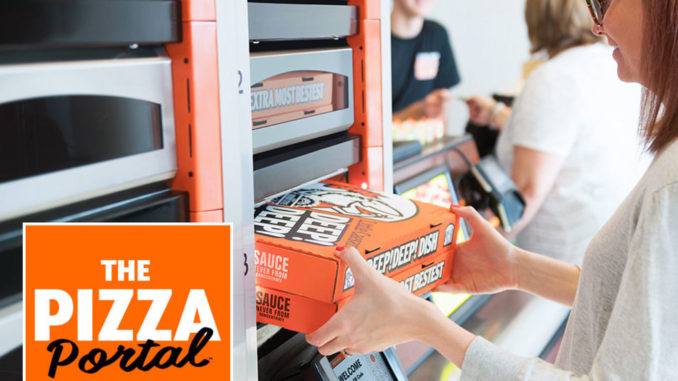 Restaurant operators are under pressure to streamline their business operations and find new, creative ways to increase guest satisfaction. Self-service kiosks may be part of the solution. Last year, McDonald's, among others, started testing self-service ordering kiosks.
Now the Little Caesars pizza chain, the third-largest pizza chain in the United States, is testing the waters with a new technology that offers customers the convenience of picking up their orders in a device called "the Pizza Portal." Currently being rolled out on a trial basis in 55 locations across Utah, the new service is called RESERVE-N-READY. It is being billed as the first heated, self-service mobile order pick-up station in the quick service restaurant industry.
Customers use the new service by placing their orders and pre-paying using the Little Caesars mobile app. The customer is notified via the app when their order is ready for pickup. Arriving at the store, the customer can skip the line at the counter and go to the Pizza Portal. After they input a three-digit pin or scan a QR code, a door on the customer's secured compartment opens and they can then then remove their order, which is kept hot in the meantime.
The Pizza Portal's technology was developed exclusively for Little Caesars. It was co-developed with Apex Supply Chain Technologies, a provider of automated dispensing system and in partnership with Sizzling Platter, a Utah-based restaurant management company.
Reserve-N-Ready combines the company's mobile ordering, pre-payment and heated self-service pick up to create a new guest experience that is expected to increase satisfaction and loyalty.