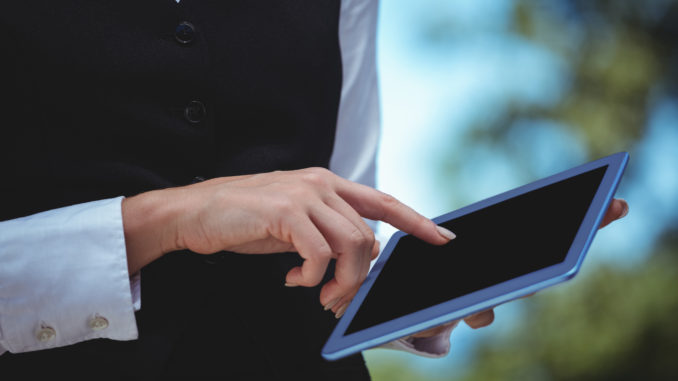 By Debbie Carson, Associate Editor
Mobile enablement— e.g., utilizing tablets for order and payment processing — is not just about meeting guest expectations. It is also about financial performance. In some restaurant categories, POS mobility can go a long way toward increasing revenue and also reducing overhead costs.
One need only consider the advantages that table service restaurants enjoy when servers can place orders directly from a tablet to the kitchen display. Rather than wait in line to punch orders into a stationary terminal, servers can spend that time interacting with guests and attending to details that enhance the dining experience.
Faster order placement and pay-at-table processing removes some of the common barriers to guest satisfaction. POS mobility also makes it possible to turn tables faster and serve more guests over the same period of time.
Indeed, there is a quantum leap in efficiencies that table-service restaurant operators can gain when servers place orders from a tablet directly to the kitchen printer or display rather than from a stationary terminal. The leap can have a transformative effect on restaurant operations and guest satisfaction.
This is especially true in eating establishments where the nearest stationary terminal may be located a considerable distance from where guests are seated. Servers would otherwise not only need to cover that distance countless times during their shifts, but, in many cases, thread their way through a maze of obstacles to place a food or drink order.
Bottlenecks are par for the course, unfortunately, as servers line up in queue behind a terminal. When processing gift cards, rewards points redemption, etc., the queues tend to become even longer. Tablets change all that. No longer do servers need to travel back and forth like yo-yos between Point A, where guests are located, and Point B, where a terminal is located and then often wait in line for an indeterminable amount of time.
Instead, servers can send orders to the kitchen quickly and easily from any location. As a result, they can spend more of their time attending to the wants and needs of guests. This fundamental shift in how servers spend their time is nothing short of revolutionary.
Suddenly, the job of serving guests becomes less focused on taking and processing information and more focused on interacting with guests with high touch service and attending to other duties that can seriously up the ante on service quality and have a far more meaningful and lasting impact on enhancing the overall guest experience.
Mobile order placement redefine the role of the server. It liberates the server. It gives restaurants the opportunity to migrate servers from playing the role of merely food-order-taking-and-delivery automatons to becoming brand ambassadors providing high-touch, personalized service and building enduring relationships.