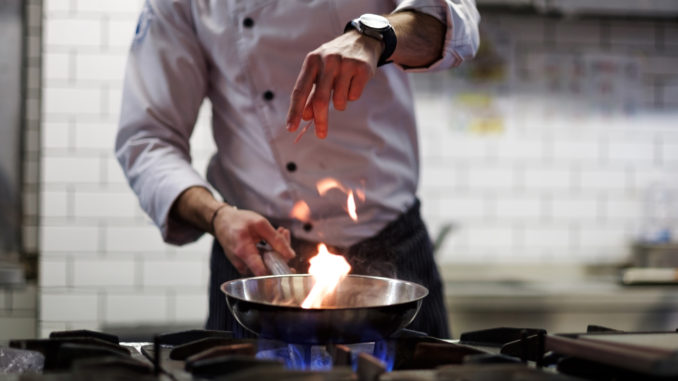 By Debbie Carson, Associate Editor
Whatever the reasons, and despite the upbeat growth figures, the reality of the situation is that most restaurant operators are under more pressure than ever to improve financial performance. This pressure is exacerbated by rising labor costs and higher real estate prices.
The best way to describe the current state of the global restaurant industry in terms of overall sales and revenue growth may be: slow and steady.
In the United States, the industry saw a 4.3 percent increase in revenues in 2017, according to the National Restaurant Association, marking the eighth consecutive year of real growth. The trend continued through 2018. In fact, the summer months were reported to be the fastest pace of any three-month annualized gain in more than a quarter century.
On the surface, there would seem to be plenty of reason to celebrate. Yet not everything in the restaurant world is as rosy as the numbers might suggest at first glance. Factoring inflation into the equation and also taking into account same-store sales performance, which has largely remained flat, the overall picture of the restaurant industry points to some big challenges.
These challenges are particularly acute with respect to full-service establishments, which, on the whole, have experienced slower growth than quick service and fast casual establishments.
Putting a further damper on the party is the fact that, according to NPD Group, eighty-two percent of American meals are now prepared at home. This is significantly more than even a few years ago. Restaurant-going peaked in 2000, according to the research, when the average American dined out 216 times a year. That figure is now in the neighborhood of 185 times a year.
Global restaurant chains have seen a similar percentage drop in guest counts. This shift in consumer behavior may be attributed to the advent of pre-made and subscription meal kit programs, the proliferation of online grocery delivery, and multiple other factors.
Meanwhile, intense competition tends to put the kibosh on hiking up menu prices. Yes, plenty of people are dining out these days, buoyed by steady wage growth, high consumer confidence and low unemployment levels. But that doesn't mean the restaurant industry is booming.
For them, the challenges loom large. The good news is that many of the challenges can be effectively addressed with a new breed of specialized technology solutions.
In fact, according to Starfleet Research, 79 percent of restaurant operators believe that this new wave of advanced technologies is key to not only overcoming many of the biggest hurdles they face today but to driving continuous performance improvement.
Are you an industry thought leader with a point of view on restaurant technology that you would like to share with our readers? If so, we invite you to review our editorial guidelines and submit your article for publishing consideration.