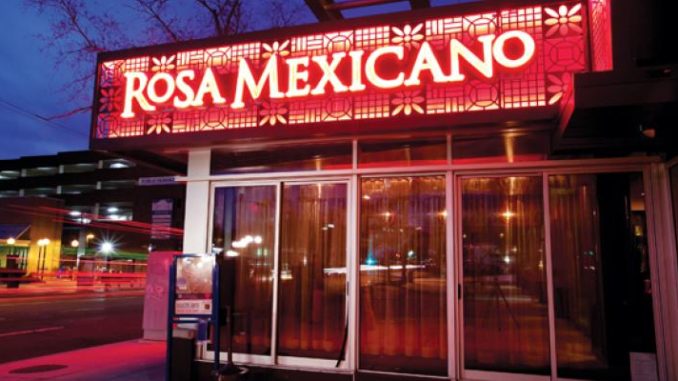 Restaurant intelligence platform, Yumpingo, today announced it has launched at contemporary Mexican cuisine restaurant Rosa Mexicano, expanding its presence in the U.S. following their introduction from the U.K. into the U.S. market in 2018. Rosa Mexicano has begun utilizing Yumpingo at its flagship Lincoln Center, NYC location, with plans to quickly expand to the restaurant's other nine locations this quarter.
With restaurants receiving over 7,500 at-table food, beverage and service reviews per location per month, Yumpingo's partnership with Rosa Mexicano will introduce big data to transform restaurant operations at its contemporary restaurants. Guests are invited to participate in a one-minute digital review on a Rosa Mexicano-branded Yumpingo device, which replaces traditional check presenters, at the end of the experience.
The resulting data at scale provides management complete certainty of how to optimize customer satisfaction at location, shift, and dish level in real-time. POS integration will produce their guest checks digitally to enable a friction-free experience that enhances the overall operation.
Rosa Mexicano, owned by private-equity group TriSpan Rising Stars LLP, has reason to believe in the power of this partnership as illustrated by a recent case study released in the U.K. A 16-unit Thai concept likewise owned by TriSpan Rising Stars LLP reported a five percent sales increase in just six weeks while growing its guest experience metrics based on changes informed by the Yumpingo platform.
Yumpingo delivers over 4,000 percent more reviews per restaurant than from Yelp, TripAdvisor, Opentable, Facebook and Google combined, with up to 66 percent of guests sharing their voice without any incentive and 20 percent leaving an email address. This volume and granularity of live customer sentiment allows brands to understand every facet of the customer experience, identify what needs to be fixed, develop specific actions and measure improvements.
Launched in the UK in 2017, Yumpingo is a restaurant intelligence platform which brings big data analytics to restaurant operations by tapping into the silent majority of guests' in-moment restaurant experiences through technology touch-points. The company's platform enables restaurant operators make more decisions, faster, and with greater confidence by turning data into insights into actions at unprecedented levels.
Does your company have news it would like to share with our readers? If so, we invite you to review our editorial guidelines and submit your press release for publishing consideration.