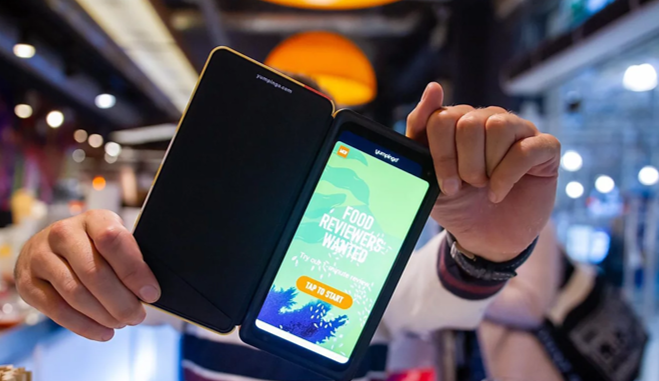 Restaurant intelligence platform Yumpingo today announced that it has raised $10 million in a Series A investment with London-based venture capital firm Smedvig Capital.
Launched in the UK in 2017, Yumpingo is a restaurant intelligence platform that has sought to bring big data analytics to restaurant operations by tapping into guests' in-moment restaurant experiences through technology touchpoints. The platform integrates seamlessly with a restaurant's POS system to facilitate data which impacts operations, new product development and marketing.
Yumpingo typically collects data at the end of a meal when the check is presented via a one-minute survey on operator-branded hardware or through a diner's smartphone. Data is distilled down into meaningful insights that provide management (at site, regional and corporate levels) with the visibility to make informed decisions about how best to optimize the guest experience at the menu item, service, site, menu or concept level.
The new funding will reportedly be used to scale and further innovate Yumpingo's one-minute instant review platform, launch Yumpingo Pay, a new pay-at-table platform, and expand the company's sales and operations internationally.
Additionally, Keith Taylor, chief financial officer of Equinix, and Mike Ryan, CEO of Bullet Point Network, and previously partner and head of global equity products at Goldman Sachs, are investing in the round and will be joining the Yumpingo board. Also investing is David Cantu, co-founder of HotSchedules, one of the world's largest SaaS data platforms in the restaurant industry.
An example of a Yumpingo customer is California Pizza Kitchen, which began piloting Yumpingo at three flagship restaurants in the Los Angeles market beginning in August 2019. The results prompted CPK to green light the platform's signature one-minute review for national rollout to all 181 U.S. CPKs in the first half of 2020 starting this February.
The Yumpingo platform engages guests in a one-minute digital conversation at the check presentation step of service using a POS-integrated CPK-branded device. Guests can rate each menu item they have ordered as well as their overall experience while providing insightful comments on their visit.
Yumpingo delivered over 93,000 in-the-moment responses from consumers visiting the three pilot CPK locations since the mid-August launch with data ranging from over 18,000 NPS answers to 500 reviews. Mike Mader, SVP of Global Strategy, Planning and Transformation at CPK, led the pilot as part of a guest experience project and championed its adoption.
Yumpingo reportedly delivers over 4,000 percent more reviews per restaurant than from Yelp, TripAdvisor, Opentable, Facebook and Google combined, with up to 66 percent of guests sharing their voice without any incentive and 20 percent leaving an email address. This volume and granularity of live customer sentiment allows brands to understand every facet of the customer experience, identify what needs to be fixed, develop specific actions and measure improvements.