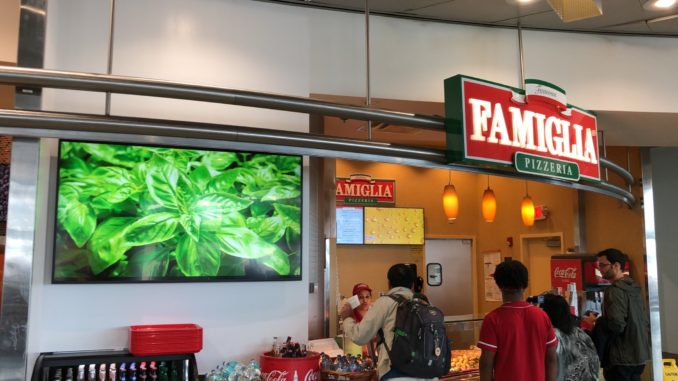 By Alisha Goldberg, Assistant Editor
Vibrant and dynamic menus displayed through digital signage have becoming a standard fixture in fast casual and quick serve restaurants. Digital signage has been shown to improve communications, provide entertainment to guests waiting in line and brighten the overall ambiance of the restaurant environment while serving to improve branding and also, in some cases, reduce costs, including printing and design costs.
One company that is currently putting the latest advances in restaurant digital signage to good use is Areas, a subsidiary of Elior Group, which ranks as one of the world's leading operators in contract catering, concession catering and support services. Elior's 132,000 employees serve 6 million people on a daily basis through 25,600 restaurants and points of sale.
Through its franchises, Areas has a presence in many United States airports, including ones in Chicago, Los Angeles, Atlanta, Miami, Newark, Washington, Indianapolis, Orlando and Detroit. In late 2018, Areas was awarded the right to operate 15 restaurants at the Minneapolis-Saint Paul International Airport, which ranks as the 16th busiest airport in North America.
The company is currently installing smart digital signage technology throughout these locations.  According to Paula Antich, the director of marketing and communication for Areas USA, the new technology is a big deal.
"It represents a step forward in the group's digital strategy to provide us with modern, flexible and scalable tools that enable us not only to dynamically inform customers about our food offers but also to be able to manage all the digital assets of all the brands we manage under a single platform," she said. "In addition, content management is highly intuitive and its ability to generate 'wow effects' over several screens is something completely new and which gives us an edge in digital signage."
Areas is using smart digital signage solutions from Netipbox Technologies, which is headquartered in Barcelona, Spain, and has partnered with Areas on multiple European projects in the past. The solution provider states that it develops its solutions based on 3 strategic pillars:
Content: Solutions in the form of digital asset management (DAM) to create or fix any type of digital content from the online world to distribute it through digital channels in physical spaces.
Interaction: to promote bidirectional communication with customers through different solutions and devices.
Data: to facilitate the capture of data by centralizing the analysis to improve decision making
Netipbox integrates with Areas' PST platform, enabling management of the second PST screens in Areas' restaurants. Hardware and software equipment is being implemented by Netipbox Technologies, while the content creation is being handled by Impactiva Global DS Agency, a division of Netipbox. The integration and installation of the system was carried out by Safco Systems, Inc., using menu board screens from various manufacturers.
According to a spokesperson for Netipbox, the smart digital signage solution provides operators with a range of functionalities. These include the ability to identify audience typology and metrics using camera systems (in collaboration with French company Quividi) and the creation of mega banner effects synchronised over different screens (through a system known as Synchro WOW). 
All of which makes the restaurants at the Minneapolis-Saint Paul International Airport a lot brighter, in terms of both luminosity and intelligence.