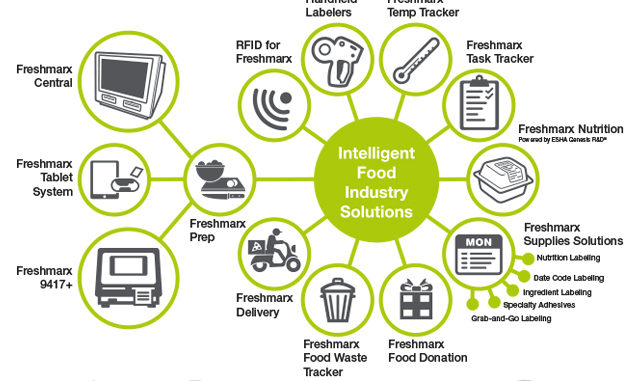 A global leader in materials science, printing technologies, RFID solutions and manufacturing, Avery Dennison is taking a bold step into the future of food that will allow restaurants, grocery and convenience stores to address current needs and meet future challenges with holistic, scalable solutions for a connected supply chain. Avery Dennison Freshmarx® technology harnesses the power of accurate, shared data to enable labor efficiency, food safety, sustainability and enhance the consumer experience.
The Freshmarx expanding suite of software and hardware solutions is built on scalable technology that is designed to meet the unique challenges and ever-changing needs of food establishments. Connecting front-of-the-house and back-of-the-house operations, Avery Dennison capabilities utilize data to connect all the links of the food supply chain and will be on display at the National Restaurant Association (NRA) Show 2019 (Booth 3279), May 18-21 at McCormick Place in Chicago.
"We are focusing on scalability in offering end-to-end solutions, and are the only company with the capability to provide a complete range of hardware, software and supplies solutions for a totally connected supply chain," said Ryan Yost, Vice President and General Manager, Printer Solutions Division (PSD) for Avery Dennison. "By designing the Freshmarx suite to be expandable, we are demonstrating our commitment to helping the food industry meet challenges today and be ready for the future."
The company also differentiates by playing a key role as an upfront and ongoing consultative partner to food establishments with their FreshTrax® Analysis, Freshmarx® Systems Integration, Freshmarx® RFID Design and Deployment and Freshmarx® Service and Support.  Through this supportive step-by-step program, Avery Dennison experts review existing operations and identify process improvements to ensure greater efficiency, food safety and reduce costs.  An assigned systems integration team sees Freshmarx rollout through and ongoing field support is offered as a service, with local reps available nationwide.
The Avery Dennison booth at the NRA Show will take attendees on a journey across the supply chain, following the newsworthy example of fresh lettuce to illustrate how Freshmarx connects and optimizes the supply chain at every point, from grower to table. With an emphasis on food safety, traceability and labor efficiency, Freshmarx® hardware, software and applications will demonstrate the importance of shared data for a totally connected supply chain, featuring:
Freshmarx® Central
Offering a new level of scalability, the new Freshmarx® Central hardware functions as a gateway to all of the suite's capabilities and greatly enhances the ability to use data to automate processes.  With Freshmarx Central, critical data is gathered and logged in an industry standard format that can be shared by all partners throughout the supply chain. While the Avery Dennison 9417+ utilizes laptop connectivity to access some of the Freshmarx solutions, Freshmarx Central marks a new phase of the suite's evolution to make applications even more accessible and scalable to meet both present and future needs.
Freshmarx® Suite of Applications
Freshmarx continues its evolution as a platform that allows restaurants, grocers and convenience stores to future proof their establishments. Each capability of the suite is compatible with the Avery Dennison 9417+ as well as with Freshmarx Central which adds a new dimension of value to these applications by collecting meaningful data to automate processes. The Freshmarx® suite of solutions goes beyond back-of-house to span end-to-end supply chain capability to meet food industry challenges.
The Connected Kitchen:
Freshmarx® Prep is a proprietary intuitive food service software application designed for food labeling, date coding, nutritional calculations, employee training and food donation and waste tracking. Informed by Freshmarx® Edit, ingredients, menus and recipes are all brand-customized and configurable so updates are centralized and easily and securely pushed across restaurant locations and accessible from Freshmarx® 9417+, Freshmarx® Tablet and new Freshmarx® Central Systems.
Freshmarx® Tablet System solves kitchen challenges related to food labeling, employee training, mobile printing and space constraints.  In addition to Freshmarx Central and the 9417+, it can also combine the Avery Dennison 9485™ portable printer with the Freshmarx® Prep software application on an iPad®.
Freshmarx® Temp Tracker is a cloud-based application to automate cold-storage temperature and humidity monitoring. With readings taken and recorded automatically via Freshmarx Sensors inside the devices, temperature data is transmitted between the cloud and data and accessible from Freshmarx Central, the 9417+ or via Apple, Android and Windows smart devices and Windows PC's. Text and email alerts are pushed when temperatures are out of range, enabling automatic and on-demand reporting for quick response.
Freshmarx® Task Tracker™ is a cloud based, customizable digital checklist application for non-food task execution and food temperature monitoring. This application eliminates paper logs, simplifies kitchen processes and ensures that food is safe for consumption. All checklist data is stored digitally and available for analysis to ensure completion and compliance.
Freshmarx® Donation and Freshmarx® Waste Tracker helps food establishments determine exactly how much food inventory is being lost by analyzing inventory data and ordering processes.  This application allows for easy tracking using a weigh scale – along with labeling and logging – to measure and analyze food waste in order to reduce inventory costs and minimize waste by discarding less food, or by donating excess.
The Connected Supply Chain:
Avery Dennison RFID Solutions demonstrate the company's continued leadership in UHF RFID technology for inventory accuracy and distribution. Applied within the food industry, Avery Dennison RFID solutions are increasing inventory accuracy to about 99% and reducing waste by around 20%, improving food safety due to increased visibility of use-by dates, as shown in pilot with a leading fast food restaurant.  A global leader in Radio Frequency Identification, Avery Dennison now has more than 1,000 patents and applications to help with supply chain management, loss prevention and tracking.
Freshmarx® Supplies Solutions support accurate food labeling, which is not only central to food safety compliance, but also critical for food retailers providing grab-and-go options with a commitment to quality, traceability and consumer confidence.  The company's range of stock and custom innovative freshness, nutritional, ingredient, promotional, dissolvable, durable and high-heat food labeling solutions improve food safety, efficiency and transparency throughout the global food supply chain.
The Connected Consumer:
Freshmarx® Delivery is a game changer in the food delivery business where customers expect fresh food delivered quickly and accurately according to their order. Freshmarx® Delivery enables brand-specific labeling, complete with details such as date, time, order and order-personalization, along with nutritional, pricing and promotional content such as coupons.  In addition to ensuring order accuracy, it's tamper-evident to ensure food safety.
Freshmarx® Nutrition offers an "all-in-one" food and nutrition solution to replace hand-calculating and labeling ingredient and nutritional information for grab-and-go foods, which is cumbersome and can be error prone.  Freshmarx® Nutrition, supported through a partnership with ESHA's Genesis R&D® Food Formulation Software, calculates nutrition
information for ingredients, recipes and menu items and imports the data straight to Freshmarx Central, Freshmarx® Tablet or Freshmarx® 9417+ for easy labeling.
Innovative Partnerships
The Freshmarx® suite demonstrates the built-for-purpose capabilities of current solutions to solve industry challenges, and innovative scalability that "future proofs" food businesses. Avery Dennison has also been developing successful partnerships that open new avenues for innovation.
Its partnership with ESHA, launched at NRA in 2018, has met with great success at restaurants nationwide. Enhanced label accuracy is improving food safety and providing greater ingredient and provenance transparency that is increasingly important to consumers.
Avery Dennison is now forging relationships that add new, unique capabilities to Freshmarx. The result drives labor efficiency while improving overall food safety.
"Our existing and emerging partnerships provide us with an endless runway for future opportunities to serve the food industry," said Lori Porter, Director, Product Management, Printer Solutions Division for Avery Dennison. "By complementing our capabilities, these partnerships enable us to continue to expand our Freshmarx offerings."
The company is currently working with PathSpot, a solution that prevents foodborne illnesses, such as Norovirus, E-coli, Hepatitis A and Salmonella, by ensuring hand cleanliness to prevent bacteria transferring from an associate's hands to food they are handling.  When PathSpot data is incorporated into Freshmarx Central, customers will be able to track individual and team handwashing compliance alongside other sanitation data to provide a holistic view of food safety practices.
"We are enthusiastic about the incredible opportunity of integrating with the Freshmarx offerings," said Christine Schindler, Co-Founder & CEO, PathSpot Technologies. "Our solution has already provided strong benefits for our food industry partners, and we are excited by the immense potential for additional insight and value unlocked through this partnership. Our primary goal is to provide the industry with a simple and clear advantage over foodborne illness."
Expanding its Freshmarx® Waste Tracker and Freshmarx® Donation applications, Avery Dennison plans to work with Food Donation Connection (FDC) to enable Freshmarx customers to not only track waste, but connect food establishments with charities and non-profits resulting in added value by brokering relationship for continued food donation, resulting in a mutual benefit for the food establishment and those in need. The emerging partnership will further Avery Dennison's corporate commitment to sustainability, while helping its customers meet and exceed their own sustainability goals.
For more information on the Freshmarx® suite of food industry solutions and Freshmarx® Central, please visit www.freshmarx.com .
About Avery Dennison
Avery Dennison Corporation (NYSE: AVY) is a global materials science and manufacturing company specializing in the design and manufacture of a wide variety of labeling and functional materials. The company's products, which are used in nearly every major industry, include pressure-sensitive materials for labels and graphic applications; tapes and other bonding solutions for industrial, medical and retail applications; tags, labels and embellishments for apparel; and radio-frequency identification (RFID) solutions serving retail apparel and other markets. Headquartered in Glendale, California, the company employs approximately 30,000 employees in more than 50 countries. Reported sales in 2018 were $7.2 billion. Learn more at www.averydennison.com.
About Avery Dennison Printer Solutions
Avery Dennison Printer Solutions responds to the unique challenges of businesses in the food, retail and fulfillment markets. Its solutions are rooted in efficiency, cost savings, food safety and sustainability through intelligent innovations that solve business problems and improve business processes. Avery Dennison Printer Solutions proudly manufactures the original Monarch® Handheld Labeler at its headquarters in Dayton, Ohio, and is a global leader within the food industry with its Freshmarx® solutions. Learn more at www.freshmarx.com and follow them on LinkedIn.
Does your company have news it would like to share with our readers? If so, we invite you to review our editorial guidelines and submit your press release for publishing consideration.