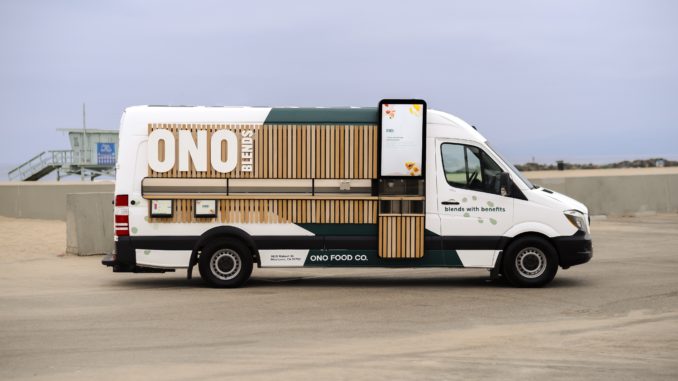 Food truck startup Ono Food Company has unveiled what it calls "the world's first mobile restaurant powered by robotic technology." The company's robotic food truck will begin serving the greater Los Angeles community smoothie blends for under six dollars, and prepared within 60 seconds beginning this Fall.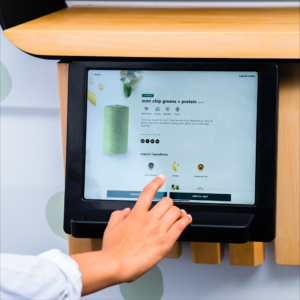 Headquartered in Los Angeles, and founded in July 2018, the company was created by alumni from some of well-known companies in automation and logistics, including Instacart, Cafe X, L2F (systems integrator for Zume Pizza, Tesla, and SpaceX), and more.
"While Ono's food truck is powered by complex technology, ordering an Ono Blend is incredibly simple," boasts the company in a statement announcing the launch of its first mobile restaurant. "Customers simply approach Ono's ordering kiosk, place their custom order, and watch as robotic systems create their blends from scratch. Within 60 seconds, blends are ready at Ono's pick-up area."
Ono's food truck leverages advanced robotics to remove inefficiencies in food prep to create blends within 60 seconds. The blends are made with high-quality, sustainably-sourced, organic ingredients, like vegetables, fruits, seeds, nut butters, and coconut milk.  Recipes include avocado & matcha, and mint chip greens & protein.
By leveraging robotic technology to make blends, Ono claims that it is able to offer consistently delicious, custom, environmentally sustainable meals to customers, and at a much lower cost than consumers would find elsewhere. According to the company, specific benefits include:
Accuracy – Unlike other food establishments where cross-contamination of ingredients is prevalent, Ono's use of advanced patent-pending robotic technology ensures every blend will be created exactly as described, no matter how custom or complex. Since every part of Ono's assembly process is monitored by hundreds of sensors to ensure there is no spillage, cross-contamination, or inconsistencies; customers with dietary restrictions, allergies, or simply specific preferences no longer have to worry that their blend might include ingredients it shouldn't.
Increased Speed & Efficiency – Through automation, Ono can reportedly provide 60 people with blends per hour vs. the industry standard of just 20 per hour. With an understanding that not every customer has time to wait 5-10 minutes for a smoothie to be served, Ono's robotic food truck ensures busy customers can quickly get the healthy food they need when they need it, so they can go about their day.
Minimal Waste – Ono's food truck is designed to be environmentally sustainable. The robotic kitchen runs on batteries instead of a diesel generator. Additionally, while other smoothie establishments use gallons of water to clean each blender, Ono's patent-pending automated self-cleaning blender and robotic systems reportedly use 28x less water because it only needs to clean the blade and because it's blended in the customer's compostable cup. From cups to straws, all of Ono's consumables are compostable, making Ono more sustainable compared to traditional smoothie establishments.
Quality Control – In traditional smoothie shops, 1 in 10 orders are wrong, according to the company, and this is at best a bad experience, and at worst can be life-threatening for people with dietary restrictions. Rather than assigning people to prep stations or at checkout, Ono takes advantage of automation to free people up to do what they do best; customer service/engagement and education. Ono Guides are on-site liaisons to teach people about where the ingredients are sourced, how blends can affect their wellbeing, and how to create blends specific to their dietary standards or nutritional preferences.
Cleanliness – The robotic kitchen is NSF 169 certified, which is the equivalent to best in class sanitation, to ensure customers know that their blend is created in the cleanest, safest, and most sanitary environment possible. "With self-cleaning technology, there are never issues with equipment going uncleaned," said a company spokesperson.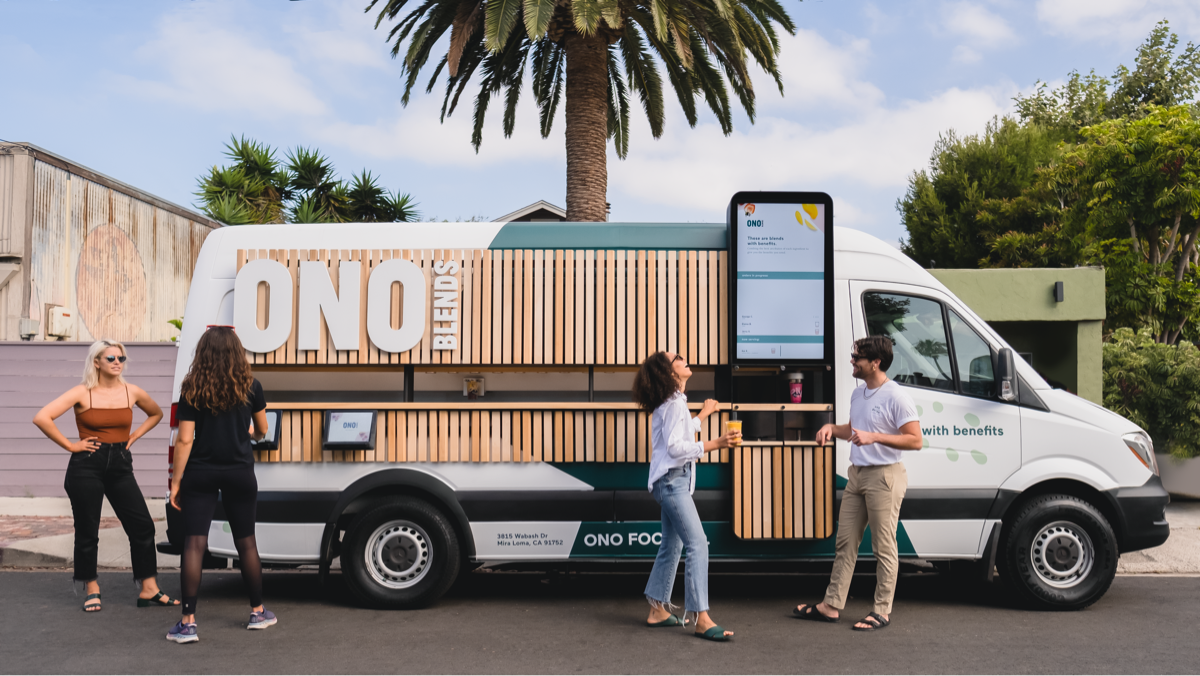 Following the initial launch, Ono plans to release an app that will allow customers to view where the Ono Blends truck is located. Customers can place their order on their smartphone device to enjoy a personalized blend in advance. Once the individual is within a 300-foot radius of the truck, the robotic systems will initiate the order to ensure the blend is made fresh and will be ready when the customer arrives.