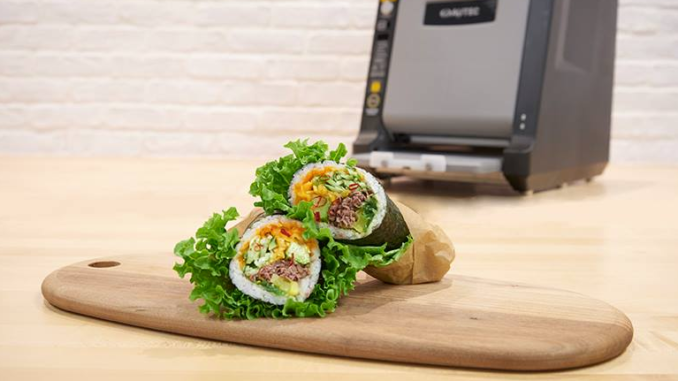 While many regard sushi-making as a fine artisan craft, as depicted in the 2011 movie "Jiro Dreams of Sushi," some modern-day Japanese restaurants have succeeded by turning such sentiments upside down. Instead of seasoned sushi chefs making sushi and rolls by hand as their forebears had done since time immemorial, for example, the restaurant chain deploys an army of metallic kitchen robots capable of producing the food on demand in record time and with mechanical precision.
Some machines make rolls. Other machines make sushi. One machine squirts wasabi paste onto perfectly-formed and measured rice balls.
Technology has been the backbone of virtually every aspect of one popular sushi restaurant — Kura Sushi — since its start 37 years ago. And technology continues to set it apart and allow it to succeed, to the point that parent company Kura Japan now operates more than 400 stores worldwide with a market value of more than $1.5 billion.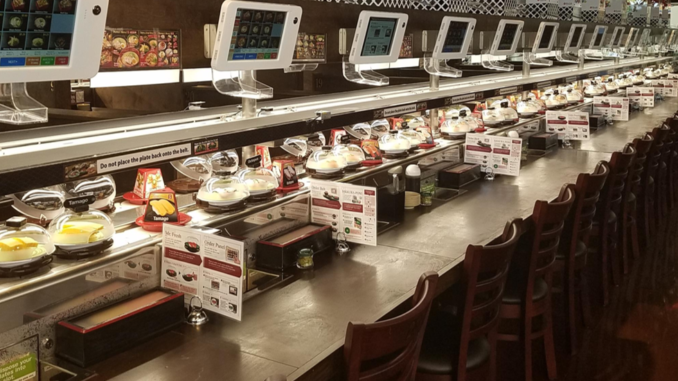 In August, Kura Sushi USA, which consists of 22 revolving sushi restaurants, raised $41 million in an initial public offering. The stock soared 40% on its first day of trading.
Kura Sushi owns 31 patents for technology inventions it has made over the years developing its sophisticated system of automated food ordering, preparation, delivery, and billing. Perhaps its most valuable patent relates to its transparent dome-shaped dish cover, called sendo-kun, or "Mr. Fresh." The dome, placed on top of each plate, flips open when the plate is slightly lifted. Importantly, it contains an embedded chip that enables the monitoring system to track how long a plate has been making the rounds on the secondary conveyor belt where anyone can help themselves to any dish.
Given this advanced level of automation, Kura Sushi hires very few chefs and very few servers. The cost savings in overhead compared to traditional restaurants is obvious. Additional technology, such as RFID readers and food replenishment algorithms, reduce labor costs and food waste even further.
It's no wonder Japan now has thousands of copycat restaurants, most of which use sushi preparation robots made by Suzumo Machinery Company, with plates that travel on conveyor belts, accurately delivering dishes to the customers who ordered them via touchscreen panels. "Conveyor belt sushi" is now a $6 billion industry in Japan alone.

Kura Sushi deploys multiple technology systems on the backend, including one that combines real-time data with information about how many food items were consumed during comparable time frames in the past, allowing production adjustments to be made as needed. The chain also uses a remote assistance system with cameras that relay images to remote human supervisors who can then advise locations immediately on whether the conveyor belts are carrying the right quantity and assortment of offerings.
AUTEC Sushi Robots
Much of the core technology that has made Kura Sushi so successful is readily available to other restaurant owners and operators that also wish to automate their sushi preparation process. One restaurant technology provider that has been a pioneer in sushi robots is AUTEC Sushi Robots.
AUTEC began its journey in 1962 as Audio-Technica, an audio equipment manufacturer in Tokyo, Japan. In the 1980's when vinyl records were taken over by CD's and our focus was on turntable needles, the company held an employee "idea contest" to create a breaking new product. The result was a toy sushi maker for children.
In 1984, the company combined the audio turntable concept and the toy sushi maker to create "ASM50 Nigirikko," the world's first automatic sushi maker for home use, prompting the special machinery division AUTEC to be born.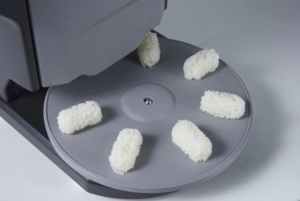 Nigirikko allowed consumers to have one machine that easily made shari (sushi rice) and mold it into nirigi rice balls which became an instant country-wide success. As sales continued to rise, the company received inquiries of "if and when" an industrial-use model would be coming out. The development team quickly went into work automating Nigirikko's shari mechanisms and created AUTEC's first sushi robot for industrial use that produced 900 nigiri rice balls per hour.
Today, AUTEC's sushi robot line has expanded from Nigiri robots to Maki (for roll type) robots, Omusubi (rice balls) robots, sushi conveyor belts and sushi rice mixers to meet the needs of restaurants from 50 countries around the world.
Among the benefits of AUTEC sushi robots:
Efficiency: AUTEC sushi robots speed up production so restaurants have a faster turnover rate. For example: a chef on average can product up to 60 rolls an hour where if they had the help of a sushi robot, they can produce up to 450 per hour. (Should these restaurants sell the rolls at $8 per roll, the chef-only restaurant would average at $480 in sales in an hour versus one with a sushi robot, which would average $3,600 in an hour. That's a 750% difference in potential sales.)
Operational Costs: There is a labor shortage that restaurants and grocery stores face with sushi chefs as they often have to go through a rigorous training program and require a higher spend. By integrating AUTEC into their kitchens, they are able to decrease labor costs (by about 15%) and provide fast service with consistent quality food.
Customer Loyalty: Customers continue to return to a business because they have enjoyed the food and service and expect the same each time. Once programmed to restaurants preference, AUTEC's sushi robots form cooked rice precisely the same each time, no matter who operates it.
In the movie "Jiro Dreams of Sushi," Yoshikazu Ono says: "Always look ahead and above yourself. Always try to improve on yourself. Always strive to elevate your craft." While AUTEC's sushi robot line may not elevate the craft of sushi making in the traditional sense, it certainly automates the process in a way that delivers unprecedented commercial value for restaurant owners and operators.