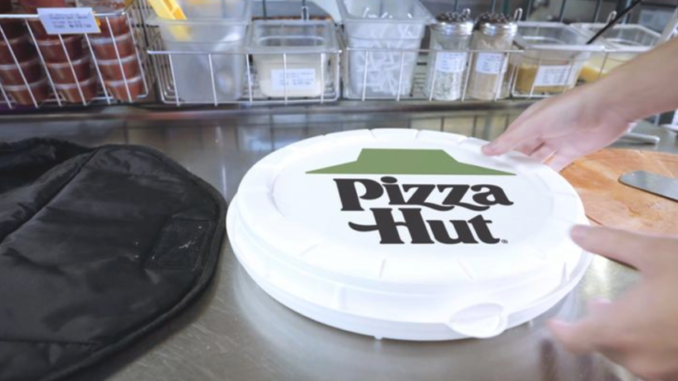 The wheel is often cited as one of humankind's earliest technology innovations. Yet here we are, thousands of years later, with pizza boxes that, despite the shape of their contents, remain firmly square, (although, to be fair, octagon-shaped boxes have become popular in some parts of the world).
The reason is simple. Square and octagon boxes, which are assembled from a single sheet of cardboard (as demonstrated in the 2019 South Korean comedy thriller Parasite) are easier and less expensive to produce than round boxes. Yet, needless to say, square boxes are wasteful given all that extra space.
The last real technology innovation in pizza box design goes back to 1977, with the introduction of the corrugated box. It was much stronger box than is predecessor, which was constructed of clay-board. It was stackable, easy to assemble, and a reasonably good insulator, keeping the food hot during delivery.
Which isn't to say that some industrious people haven't attempted to disrupt the pizza box industry with round prototypes. In 2004, an inventor named John Harvey introduced a round box dubbed "the Presseal," which trapped grease better than square boxes and prevented the pizza from sliding around. But finding manufacturers and distributors proved to be showstopper.
Believe it or not, Apple filed a patent In 2010 for a thin, round pizza container designed for personal pizzas. It featured 8 ventilation holes, which allowed moisture to escape. While this innovation was never commercialized, presumably because sales of the company's core products were doing sufficiently well, it continues to be used by Apple employees to take pizza from the food court to their desk without risk of sogginess.
Most recently, a company called World Centric, which manufactures compostable products for the foodservice industry, introduced "Pizza Round," a compostable pizza box made from sugarcane and bamboo. It has less packaging than a traditional pizza box. It also has improved heat retention and air vents designed to maintain crispiness. Pizza can be reheated in the box. The top doubles as a server, and the boxes nest to save storage space. All of which begs the question: What will they think of next?
Pizza Hut Embraces The Round Box 
That's a good question for Pizza Hut, which currently has almost 18,500 restaurants worldwide, making it the world's largest pizza chain in terms of locations. Pizza Hut prides itself on technology innovation, including within the realm of delivery. Earlier this year, for example, the chain began to experiment with delivery via FedEx SameDay Bot, an autonomous delivery device.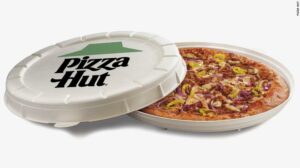 The pizza itself, of course, was still being delivered in square boxes. But that may soon change. Two weeks ago, the chain tested the waters with a game-changing round pizza box. It was a small test that took place at a single Pizza Hut location in Phoenix. But the implications are potentially big.
Pizza Hut partnered with a company called Zume to design a way to put a round pizza in a round box. Not only does the round box contain less overall packaging compared to a typical square pizza box, it's also industrially compostable (where available) and interlocks easily to ensure a smoother delivery. In other words, no pizza insurance policy needed and freed up space in the fridge for leftovers. Following the event in Phoenix, Pizza Hut will reportedly look at ways to roll the box out more widely in the near future.
"This revolutionary round box—the result of a two-year journey—is the most innovative packaging we've rolled out to date," said Nicolas Burquier, chief customer & operations officer, Pizza Hut. "The round box was engineered to make our products taste even better—by delivering hotter, crispier pizzas. This box is a win, win—it will improve the pizza-eating experience for our customers and simplify the operating experience for our team members."
"Pizza Hut is an undisputed leader in its use of technology to deliver on its promise of hot, fast and reliable food," said Alex Garden, CEO of Zume, Inc. "We're thrilled to support Pizza Hut's packaging efforts to provide its fans with a great pizza-eating experience."
At the same time, it seems that Pizza Hut is gearing up to join the plant-based meat craze. During its historic round box test, the chain also introduced the new Garden Specialty Pizza topped with Incogmeato by MorningStar Farms Italian sausage. The test run of the plant-based Italian sausage topping marks the second venture for Pizza Hut and Kellogg.
"Incogmeato is a new-to-the-world brand created to challenge convention on delicious plant based food," said Wendy Davidson, Kellogg Away from Home President, in a statement. "Pizza Hut is the innovation leader in its category and we are excited to partner with them to develop a tasty, first-ever plant-based pizza to satisfy what flexitarians are seeking today."
To be fair, Pizza Hut isn't the "first-ever" chain to jump on the plant-based bandwagon. Little Caesars is currently testing the Impossible sausage in three test markets. Meanwhile, Domino's has launched plant-based pizza in Australia with plans to roll it out to other locations next year. Blaze Pizza introduced Spicy Chorizo protein as a topping earlier this year.
By all accounts, the Pizza Hut test was a success. It may be only a matter of time before round pizza boxes become the norm and square pizza boxes are discarded into the dustbins of history.