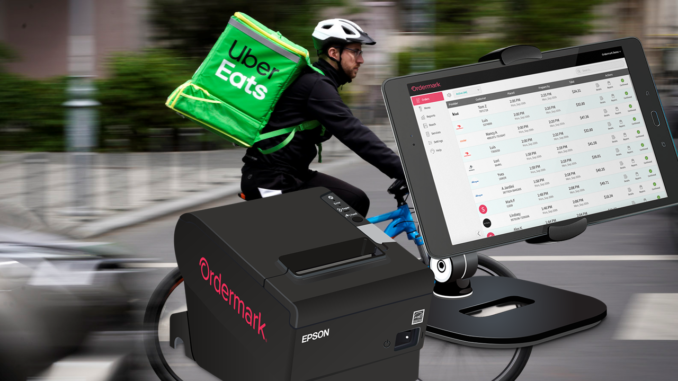 Restaurant technology service provider Ordermark, which is helping restaurants and virtual kitchens generate new revenue and profits by adding all available delivery services into a single dashboard and kitchen printer, has entered into a new and expanded agreement with Uber Eats, a food delivery platform powered by Uber, that works with more than 320,000 restaurants worldwide.
Since launching the Eats app three and a half years ago, the business has leveraged Uber's technology and logistics expertise to serve 500+ cities globally and partner with more than 320,000 restaurants, all while keeping average delivery time under 30 minutes.
The partnership and technology integration between the companies seamlessly pushes Uber Eats orders to the kitchen and Ordermark Dashboard, making it easy for restaurants to participate and manage
off-premise orders. Additionally, Ordermark restaurant and virtual kitchen clients of all sizes that are new to sign up and request Uber Eats through Ordermark Reach can get their initial set-up fees waived. Restaurants will also receive a discounted rate.
"Our top priority at Ordermark is deepening technical integrations and partnerships with forward-thinking industry leaders, such as Uber Eats," says Alex Canter, CEO of Ordermark. "We're pleased to partner with Uber Eats as this relationship will translate directly into greater efficiency, more orders, and higher value for our restaurant partners nationwide."
"At Uber Eats, we are committed to bringing our restaurant partners the best technology available to help set them up for success," says Liz Meyerdirk, Global Head of Business Development at Uber Eats. "That's why we are thrilled to be expanding our partnership with Ordermark, and look forward to seeing how restaurants continue to benefit from their products." 
"Ordermark prioritizes working with delivery partners that share our obsession with streamlining operations for restaurants," says Andrew Lambert, Head of Partnerships at Ordermark. "Uber Eats shares this vision and we're excited to grow together."
Does your company have news it would like to share with our readers? If so, we invite you to review our editorial guidelines and submit your press release for publishing consideration.