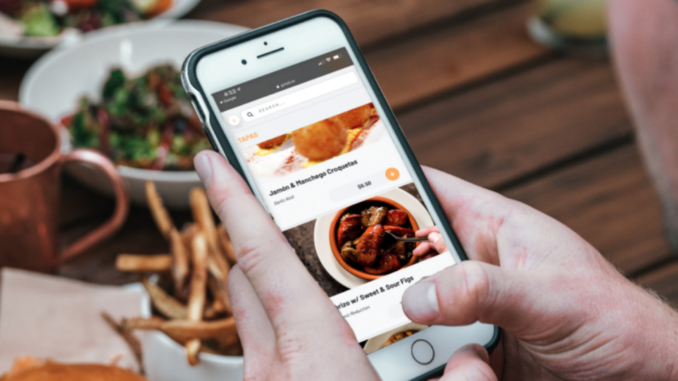 Restaurant POS and contactless order and payment platform GoTab has secured a $6 million investment with the stated goal of further bridging "the gap between contactless dining and full-service hospitality." With this new round of funding, GoTab is developing partnerships and facilitating integrations with other hospitality technology platforms, to help ensure that restaurant owners and operators can optimize their business model and adapt swiftly to operational changes.
The company reportedly ramped up its food takeout feature and pushed out a delivery option within two weeks of restaurants across the country having to close their dining rooms due to the pandemic. Currently underway is the rollout of GoTab's Mobile POS contactless ordering and payment features for servers, designed to make restaurant guest transactions more convenient and contact-free.
Founded in 2016 and based in Arlington, Virginia, GoTab has only 17 employees, but, according to the company, serves hundreds of national, regional and local full-service restaurant in the United States, including such brands as Stone Brewing, Barcelona Wine Bar and Ballast Point Brewing Company. GoTab is designed to deliver multiple benefits that have proven to be particularly valuable in the midst of a pandemic.  These include creating an efficient environment for guests while freeing up front-of-house staff from low-impact tasks and allowing them to allocate more time to maintain proper safety guidelines, benefitting both restaurant operators and guests.
The new funding round was led by a group of existing investors. These individuals include Anthony Bruce, former president, Applied Analytics at Mastercard & CEO at APT; Greg Cohen, former president of iPayment and Paya; Jody McLean, CEO of Edens; Will Graylin, CEO of OV Loop and former global co-GM of Samsung Pay; Jim Hirshorn, Partner at Ares Management Corporation and President of Potbelly Sandwich Works; George Krautzel, managing partner for MissionOG; Andrew Newcomb, managing partner at MissionOG; and Jonathan Zabusky, founder and managing partner of Bounce Ventures LLC, former president of Grubhub/CEO of Seamless.
"We are excited for the possibilities that this new round of investment brings," commented GoTab CEO Tim McLaughlin. "GoTab has helped countless operators adapt their hospitality model and turn a corner despite the current challenges they are facing. We are confident that further integrations and partnerships with best-of-breed technology will bring even more innovation and success to our operators."
According a company press statement, GoTab is currently the only self-service platform with native features for opening a digital tab, sharing and splitting the tab and calculating tips among friends, and keeping the tab open until it's time to settle. The GoTab system is designed to be an integrated or stand-alone service, requiring minimal setup and a nominal per transaction percentage for operators. It requires no additional hardware, software or support costs and works seamlessly for takeout and delivery service. Guests scan a QR code directly from their mobile phones, order items via online menus, and pay securely, all without downloading an application or interacting with a server.