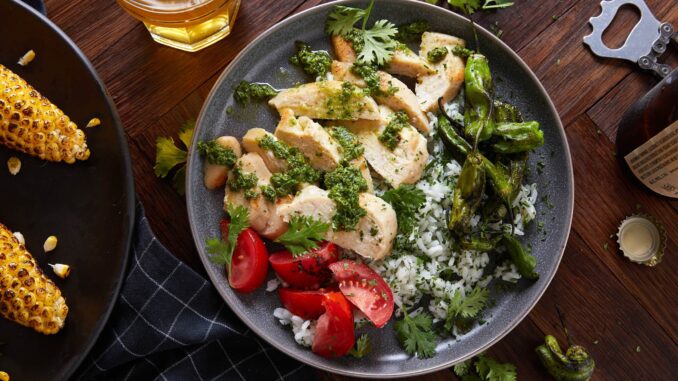 San Francisco-based Eat Just is reportedly the world's first company to have its lab-grown meat served in a restaurant. The announcement was made by Eat Beyond Global Holdings, an investment company focused on the global plant-based and alternative food sector. The cell-cultured meat was served for the first time last week at Restaurant 1880 in Singapore as a part of a trio of sample dishes.
Starting this month, the cell-cultured chicken will become a permanent fixture on the menu, with dishes  priced at about $23, or what one would expect to pay for a premium chicken dish at the restaurant.
The inaugural event was offered to about 40 total guests in five-person seatings. The menu featured four-course meals prepared by 1880 Executive Chef Colin Buchan, who previously ran the kitchen at several Michelin-starred restaurants.
Eat Just is a food tech company that produces meat and egg substitutes and is best known for its plant-based Just Egg. It recently became the first company approved to sell its lab-grown chicken product, GOOD Meat Cultured Chicken, in Singapore, the first government to allow the sale of cultured meat. A privately-held company that primarily operates in the United States, JUST recently completed a series D financing in the aggregate amount of $200 million.
"Eat Just is paving the way for the cellular agriculture industry, which has the potential to completely transform our food systems today to make them more sustainable and humane," said Patrick Morris, CEO of Eat Beyond. "Singapore is a market that we have been watching closely and it is truly leading the way by driving forward with the adoption of this technology. With the country's small geographic footprint, it should come as no surprise that the country is seeking alternatives to traditional agriculture."
According to reports, Singapore's government aims to have 30% of its food demand met by local agricultural production in the next decade. To help achieve this goal, the government is encouraging adoption of next-generation food science and technology such as cellular meat agriculture.
"The end product, cultured meat, is still fairly expensive as production costs are high, but once the cost of production can be decreased, I believe that we will see this industry grow rapidly in the near future, it is only a matter of time," said Morris.
"This historic step, the first-ever commercial sale of cultured meat, moves us closer to a world where the majority of meat we eat will not require tearing down a single forest, displacing a single animal's habitat or using a single drop of antibiotics," said Josh Tetrick, co-founder and CEO of Eat Just. "We're thrilled to partner with 1880 to launch a product that will someday be served on the dinner tables of families living in the suburbs of Birmingham, Alabama, to the skyscrapers of Shanghai."
According to Buchan, the meal was intended as "an immersive journey through the past, present and future of our food system." But the final course is the star of the show: "three cultured chicken dishes, each bite influenced by a top chicken-producing country in the world: China, Brazil and the United States."
"This is a very exciting collaboration for me," said Buchan, who worked alongside Eat Just's team in creating the dishes. "It's working with new ingredients, something very creative, something we've never quite seen before."