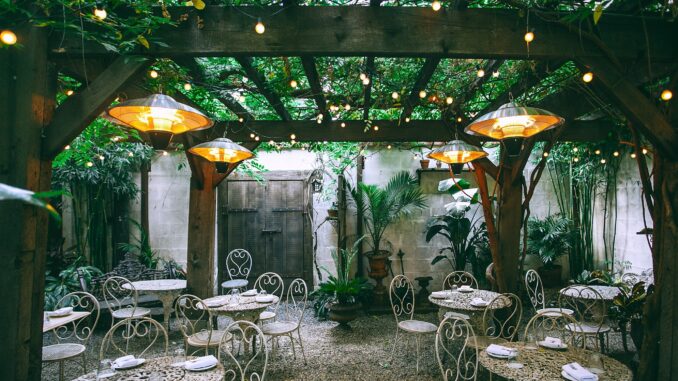 The restaurant industry is still recovering from a tough year. According to estimates, more than 110,000 food services establishments permanently closed their doors in 2020. There is, however, reason to hope that 2021 will be a much better year for the restaurant industry.
Pent-up demand for eat-in experiences at restaurants is higher than ever. A recent survey from the National Restaurant Association found that 83 percent of adults said they aren't eating at restaurants as much as they'd like. In fact, a recent Constant Contact survey found that 44 percent of consumers listed restaurants as one of the first small businesses they dream of returning to patronize.
Outdoor Dining is Here to Stay
In 2020, restaurants had to pivot to outdoor seating rapidly. With many states and local governments imposing 25% capacity (or less) on indoor dining, restaurants struggled to find more room for customers outside their regular establishments. Suddenly, restaurants that had never considered outdoor dining were creating outdoor spaces for their customers to enjoy. Restaurants were now investing in awnings, pergolas, screens, heat lamps and other outdoor dining essentials in order to increase their seating capacity.
It turns out that the trend of outdoor comfort is just beginning to take flight. After a year of eating al fresco, restaurant patrons have gotten used to the great outdoor dining experience. In fact, the same Constant Contact survey found outdoor dining was one of the changes that consumers most wanted to keep in the "next normal."
There are several reasons to welcome this new shift in dining experiences. According to research done by VSAG, adding an outdoor patio can increase a restaurant's gross profits by up to 65%. Outdoor dining isn't just a way to adapt to the new normal, it's also a good business opportunity. Fortunately, smart technology options can help restaurants make the most of their outdoor spaces by expanding their services to stay afloat, especially during these unprecedented times.
Technology Helps Tackle Seasonal Challenges
The biggest hurdle with outdoor dining is that restaurant owners and patrons never know what Mother Nature has in store. A survey from Full Service Restaurant News and Study Hall Research discovered that the most important consideration for customers when it comes to outdoor dining is, not surprisingly, the weather. Similarly, customers were also swayed by the appearance of an overhead covering. Adding technology to these overhead coverings is an innovative, low maintenance way to create comfortable, smart, and efficient structures for dining al fresco.
Restaurant owners can create the indoor/outdoor experiences patrons crave by adding motorized awnings, pergolas and screens that are easily controlled via remote, smartphone app, or as part of a larger automation system that manages other systems within the restaurant. While restaurant patrons have grown accustomed to outdoor dining, they still expect comfort and value for their money.
The hot summer months can become more comfortable under a motorized awning or pergola. Meanwhile, motorized exterior screens can be an essential element during mosquito season to keep unwanted insects away from diners. Outdoor dining transitions easily from day to night with the addition of heat lamps and LED lighting elements that attach directly to awnings, creating beautiful lighting that helps set the mood for outdoor dining spaces.
Simple Control for Better Customer Experience
It's important to be able to control an outdoor dining space simply and effectively. Restaurant owners and managers have a lot of plates spinning (no pun intended). Running outside to hand-crank an awning during the lunch rush is not something anyone wants to add to a long "to-do" list.
With smart pergolas, awnings and screens, overhead protection is controlled with just the push of a button. Instead of waiting for uncomfortable customers to request shade, schedules can be created to automatically extend awnings during the hottest parts of the day and retract once the sun sets.
This technology allows restaurateurs to focus on the important parts of running their operation, while the comfort of outdoor dining patrons is never in question.
Outdoor Technology Can Improve Energy Efficiency
Keeping operational costs low is more important now than ever before. Smart shading products don't just protect customers from the elements; they also provide energy savings for smart restaurateurs.
According to the US Department of Energy, motorized awnings can actually reduce heat gain by as much as 77 percent. Outdoor shading technology creates cooler spaces and reduces heating and cooling loads on HVAC systems. It's a smart way to keep energy bills manageable, while ensuring customers stay comfortable no matter what the weather has in store.
Satisfy Demand For Consumer Wellness
Wellness will continue to be a buzzword in 2021 and beyond. A Kantar consulting group study cited in USA Today found that restaurant guests now expect more cleanliness than they did before the pandemic. Other pandemic-era precautions like table spacing and glass dividers might just be here to stay.
With customers craving extra elbow room between their table and the next one over, a restaurant's outdoor space will become an essential part of the business, offering added seating capacity with the addition of fresh air. Eating outside also offers its own wellness benefits during a time when customers are increasingly focused on staying healthy.
Not only is eating al fresco safer from germs, but eating outside can also help increase much-needed Vitamin D. Being able to open the pergola louvers with a remote and let in the light is a wellness benefit for the 42 percent of Americans who have some form of Vitamin D deficiency.
By creating comfortable outdoor spaces with motorized awnings, pergolas and screens, restaurant technology can help patrons get the recommended 15 minutes to a couple hours of sun exposure recommended by The Vitamin D society. The movement of fresh air also means it's harder to pass germs around than it is in enclosed areas, meaning your table outside under a pergola might be more in demand than your best positioned table indoors.
Outdoor Technology is a Bridge to the Next Normal
Returning to normal won't be an overnight process. In fact, restaurants may never return to a pre-pandemic version of normal. Consumers' tastes have changed too much, from a craving for outdoor dining to a demand for more space in dining rooms.
However, technology can help restaurants get to the "next normal," a term coined by McKinsey and Company to describe post-pandemic life. Since outdoor dining is here to stay, utilizing smart technology to make those spaces more comfortable, more energy efficient and easier to control will be an important key in getting businesses back on track.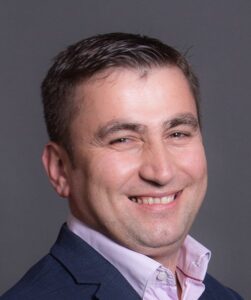 Yilmaz Ozturan is the President-CEO of Somfy North America, providing smart shading solutions for more than 50 years. Somfy works with a nationwide network of dealers and partners that provides motorized and smart awnings, pergolas, exterior screen shades, blinds, and more.
Related: Spotlight Interview: Yilmaz Ozturan, President and CEO, Somfy North America
Are you an industry thought leader with a point of view on restaurant technology that you would like to share with our readers? If so, we invite you to review our editorial guidelines and submit your article for publishing consideration.