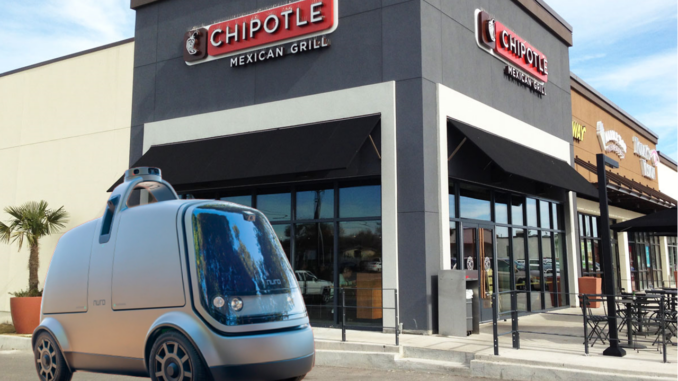 Chipotle Mexican Grill has invested in Nuro, an autonomous delivery vehicles company, as part of their Series C funding round. While the investment was reportedly made in November, Chipotle's participation was revealed only this week.
Founded in 2016, and based in Mountain View, California, Nuro uses robotics in their fleet of on-road, occupantless and autonomous vehicles to deliver consumer goods, including groceries and restaurant orders. The company has ramped up testing of consumer deliveries over the past year using its second-generation vehicle, dubbed R2. The specialized robotic vehicle is still in its early stages of design and engineering. According to company reports, it may be several years before the the R2 will be pulling up to an address with a burrito delivery.
While neither Chipotle nor Nuro disclosed the terms of the deal, a company spokesperson noted that this is the first significant investment in a third-party technology company the restaurant behemoth, which at the end of 2020 numbered more than 2,750 restaurants, has made since its Chairman and Chief Executive Officer Brian Niccol took the helm in 2018.
Nuro raised $500 million in its most recent funding round, led by Woven Capital, Toyota Motor's venture fund. The self-driving technology company had previously raised about $940 million from Softbank and Greylock Capital Management. Nuro also raised $500 million last November from investors that include T. Rowe Price Associates, Fidelity Management and Research Co. and Baillie Gifford. Early backers include Japanese-based SoftBank.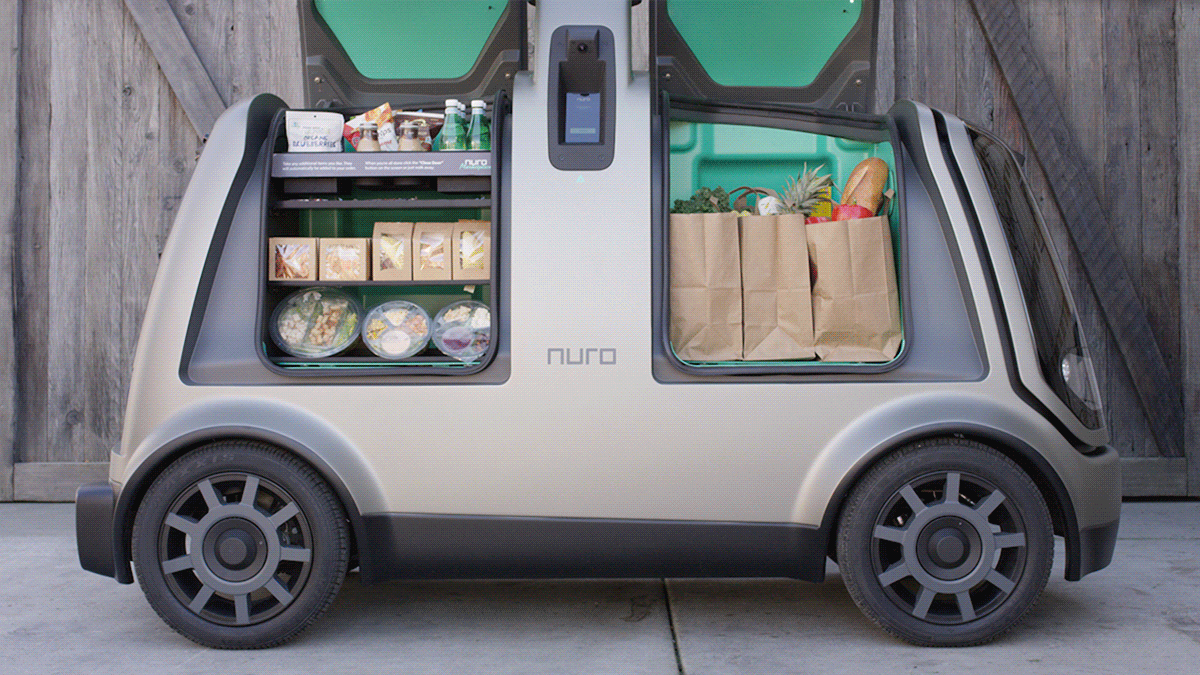 Expanding access and convenience through Chipotle's digital ecosystem is a strategic priority for the company. Chipotle's digital business grew over 174% year over year in 2020, with about half of the digital sales coming from delivery. Early investments in digital innovation have provided a competitive advantage operationally with digital kitchens and the brand's so-called Chipotlanes. Now the company is exploring disruptive opportunities outside of traditional third-party partnerships.
"We are always seeking opportunities that provide innovative solutions for increasing access and convenience for our guests," said Curt Garner, Chief Technology Officer. "Nuro could change the traditional delivery model and we believe consumers are going to continue to seek options and additional access points for how and where they enjoy their food."
"Nuro and Chipotle share the same commitment to improving everyday life through innovative products, whether it's through responsibly sourced food or autonomous delivery vehicles," said Dave Ferguson, Nuro Co-founder and President. "With financial and strategic support from world-class companies like Chipotle, we can continue to advance our industry-leading autonomous technology, grow our team and expand our delivery service."
In addition to increasing access in the U.S., Chipotle announced earlier this week that it will be expanding its footprint in Canada with new restaurant openings over the next year. Additionally, Chipotle recently added its first-ever customizable digital entrée, the Hand-Crafted Quesadilla, to the Chipotle app.

The first-ever Chipotle digital-only restaurant, called the Chipotle Digital Kitchen, opened in November. Located in Highland Falls, New York, the restaurant will opened for pick-up and delivery only. The new prototype allows Chipotle to enter more urban areas that wouldn't support a full-size restaurant and allows for flexibility with future locations.
The Digital Kitchen concept is focused on accelerating the digital business in non-traditional locations. It does not include a dining room or front service line and guests must order in advance via the Chipotle website or app or third-party delivery partners. Orders can be picked up from a lobby that, according to a press statement, "is designed to include all of the sounds, smells and kitchen views of a traditional Chipotle restaurant."
Futuristic digital-only kitchens and autonomous delivery robots are a big part of Chipotle's plan to expand its global business. The investment in Nuro would seem to be an important step in bringing that plan to fruition.