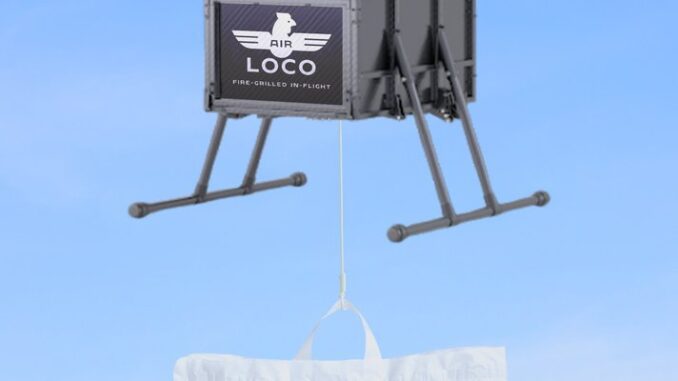 El Pollo Loco this week will become the first restaurant company in the United States to test door-to-backyard drone delivery. The test-and-learn pilot of its drone delivery service is being heralded as the continuation of the company's digital evolution and focus on customer experience. The test flights will take place with ten restaurant locations in Southern California.
El Pollo Loco is launching the pilot with Tel Aviv-based drone startup Flytrex, which manufactures and operates automated drones that cruise at 32 mph without traffic or other impediments and use a wire release mechanism to gently lower food orders from 80 feet.
The drones, which fly at an altitude of 230 feet, can reportedly carry up to 6.6 pounds for a distance of 3.5 miles and back. The current drones do not fly in the rain and at wind gusts stronger than 18 miles per hour, thus limiting the airborne delivery option in certain weather conditions. Last month, Flytex received FAA approval for drone delivery and flight over people but not beyond visual line of sight.
"El Pollo Loco continues to explore new and innovative delivery services that offer our customers added quality and convenience, and the Air Loco drone delivery pilot program is our latest effort to [do that]," El Pollo Loco Vice President of Digital Andy Rebhun said in a press statement. "We want to offer drone food deliveries that are fast, convenient and safe. The insights gleaned during this test-and-learn pilot will play a crucial role in helping us shape this exciting new service ahead of its rollout."

The Air Loco drone is also outfitted with a fastened delivery box that keeps orders intact, which means customers will receive their orders packed in El Pollo Loco's new Thermo-to-Go™ packaging, in a fraction of the time it would take for a conventional delivery to arrive.
Similar drone deliver initiatives are underway elsewhere. One example is Swiggy, which ranks as India's largest online food ordering and delivery platform, and its partner Anra Technologies, a provider of end-to-end drone operations and traffic management solutions. Last week, the company secured permission from India's Ministry of Defense, its Ministry of Civil Aviation and various other authorities to begin trials for beyond visual line of sight operations for drone food delivery service.