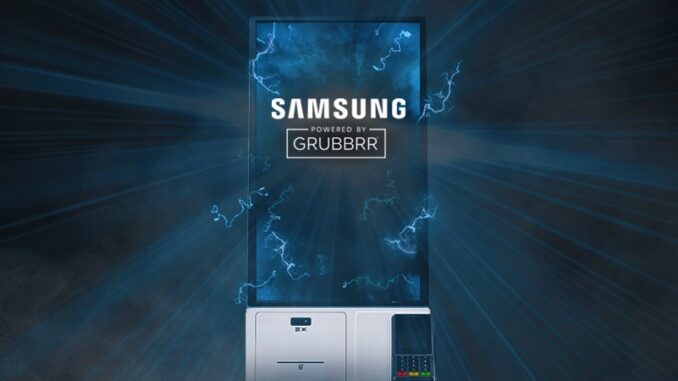 Self-ordering kiosk technology solution provider GRUBBRR is partnering with Samsung Electronics America to provide the most advanced software solution on the market, powering the Samsung Kiosk, the company's new all-in-one kiosk solution as it enters the self-ordering kiosk industry.
With the integrated GRUBBRR software, the Samsung Kiosk comes ready to handle every aspect of the self-ordering transaction and is fully equipped with a high-definition display, printer, credit card terminal, scanner, and NFC tap.
GRUBBRR's solutions have been proven to immediately impact businesses by drastically reducing labor costs and maximizing workplace efficiency. Even more helpful than labor savings is the increase in revenue, predominantly through an increase in average ticket size. Samsung's large, high-definition screen provides unrivaled visual images which are crucial to the buying experience, and GRUBBRR's sleek user interface offers customized upsells with every transaction. The consumer experience is enhanced by eliminating the need to wait in line and providing personalization and order accuracy.
GRUBBRR developers worked with the Tizen platform, Samsung's open and flexible operating system, to integrate the software to meet the needs of the self-service industry. Unlike other operating systems, Tizen supports a variety of devices and is highly customizable. GRUBBRR software enables Tizen to run across verticals, creating a complete all-in-one solution for every business.
"In fulfilling the global demand for an all-in-one smart kiosk, GRUBBRR recognizes that the Samsung brand requires the most advanced software solutions." said Sam Zietz, CEO of GRUBBRR. "Samsung holds the majority market share in nearly all of the industries in which it operates, so partnering with GRUBBRR will disrupt the entire self-ordering technologies industry. Using GRUBBRR's software to power the Samsung kiosk will democratize the most advanced self-ordering solutions to power all businesses at an affordable price."
Samsung is a natural partnership because it has established itself as a global leader in the hardware electronics industry, and pairs perfectly with GRUBBRR's innovative and affordable out-of-the-box, self-ordering solutions.
"When we began our search for a software partner to help us enter into the self-ordering kiosk market, we knew that we needed a best in class team in terms of both support and software." said Mark Quiroz, Vice President, Display Division, Samsung Electronics America.  "GRUBBRR immediately caught our attention as the best turn-key self-ordering solutions provider, and our work with them has only exceeded these expectations. This kiosk will revolutionize the industry for all businesses."
Samsung's new kiosk technology is just the latest and greatest feature of the Samsung ecosystem powered by GRUBBRR. In addition to the self-ordering kiosk, Samsung consumers can also integrate their existing ecosystem with menu boards, order progress boards, kitchen display systems and food lockers to further revolutionize their business.