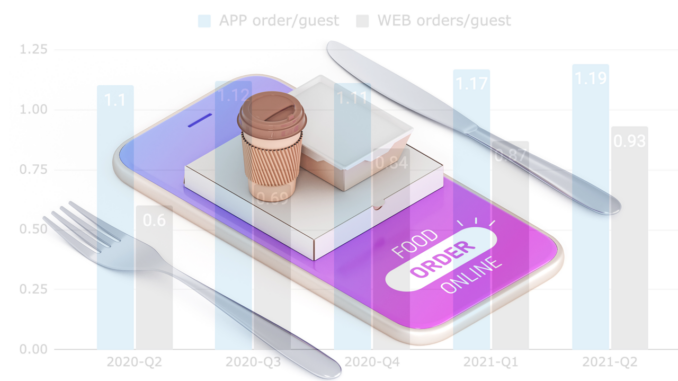 Restaurants have been forced to continuously adapt in order to survive over the past year and a half. With the rise in new Covid cases including the Delta variant, labor shortages, and continuously shifting regulations, perhaps the only thing we know for sure is that optimizing digital channels will continue to be a top priority in 2021 and beyond.
We conducted a study across more than 4.3 million orders over the past year and a half to identify any patterns or trends that would provide some insight amongst all of the uncertainty. Our findings may surprise you.
1. Nearly 60% of digital orders were placed via mobile app over the last year
This finding was surprisingly consistent throughout the pandemic and even into more recent months as in-store dining has started to recover.
Keep in mind, this study only includes restaurants that have a digital technology provider that makes both online ordering and mobile apps available to them. This would likely look very different if it were a study of all restaurants, including those that do not have a mobile app solution at all. And that's the point. Prior to the pandemic, many small to mid sized restaurants felt an app was only for the really big enterprise brands. Throughout the pandemic, many restaurants have looked to not only online ordering, but also mobile apps to drive digital revenue and also engagement with guests beyond the restaurant. Restaurants that do not already offer a 
viable mobile app solution
 may be missing out on a major revenue channel based on the way guests seem to prefer to interact with restaurants digitally.
2. Digital revenue still accounts for ~50% of total restaurant sales
There is a clear increase in on-premise ordering in more recent months. However, digital sales continue to be and will continue to be a critical channel for restaurants.
Restaurateurs we spoke with that are operating at full capacity again seemed to share the consensus that digital ordering will continue to make up at least 30% of their total sales as the new norm, even if the pandemic were to disappear tomorrow.
Investing in digital tools and experiences was also ranked as the top restaurant technology investment goals for 2021 in a recent 
study by Hospitality Technology
. The digital evolution was simply accelerated by COVID, it was not a COVID anomaly.
3. Average check sizes are 58% higher for orders placed on the web, compared to orders placed via a mobile app
This is likely one of the least surprising stats on the list. Mobile orders are far more likely to be placed on the go for takeout or curbside pickup, while online orders are more frequently group orders for delivery. Or at least, that seems like a reasonable assumption. In order to increase check sizes on mobile apps (as well as web ordering) some providers offer built-in upsell recommendations that learn overtime to present relevant add-ons at guest checkout.
One restaurant group, Wing it On!, is using a machine learning powered upsell feature and has seen a >4% increase in digital revenue.
4. Guests order 30-40% more frequently each month from brands via their mobile apps vs. their online ordering pages
On average, guests placed more than one mobile order per month at a rate of 0.3 more orders via mobile app than via web ordering each month. This suggests that while online orders may have higher avg. check sizes, mobile apps may be a better tool to drive guest engagement and to turn guests into regulars.
5. 19% of mobile orders applied a discount at checkout
These discounts came in the form of either loyalty redemption, marketing offer, or promo code and the redemption rate on mobile is significantly higher than online orders (7%) and in-store orders (5%)
This suggests different ordering behavior and engagement between mobile app and online ordering. The offer redemption rate combined with the increase in order frequency (stat 4) suggest that guests are more and engaged on mobile apps. This is likely because they can receive push notifications with offers and messages, and more easily see alerts for loyalty rewards and offers available in their inbox inside the mobile app.
With that in mind, the right digital technology platform can provide you with the tools to drive guest engagement and behavior across all of the ways your guests interact with your brand. You can leverage this to align with your goals and strategy to offer your highest spending guests app only discounts, for instance, or to direct repeat guests from 3rd party sites to order from you directly with sign up bonuses. You can also drive even more engagement and extend your brand through rewards for social sharing and referring friends.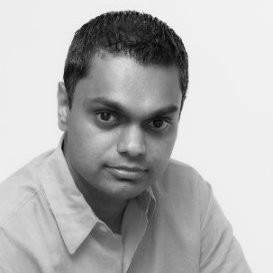 Sashika Dias is the COO & Co-Founder of
Incentivio
, the all-in-one digital guest experience platform for restaurants and is passionate about providing restaurants of all sizes access to the ordering, marketing, and guest engagement tools they need to thrive in today's digital environment without an enterprise-size budget.