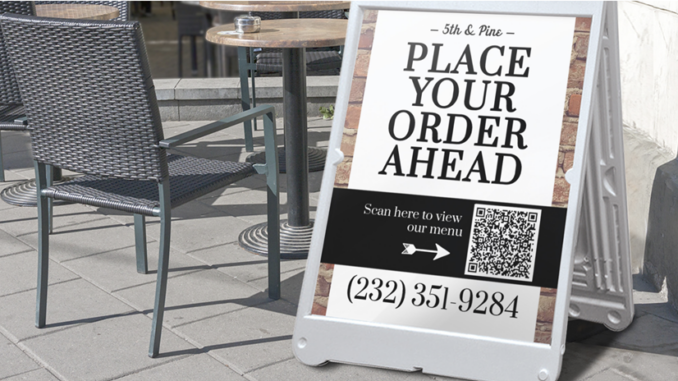 QR codes were one of the biggest surprises of the COVID-19 pandemic. Two years ago, these square bar codes were an antiquated and abandoned piece of technology. Now you can find them in almost every restaurant.
With life (hopefully) returning to normal soon, what role will QR codes play in the restaurant experience moving forward? They helped the industry shift over to contactless dining, but with print menus back in vogue, is it worth continuing to use QR codes?
The answer: a resounding yes. Since QR codes can connect to any link, the possibilities are nearly endless. Restaurants are only beginning to scratch the surface of their potential.
Keep reading for 8 ways your restaurant can use QR codes outside of linking to your menu.
1. Encourage online ordering
Make it as easy as possible for customers to order your food and merch by using QR codes to direct them straight to your online ordering system. This is especially important for restaurants dealing with indoor dining capacity limits due to COVID-19. When customers order directly from your site, you can save up to 30% on each order by avoiding third-party delivery apps that charge high commissions. Additionally, online orders produce higher check averages, meaning even more money in your pocket.
2. Solicit reviews
Google and Yelp reviews have a massive impact on your restaurant's ability to attract new customers. Nowadays, everyone uses their phone to find the spot they want eat at. Not only can a positive or negative review sway them one way or the other, but it impacts how high you rank on Google for searches related to your business.
If you want customers to leave you positive reviews, you need to make it easy for them. Why include a QR code with the check that connects them right to the review form? That way there's no hassle on their end, the meal is fresh in their mind, and you get a (hopefully) positive review out of it.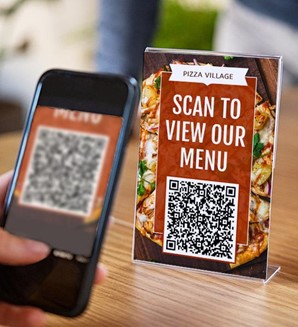 3. Highlight discounts or deals
One quick scan of a QR code and customers can access your latest offer or promo. This is a great place to encourage customers to order directly from you, thereby skipping the third-party delivery commission, by offering discounts on takeout or delivery orders through your website.
4. Get social
Increase your following on your social media platforms by taking them right to your accounts. And this is a great way for them to tag your restaurant when they take photos of your food! Removing boundaries to following your Instagram or Facebook page is a great way to grow your social-media fan base.
 5. Stop traffic
Sandwich boards are the perfect promotional tool for the current climate, because they don't require customers entering your restaurant. If you place your QR code on a sandwich board and set it up on the sidewalk outside your restaurant, customers can access your menu and make an informed decision about whether or not to enter your restaurant. They also work well for restaurants with outdoor seating, or you can place it in high traffic areas within your dining room.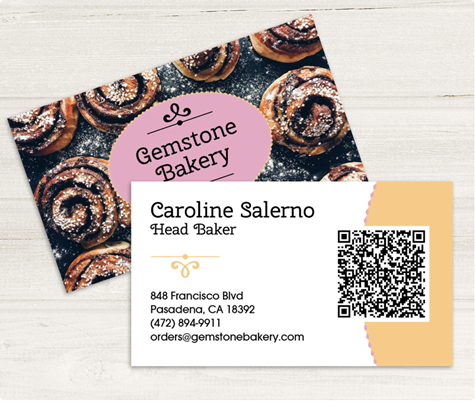 6. Promote your website
Send customers to your website to learn more about your restaurant and quickly save your contact information in their phone. Nowadays, with QR codes, restaurants are discovering that they don't even need a big multipage website. Oftentimes a simple landing page with a few links works better for customers navigating through it on their phones.
7. Elevate your networking
Including QR codes on your business card can add a new dimension to your networking, and cut out an extra step for potential customers. Rather than put the onus on them to find your website and menu, they can simply scan your QR code and be brought it to instantly. It provides quick access to your menu and encourages later engagement actions, so your business isn't forgotten the second you hand over your card.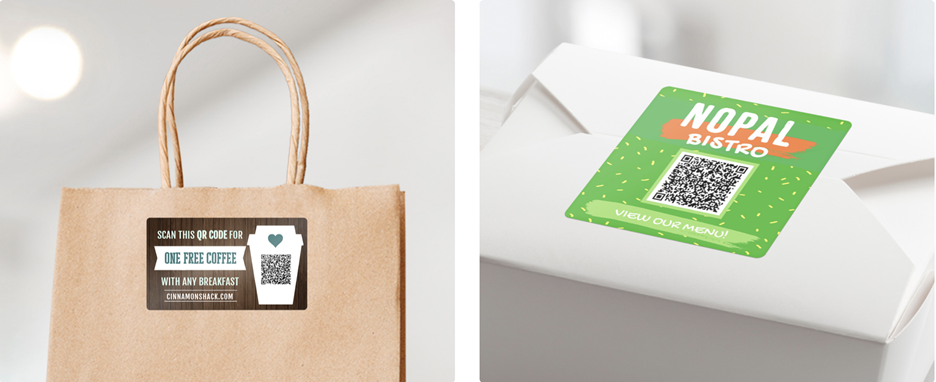 8. Stand out in the crowd
Use your takeout as a launching pad to the rest of your digital marketing by adding a QR code to the bag. Linking to your online menu is a modern, environmentally conscious alternative to including a takeout menu with the order. It gives customers a next step to engage with your restaurant, and makes it easy for them to order from you again by eliminating steps in the process. With QR codes, the possibilities are endless. You could also link to your loyalty program's enrollment page, to your social media, or encourage customers to leave a review by directing them to your Yelp or Google page.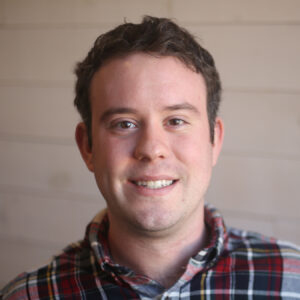 Mark Plumlee is the Sr. Editor at MustHaveMenus, a menu template and marketing service for restaurants. Since 2007, MustHaveMenus has worked to provide small businesses with one-stop online and offline menu management. The company's mission is to help small businesses grow using menus as a powerful sales and marketing tool. It has provided menu design tools, branding services, printing, and online publishing services to tens of thousands of restaurants, bars, cafes, hotels, and hospitality businesses around the world.