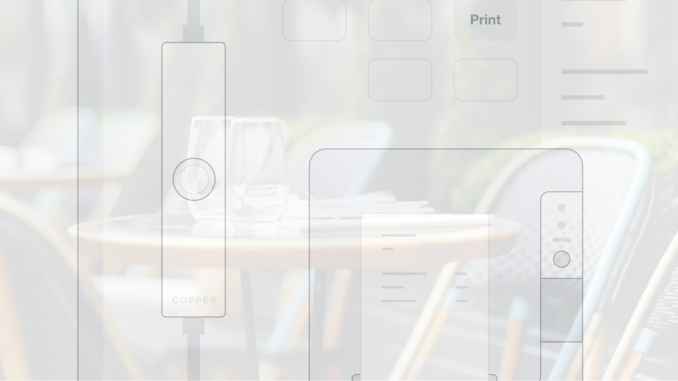 Restaurant IoT platform Copper is closing the loop for restaurants as leaner staffs and fewer tables become a long-term reality. The Copper pay-at-table solution, enabled by the easy-to-integrate Copper Cord™, allows restaurants to more quickly turn tables and help guests close out checks on their own time.
Copper has been doubling its channel partner/reseller relationships month over month since the beginning of 2021, resulting in triple digit growth in restaurant installations, quarter over quarter, and expects to continue that exponential growth through 2022.
"I'm not sure we'll ever go back to the way things were before," said Ken Lowe, owner of Ace Wasabi in San Francisco. "Using Copper saves a ton of time and energy for my staff. Guests are happier, too, because they don't have to wait for their server to go back and forth to run credit cards, so they tip more! It's also nice to see us catching up with how the rest of world handles paying in restaurants. It really is a win-win."
Copper is a cloud-based platform that quickly and seamlessly integrates with every point-of-sale (POS) system and also helps restaurants "free their data" so they can more easily view the outcomes and trends of their own sales. Its various features, including Copper Cord™, Copper Checkout™, Copper Cashier™, Copper Conduit™, offer a highly affordable solution to some of the most costly problems restaurants face.
"Most of us have now become accustomed to seating ourselves and viewing the menu – or even ordering – from our phones, but we're still stuck waiting to pay at the end of a meal," said Copper CEO Dickson Chu. "Additionally, restaurant operators are often struggling to manage their own data the way they want to as well as feel 'trapped' with their payment processing provider as they watch swipe fees increase.  Our goal is to liberate the restaurant from the intentional constraints of their POS systems."
Copper is the most innovative pay-at-the-table payment solution available for restaurant operators. Copper is quick to set up, inexpensive to use, and pairs with any POS system — without needing costly technology changes.  Launched in 2020, Copper works with payment providers, independent software providers and value-added resellers; Copper is used by leading restaurant groups from fast casual to upscale.