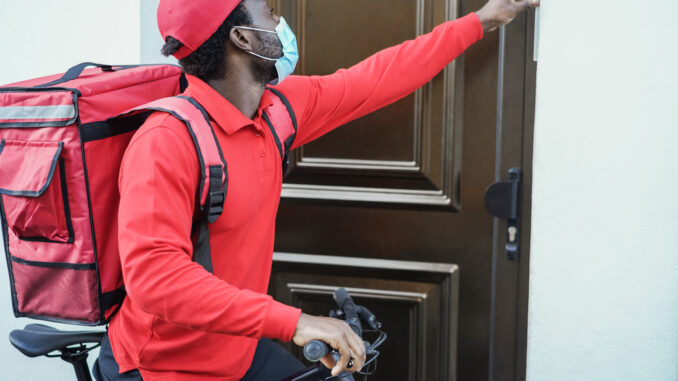 During the COVID-19 pandemic, third-party delivery services like Grubhub and Postmates experienced massive growth as restaurants and customers alike were forced to make the shift from dine-in to takeout and delivery.
Grubhub saw a nearly $100 million jump in revenue from Q1 2020 to Q2 — the same timeframe when state-mandated dining room closures for restaurants went into effect nationwide.
In a pinch, these tech services proved quite helpful to restaurants. They provided instant online ordering and delivery infrastructure so restaurants could make an overnight pivot to off-premise sales. Even restaurants with no previous takeout experience now had a way to connect with customers who were sequestering in their homes.
Now that the industry has stabilized, many restaurants are realizing that continued business with these apps may not be sustainable. For many small businesses, the long term benefits are far outweighed the immediate cons.
As the outrageously high bills continue to come due, the big name delivery apps are facing mounting scrutiny and public backlash over their predatory business practices. Many cities imposed commission caps at 15%, a huge regulation to levy against a certain business sector. More recently, the city of Chicago opened two lawsuits against Grubhub and DoorDash for deceiving customers and using unfair business practices. Other cities may soon follow suit.
All that aside, third-party delivery services do provide tangible benefits for restaurants. These include:
Exposing your restaurant to a huge customer base
Providing an instant online ordering and delivery system
But they also come with major setbacks, namely:
Huge commission fees on each order, sometimes as high as 30%
You lose control over the customer experience
Charges commissions on pickup orders and phone calls, even when no delivery is involved
Can overwhelm you with orders at peak business times
Kills margins
Delivery apps still possess some tangible benefits for restaurants — namely putting your restaurant in front of a larger audience. But restaurants are realizing that the many cons outweigh that one main benefit. So how can they cut ties with these delivery apps that seem intent on weaseling their way into every restaurant transaction?
Following are five ideas to consider.
Host your own online ordering
This is the most important one. Every single restaurant should provide their own platform for customers to place online orders. And then they should encourage those customers to use it at every turn. If you're paying a delivery app commissions on to-go or pick-up orders, you're throwing money away unnecessarily to a middle man who provides little to no value.
The good news — so many tech services have popped up in the last year to answer this demand. Ranging from the big-time players in POS to new tech companies that focus exclusively on contactless dining, restaurants have no shortage of options for hosting their online ordering.
While these companies invariably charge fees for the hosting and technology, a one-time payment or yearly subscription is much easier for restaurants to manage than commissions on each order. Some services, like Owned, even offer their service for free after an initial set up charger.
Put your Phone Number on your Online Menu
GrubHub recently generated quite the controversy surrounding this. They rolled out a new feature that was ostensibly supposed to help restaurants bring more online orders in house by allowing customers to call the restaurant and place an order directly through the GrubHub app. Surprise, surprise — it came with some strings. It turns out GrubHub was charging restaurants commissions on phone calls over a certain time limit, regardless of whether or not the customer even placed an order.
This is a completely unnecessary feature and headache for restaurants. Anyone can set up a phone line easily from their menu, website or social media. You can put a link with your phone number on your online menu, your website, heck, even from a QR code. Making it as easy as possible for your customers to call you is a great way to encourage direct ordering and bypass the delivery apps. They are a 100% unnecessary middleman in that equation.
If you need to quickly build an online menu, menu template services make it easy with preset templates that you can customize and publish.
Beef up your Mobile Experience
Delivery apps can provide restaurants with instant mobile access and an online presence. All you have to do is enter your menu items, and they'll do the rest. For many restaurants owners, who are almost always strapped for time, that might sound like a nice deal.
Don't do it. Easy digital marketing is not a good reason to give up 30% on commission. As we talked about with online ordering, there are so many services that make it easy to build out your own mobile experience that won't eat away at your margins and jeopardize your customer experience. And it's so much simpler than you think. Restaurants are trending away from big, multi page website and towards simple landing pages that facilitate contactless dining.
DIY Delivery
Some restaurants absolutely need the delivery infrastructure provided by these apps. If that's you, there are some workarounds that don't involve relying on GrubHub or DoorDash. One, you can consider building your own. You can start by hiring one driver to work during your busiest hours. If the demand is there, continue to hire more. The cost will be offset by keeping your full commissions. The real resource drain would more likely be on your time spent hiring and overseeing the drivers.
If that seems untenable on your own, consider partnering with other local restaurants and sharing drivers.
Advertise!
Once you have all the tools in place to kick the delivery apps to the curb, you need to let your customers know. As we discussed, a big benefit to the GrubHubs and PostMates is access to an existing customer base. If you're going to circumnavigate them, you have still have to reach a chunk of those customers.
How? The answer lies somewhere between good-old traditional advertising mixed and new-age digital marketing. Post flyers around your restaurant encouraging customers to order direct. Update your social media frequently with reminders. Set up a sandwich board outside your shop.
You won't ever be able to reach the same sheer number of customers on these delivery apps, but commission-free sales are so much more beneficial to your business, that even reaching a fraction is usually the better call.
Conclusion
Delivery apps helped countless restaurants in 2020 make the overnight pivot to takeout and delivery. As we approach 2022, however, it will most likely be in your best interest to ditch the third-party and bring everything in house.
Mark Plumlee is the Sr. Editor at MustHaveMenus, a menu template and marketing service for restaurants. Since 2007, MustHaveMenus has worked to provide small businesses with one-stop online and offline menu management. The company's mission is to help small businesses grow using menus as a powerful sales and marketing tool. It has provided menu design tools, branding services, printing, and online publishing services to tens of thousands of restaurants, bars, cafes, hotels, and hospitality businesses around the world.