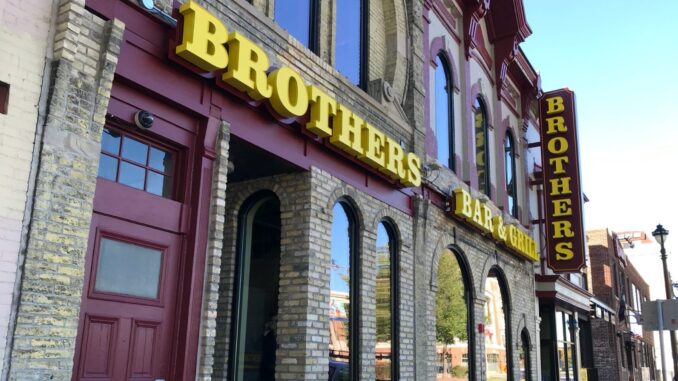 The Fortney Hospitality Group, which operates 19 Brothers Bar & Grill's across 10 states, has been a mainstay of the midwest bar scene for over three decades. To fuel growth of the Brothers' chain, Fortney chose to move to the cloud and modernize its IT infrastructure with Oracle MICROS Simphony Cloud Point-of-Sale (POS). With Oracle, the group will be able to optimize in-house operations, process transactions quickly and accurately, and analyze data in real-time to provide staff the best information for making business decisions.
Brothers Bar & Grill, which has served up "the best specials and the most fun" for over 30 years, wanted a system that could keep up with its main demographic—hungry students. "Our staff, like our guests, are predominantly college students. That means they're very tech-savvy, and we wanted to make sure we could harness that in any move we made," said Tony DeSalvo, chief operating officer of the Fortney Hospitality Group. "We selected Oracle because it is easy to use, is designed for restaurants that process high volume of transactions on a daily basis, and has an extensive ecosystem of partner applications."
Cooking with the Cloud
The Fortney team knew that changing restaurant point-of-sale systems would be a long-term investment, so finding a technology partner that could grow with them over time was key. The search was guided by three main criteria: reliability, scalability, and user-friendliness. After a competitive review, it was clear that MICROS Simphony was right system for the job.
Now deployed in all Brothers Bar & Grill locations, Simphony has improved the brand's speed of service through integrated sales channels and centralized operations, reducing wait times, and increasing customer transactions by 15% during peak hours. Its consistent interface, features, and functions have drastically cut training time for new staff members, while access to the restaurants' data and analytics provide real-time insight on transactions, including popularity of menu items for each establishment. This helps staff make faster, better decisions and stay ahead of sales trends.
"As the industry resets, it's important that restaurants and bars invest in their staff and guest experience. Restaurant operators need a platform that helps them make quick decisions on every aspect of their operation," said Simon de Montfort Walker, senior vice president and general manager, Oracle Food and Beverage. "Oracle's tightly integrated technology will enable Brothers Bar & Grill to accelerate staff onboarding, automate and streamline operations, inform short- and long-term business decisions with real-time data and insights, , and improve the overall customer experience."