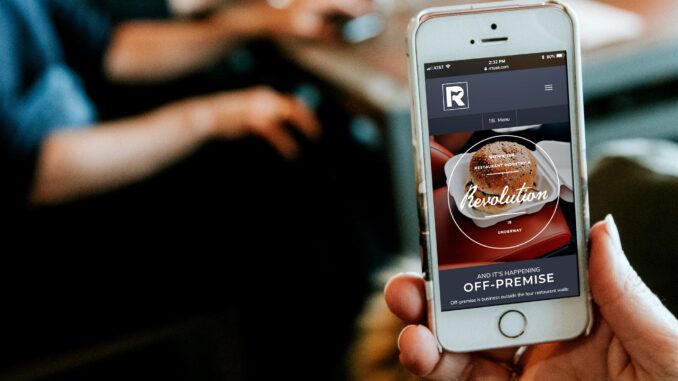 Restaurant Revolution Technologies (Revolution) has launched its new Virtual Brand and Ghost Kitchen solutions supporting the optimization of revenue and kitchen capacity for restaurant off-premise business growth.
Virtual brands and ghost kitchens are the latest frontier of off-premise ordering, capitalizing on the under usage of kitchen capacity at traditional restaurant locations.  A traditional restaurant can create a virtual brand and introduce the brand to popular marketplaces.  The restaurant then receives additional orders to help utilize excess kitchen capacity.
The existence of the virtual brand is a digital only experience – there is no physical location for the brand. Revolution's Connect product allows the restaurant to manage and present the virtual brand's menu to the popular marketplaces and all orders originated from virtual brands are subsequently submitted to the restaurant's POS via Revolution's Connect product–bypassing any third-party tablets.
In addition to the incremental order volume, Revolution's new virtual brand solutions provide relief to the massive labor challenges restaurant currently face.  The virtual brand solutions provide staff with easy-to-use technology while allowing enterprises to leverage their current kitchen team members across multiple brands, reducing the need of hiring front-of-house staff.  The Connect product also eliminates the need for restaurants to hire staff to manage third-party tablets.
"Our new virtual brand solution provides an enormous operational and business advantage to restaurant enterprises seeking ways to maximize revenues, optimize kitchen capacity and keep their limited staff happy and productive," said Brad Duea, CEO of Revolution. "We are in the midst of a transformational shift to technology and automation within the restaurant industry. The operators and restaurant enterprises that embrace innovation, like new virtual brands, to meet the demand of modern customers will continue to experience incredible results."
Launching virtual brands also provide restaurant operators opportunities to "test" different menu items, offers and promos temporarily and without doing so from flagship brands. Further, virtual brands support the expansion of the restaurant enterprise's "digital footprint" without the need for additional real estate.
"Our early results in launching Boise Bill's and Stack's Sandwich Shop virtual brands with Revolution have been outstanding to date," said Amy Schuster, IT Director at Jason's Deli.  Our digital experiences with our Jason's Deli brand and now with our newly launched virtual brands all aim to serve quality food to customers."