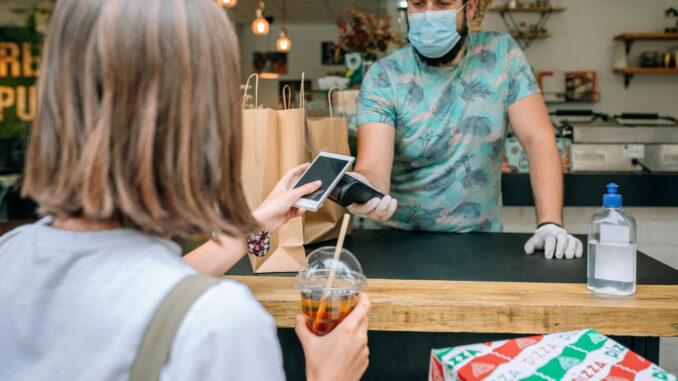 According to estimates, nearly 90,000 restaurants in the United States alone have shut down since the pandemic began sweeping the world almost two years ago. Almost 6 million workers have lost their jobs while nearly half of all small restaurants continue to struggle to pay their rent, let alone turn a profit. With the surging Omicron variant posing yet further disruptions to business as usual, and almost a quarter of Americans having stopped dining out altogether, the holiday cheer for the restaurant industry may be somewhat diminished.
That said, there are some bright spots that are cause for celebration. One of those bright spots is technology. In 2021, restaurant owners and operators improvised and innovated unlike ever before. They devised creative adaptations on menus, business hours, points of service, delivery options and takeout models. They also upgraded their technology capabilities, implementing guest-facing mobile apps and other advanced solutions, including next-generation restaurant management and POS systems.
These advanced solutions have become increasingly sophisticated in recent years, with an ever-expanding array of integrated features and functionality. Importantly, the benefits of the various enhanced platform capabilities have been shown to translate into positive financial outcomes for restaurant owners and operators in terms of both cost reduction and revenue growth.
If there is a silver lining to be found in recent events, it is that the pandemic has accelerated digital transformation in the restaurant industry. While many restaurant owners and operators were already becoming increasingly focused on technology-enabled business initiatives — implementing solutions to, for example, streamline operations, control food costs, optimize staffing, automate inventory management, speed table turns and improve data-driven forecasting and analysis — the immediate aftermath of the crisis kicked technology innovation and adoption into high gear.
Interestingly, most of the technologies that helped restaurants sustain operations as well as possible during such challenging times are the same ones that restaurants were eagerly putting in place before the pandemic upended the industry. These technologies range from mobile apps that allow guests to order and pay via smart phones to workforce management solutions that optimize staff scheduling to inventory management software that helps mitigate food waste.

The rapid growth in restaurant technology during the early months of the pandemic was largely fueled by the sudden need to minimize guest interactions with servers and other staff due to safety concerns related to coronavirus transmission. Contactless digital platforms, including self-order kiosks, that enable diners to view a restaurant's full menu, place orders and complete payment online quickly shifted from being a nice-to-have capability to being a must-have capability.
Kitchen automation, including "robot chefs" that operate in assembly-line setups, also gained traction. These technologies promised to not only lower costs and increase efficiency but also help ensure a hygienic food preparation environment that could reduce guests' anxiety about the possible spread of infection from human touch.
The proliferation of guest-facing mobile apps, often in conjunction with scannable QR codes placed on menus or tables, transformed the dining experience from one that involves high-touch service to one that is mainly self-service. In the process, guests have gained greater visibility and control over the end-to-end restaurant experience. Some apps allow guests to pre-order and pre-pay for meals for a more expedient on-premise dining experience. Some apps allow them to track meal progress in real time, from preparation to delivery. Some systems incorporate geofencing and other location capabilities. An alert is sent to the kitchen when a guest is a certain distance away so that the order is ready when they arrive.
Improving the odds of restaurant success has always meant keeping a close eye on operating costs (mainly, food and labor; combined, these typically account for roughly 75 percent of total costs) and working diligently to reduce these costs, without sacrificing service or food quality. Staff scheduling and labor optimization are important pieces of the cost-cutting puzzle and growing focus of technology investment. Robust data mining, analytical modeling, business intelligence and performance reporting tools have also emerged as core components of restaurant success. These tools provide all the information and insights needed to make smart business decisions.
Most seasoned restaurant owners and operators are well-versed in the technology-related advances that are transforming their industry. The following descriptions serve as a reminder of just a few key concepts to keep in mind when considering the advantages of a next-generation restaurant management and POS system.

Personalization capabilities
Today the stakes are higher than ever when it comes to improving the quality of the guest experience. Personalization is part of that equation. Advanced technologies enable restaurants to interact with guests in increasingly relevant and personalized ways. Leveraging mountains of POS and other data, restaurants can deliver personal touches at scale to every guest, across any location, who has a history with the restaurant. Staff can seat guests according to their known table preferences. They can offer food recommendations based on their personal profile, including the record of their allergies and other stated dietary restrictions. And so on.
Personalization doesn't just mean requesting the same server with whom a guest previously enjoyed a positive dining experience and who may already know their food, drink and table preferences. Technology can also deliver personalized guest experiences without the need for any human interaction — a primary focus for restaurants in the time of coronavirus. AI-powered digital platforms, for example, can create personalized menus based on a guests' past orders, settings and loyalty information. A vast array of new solutions, from AI-powered chatbots to facial recognition technologies, are also taking aim at making personalization a reality, interacting with guests not only in a restaurant setting but also in their home or car.
With so many consumers now using social media to research a new restaurant and compare options before making a reservation or even placing an online order, it seems only a matter of time before they will also use virtual reality goggles or other devices to immerse themselves in the restaurant's décor and ambiance. While no technology can replace a maitre d' or server with years of experience and relationships with regular diners, technology can help enhance the quality of the guest experience in new and creative ways.
Mobile Ordering
Order placement via mobile apps and tablets removes some of the common barriers to guest satisfaction and loyalty — especially in light of safety concerns during the public health crisis, by helping to limit social interaction and reduce the wait times that guests frequently endured in the past. The same holds true when it comes to placing orders with servers during on-premise dining.
Taking orders tableside via a mobile device increases service speed and order accuracy, which is especially important to guests who may already be nervous simply sitting in an indoor restaurant dining room. There is a quantum leap in efficiencies that table-service restaurants gain when sending orders from a tablet directly to the kitchen printer or display rather than from a stationary terminal, especially in cases where the nearest stationary terminal may be located a considerable distance from where guests are seated.
The technology leads to a fundamental shift in how servers spend their time. Suddenly, the job of serving guests becomes less focused on taking orders and entering that information and more focused on duties more likely to improve service quality and enhance the overall guest experience.
Mobile payment
While mobile wallets and tap-and-pay cards have been around for a number of years now, mobile payment capabilities have taken on heightened importance during the pandemic, given the need to minimize human contact, limit the use of cash and plastic credits cards and deploy contactless payment methods, instead. Prior to the pandemic, the main impetus for upgrading payment technology capabilities was EMV compliance, which is needed for processing chip card transactions (compliancy provides better fraud detection and also accommodates guest preferences around EMV payment options).
Another driver was revenue. According to estimates, implementing POS mobility increases the average check size 10 to 15 percent, on average. POS mobility also enables a restaurant to turn tables considerably faster than before. In certain situations, that can make a big difference in the amount of money coming in the door during the busiest times of the day. In addition to upgrading their systems to accept EMV payment processing capabilities and meet new compliancy requirements, many restaurant owners and operators are purchasing hardware that can accommodate NFC payments for mobile. In response to the pandemic, guests increasingly prefer to use their own smart phones with the restaurant's POS system. They want to be able to pay their bills with an e-wallet app rather than with a debit or credit card.
EMV payment processing tends to result in a suboptimal guest experience because it takes more effort and results in a significantly longer wait time than mobile payment processing (given the need for the technology to rewrite the security transaction of the card). In fact, EMV transactions where the guest inserts a credit or debit card into the POS device typically take upwards of 15 seconds to complete. In some restaurant categories (e.g., drive-thru windows in fast-food chains, where the key performance metrics are tied to number of cars per hour and customer service times), that latency can be hard to stomach. In contrast, NFC payments typically take only a few seconds.

Technology and data integration
Technology interoperability allows guests to order from their own mobile device or from a server standing in front of them. Integration allows restaurants to make menu changes on their own platforms (fixed POS, mobile POS, guest-facing contactless menus) as well as on third-party platforms, all in one fell swoop. Integration allows any number of different data-driven functions to work together seamlessly.
Consider the inventory management function. An automated inventory management solution integrated into a POS system allows restaurants to virtually eliminate the risk of human error, including miscalculations in over- or under-ordering of ingredients, as well as save on labor costs related to manual inventory management. Integration into suppler databases allows for real-time visibility into food costs, resulting in smarter purchase decisions (in terms of ingredient substitution, for example), more informed vendor negotiations and better insights into how fluctuating prices impact the bottom line and overall profitability. In a hotel or resort location, the restaurant POS system may need to integrate with the hotel property management system. Large, complex restaurants and chains may need to integrate applications across multiple locations, which advanced solutions generally allow.
The POS system also needs to integrate with third-party CRM, marketing and guest loyalty and rewards management solutions, allowing restaurant operators to gain a deeper understanding of guest preferences and deliver more personalized messages and offers as well as tailored services, such as seating and food and beverage options. The ability to customize communications based on purchases, frequency, dayparts, preferences, etc., depends on the ability to connect, interface and seamlessly share data. According to a research survey conducted earlier this year by Starfleet Research, 92 percent of restaurant operators "agree" or "strongly agree" that technology platform interoperability and data integration is a key driver of restaurant success.
Employee management
Restaurant owners and operators have long used software programs to hire, onboard, train and manage employees. Today workforce management capabilities, some of which are tailored to the needs of different restaurant categories, are becoming integrated as a core component of next-generation restaurant management and POS systems. As a result, restaurant owners and operators can schedule employees for optimal cost effectiveness, manage payroll, and centrally orchestrate virtually all other employee management tasks without the need to purchase separate, standalone programs or modules.
At the same time, restaurant staff-facing interfaces allow employees to access their work schedules, request time off, trade shifts, and even set alerts about when they need to work, all from their smartphones. This level of control can go a long way toward increasing employee satisfaction. Beyond making it easy to perform basic tasks like tracking employee hours and submitting payroll directly from the system, some advanced systems have financial management features designed to optimize labor utilization. These features can be extremely valuable in that they enable restaurant operators to automatically schedule shift assignments in a way that achieves the optimal labor-to-cost ratio when plotted against predicted sales, minimizing overhead costs and improving revenue and profitability.
Using data-driven sales forecasting that utilizes historic data and labor planning tools, managers can also plan for the volume of business that is expected on a daily and hourly basis to determine staffing needs. They can determine relative server productivity and schedule shifts accordingly.
The financial benefits are easy to measure and can have a dramatic impact on the bottom line. In fact, according to recent studies, these solutions typically reduce labor costs by 4 to 5 percent. It's no surprise, then, especially given the current labor shortage challenges and continuous changes in operating hours, traffic and capacity, that restaurant owners and operators are embracing the technology to not only optimize employee scheduling but also monitor performance.

Inventory management
The pandemic brought the critical importance of food inventory management into even sharper focus. Restaurants that were able to keep their doors open during this period and maintain some level of business continuity had to become hyper-efficient in all aspects of their operations. For them, every dollar counted. Throughout the crisis, and as they continued to struggle to recover from the unprecedented financial fallout, the pressure to minimize food waste had never been greater.
Indeed, food waste is the enemy of restaurant success. According to industry estimates, restaurants lose an average of one dollar (even more for high-end restaurants) on every meal order on account of preventable food loss, mainly due to poor inventory management. More than 10 percent of food goes to waste in fast food restaurants, with full-service restaurants faring only slightly better, because of poor inventory management.
By meticulously controlling both the quantity and flow of inventory, restaurants can reduce the cost of food waste, often by double-digit percentage points. Next-generation inventory management tools enable restaurant owners and operators to compare the variances between physical inventory and POS data at a granular level. The best of these tools allow restaurants to track quantitatively how even the smallest adjustments to menus and recipes flow down to ingredient usage. The technology makes it possible to monitor inventory levels and ingredient depletion in real time.
Ultimately, the tools make it easy to identify instances of preventable food waste due to spoilage, over-portioning, theft or for other reasons that, if properly addressed, can be readily mitigated or altogether avoided. Until recently, the idea of being able to automatically manage inventory in a dynamic, fast-paced restaurant environment with a high degree of precision would have been little more than a pipedream. Now, with data-driven technologies that have rapidly evolved in recent years, restaurants can control food costs and optimize inventory levels in ways not previously possible or even fathomed.
Performance reporting and data analysis
With next-generation restaurant management and POS systems, owners and operators have the ability to collect, integrate and analyze data from multiple sources, including POS transactions, loyalty programs and guest-facing apps, to better understand their guests at both an individual and aggregate level, to interact with them more effectively and to identify opportunities for business improvement.
Performance reporting and data analysis tools can look at staff performance, menu item profitability and any number of other aspects of the business to generate actionable insights. Which servers are the most productive? Which are the least productive? Which types of guests are the most valuable? Which are the least valuable? Which dishes are the most popular? Which dishes are the least popular? Which are the most profitable? Which are the least profitable?
Automated menu analysis can reveal the popularity and profitability of dishes and can help guide future selection of menu items and prices. It can help determine whether it makes economic sense to sell certain low-margin dishes with high demand and/or to remove from the menu certain dishes that are less popular but generate more profit. In the past, mining data to extract meaningful insights tended to be an onerous and time-consuming proposition.
Many next-generation restaurant management and POS systems, by contrast, have built-in capabilities that make it possible to readily generate all types of actionable insights, oftentimes on an ad hoc basis. This gives restaurant operators the ability to make more informed decisions about all aspects of the business. Some systems can even be used to predict financial outcomes based on such factors as dining-out trends and seasonal dish popularity. In some cases, alerts can be set based on predefined triggers that notify managers when inventory is running low and needs to be restocked, for example, or when high-cost or high-risk food items like liquor are going out the door unaccounted for, indicating the possibility of theft.
In the end, data reporting and analysis tools can be key to minimizing costs and maximizing revenue, staying ahead of the competition and driving continuous performance improvement. And if ever there was a time for restaurants to drive continuous performance improvement while being hyper-efficient in all aspects of their operations, it's now.
Next-generation restaurant technology won't end the pandemic. But it has helped restaurant owners and operators weather the storm as well as possible, and will continue to do so, while positioning them for far greater success once the industry gets back to smoother sailing — hopefully, in the very near future.
Are you an industry thought leader with a point of view on restaurant technology that you would like to share with our readers? If so, we invite you to review our editorial guidelines and submit your article for publishing consideration.