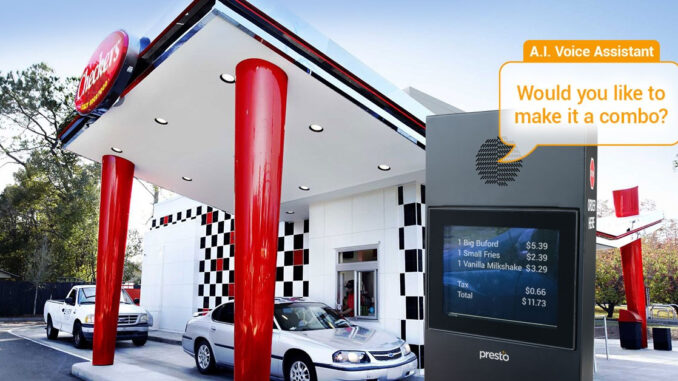 Checkers Drive-In Restaurants, which has 850 locations in 29 states, has embraced technology to help achieve its goal of increasing the total number of locations by 50 percent over the next five years.
Last year, the Tampa, Florida-based operator of Checkers & Rally's iconic drive-thrus, which was acquired by investment firm Oak Hill for $525 million in 2017, received an additional $20 million investment to help roll out a number of new technology-enabled initiatives, including its so-called "restaurant of the future."
The new restaurant design, unveiled earlier this year, is engineered for efficiency and speed. It requires a smaller real estate footprint than most other quick-serve concepts. The kitchen layout features new equipment aimed at reducing the amount of walking as well as the amount of prep time previously required of restaurant staff, with the added goal spurring menu innovation.
Checkers & Rally's has been operating double drive-thru restaurants with walk-up windows and patio seating for more than 35 years. During the pandemic, the brand began offering an online ordering-only lane to meet the needs of delivery drivers and guests who order ahead.
Now, in a big step toward driving increased drive-thru efficiency, the company is implementing automated voice ordering for all its corporate-owned drive-thru restaurants. The initiative reportedly marks the largest and first of its kind rollout of an AI-based voice assistant solution in the hospitality industry.
The next generation solutions are developed by restaurant solution provider Presto in partnership with Hi Auto, a conversational A.I. technology company focused on creating a human-like solution for automating and optimizing the sales experience at drive-thru restaurants. Designed to help improve order accuracy, increase upsells, and deliver an optimal guest experience, are scheduled to be deployed across all corporate-owned Checkers & Rally's restaurants in the United States later this year.
Today, over 80% of quick-service restaurant sales are being generated from the drive-thru, a clear indication that there is a growing opportunity for a frictionless drive-thru model. A faster, more efficient drive-thru can offer significant competitive advantages and reduce lines that may discourage customers from ordering.
In 2021, Checkers & Rally's conducted a detailed pilot program of Presto's automated voice ordering technology at multiple locations over a four-month period. During this time, the solution delivered a high level of automation and accuracy with over 98% of drive-thru orders completed with minimal intervention from restaurant employees. According to the company, the solution also performed well with unique or infrequently ordered menu items and easily managed various guest accents.
"Checkers & Rally's is the pioneer of the double drive-thru restaurant model, so our decision to again lead the industry with the largest rollout of an A.I.-based voice assistant solution should be no surprise," said Frances Allen, President and Chief Executive Officer at Checkers & Rally's. "As a company, we embrace technology that will help our team members maximize time and efficiency while making their jobs easier and more enjoyable, creating a better experience for them as well as our guests."
This new solution is expected to enable Checkers & Rally's to streamline the guest experience while increasing the guest-to-staff ratio in the drive-thru. Checkers & Rally's believes that the solution will help free up staff for more people-dependent areas of their business and enhance guest interaction overall.
In addition to freeing up staff by automatically transmitting orders to the restaurant's POS system, the solution enables faster transactions and improved order accuracy by eliminating human order taking. Ultimately, this should help increase check sizes while opening the door to opportunities for automatic upselling and cross-selling.
Other AI technology solution providers are also working to helping QSRs address labor shortage issues and increase operational efficiency. An example is NVIDIA, which offers a broad array of technologies in speech AI, computer vision, natural language understanding, recommendation engines, and simulation technologies. When it comes to restaurants, these technologies can be used in drive-through kiosks, automating the process of chatting with and understanding customers when they order from the menu and making recommendations for cross- and up-selling.