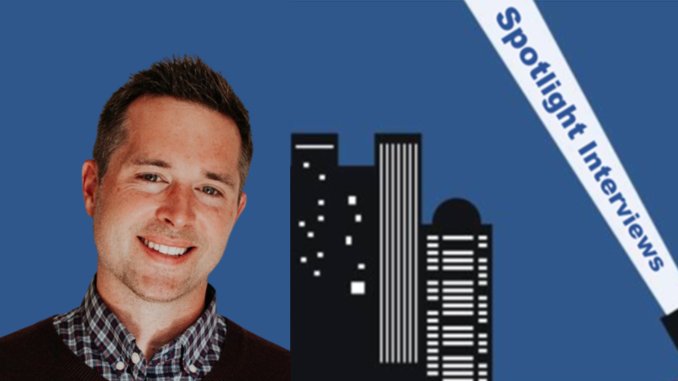 Kevin Rice serves as Executive Vice President at Bounteous, a leading digital experience consultancy that "co-innovates with the world's most ambitious brands to create transformative digital experiences." His entrepreneurial spirit and drive to understand the digital landscape across industries allows him to solve real business problems for the large brands in Bounteous' portfolio. Kevin has worked with global restaurant brands such as Red Robin, Denny's, Pizza Hut, Wingstop, Dairy Queen, Peet's Coffee and more to deliver a seamless and highly personalized experience to consumers. The former co-founder and CMO of Hathway, Kevin recently stepped into an EVP role after Hathway was acquired by Bounteous in late 2021. Here he discusses his new role and his company's next-generation capabilities. He also shares his view that "technology has caught up with the vision for a better, digitally enabled guest experience that restaurant leaders have envisioned for years."
Congratulations on your new role at Bounteous, which acquired your formal company Hathway, where you serve as CMO, in November. How did that acquisition come about?
Since Hathway was founded in 2009 we grew organically from just a few employees working out of our garage to over 250 on staff prior to our acquisition by Bounteous. We established a reputation for being the leading digital transformation partner to the restaurant industry by helping over thirty of the top restaurant brands including Wingstop, Dutch Bros, Panda Express, Denny's and more.
Our leadership team made the decision to join forces with Bounteous to give us the scale, organizational maturity and new capabilities that would both make us a better partner for our clients, and better employer for our team. We evaluated dozens of options and decided upon Bounteous because of our shared vision and cultural alignment.
What are the benefits of the combined teams and technology capabilities from both an operational and customer perspective?
Hathway was known for having deep industry expertise in the restaurant category, however we primarily focused on digital transformation, customer experience, loyalty/CRM and MarTech platforms. As Bounteous, we are able to offer end-to-end marketing services that help support customer acquisition, such as paid/performance media, social media and industry-leading data and analytics practices. In addition to new capabilities, we are able to tap into global engineering teams to scale and meet the demands of our clients.
Tell us a bit about your career trajectory. How did you end up in the restaurant technology space, in the first place, and what led you to co-founding Hathway?
Jesse Dundon, my co-founder and former Hathway CEO, and I started Hathway back in 2009 out of our garage. We had recently graduated from Cal Poly, San Luis Obispo, and were eager to make our mark. With little business experience ourselves, we benefited from various business consultants, advisory board members and veteran leaders we were able to hire along the way.
In 2015 we engaged our first restaurant client, Jamba Juice where we launched a custom mobile application built upon integrations with Olo (online ordering) and SpendGo (loyalty). Through this experience we saw the writing on the wall; the restaurant industry was primed for a massive digital transformation, and we wanted to be a part of it.

Who are some of your restaurant customers at Bounteous and what categories or types of restaurants or are likely to benefit most from your solutions and services?
We have been fortunate to work with restaurants across all formats and categories: 1) QSR (Burger King, Arby's, Carl's Jr. / Hardee's, etc.), 2) Fast Casual (Wingstop, Panda Express, Blaze Pizza, etc.), 3) Casual Dining (Denny's, Red Robin, Texas Roadhouse, etc.), and even 4) Coffee brands (Dutch Bros, Peet's Coffee, Coffee Bean & Tea Leaf, etc.). This have given us an extensive view across the restaurant industry, trends in each category and how consumers behave with different formats.
Any brand that is looking to increase off-premises sales, enhance their customer experience or drive frequency of visits can benefit from the kind of partnership we offer. From developing a long-term vision and strategy, bringing new digital experiences to market, and engaging with customers through personalized communications, we help our clients build a digitally enabled business.
You've helped chains like Dutch Bros. see double digit growth by utilizing digital strategies that go beyond just easy ordering. Can you share some of the specifics of these success stories?
The Dutch Bros. launch was phenomenal. 365,000 customers signed up for the program on day 1—the app hit #1 in the App Store's Top Charts for Food & Drink. Within the first year, the app received 3 million downloads, resulting in a massive amount of first-party data. Dutch Bros has leveraged that data to create personalized customer interactions.

Wingstop is another brand that experienced significant growth through new digital experiences. In 2018, they partnered with us as part of an overall plan to accelerate their digital sales from 25% to 50% of their total revenue. Within the first 30 days of launching their new digital experience, Wingstop saw a significant lift in order conversions and average order value across their website, iOS, and Android applications. In 2021, Wingstop reported 64% of their sales coming from digital.

Tell us about the NomNom™ solution, which you obviously had a big hand in developing. It's billed as "a technology accelerator powering custom digital ordering and loyalty applications that expedite digital transformation and grow brand appreciation." What specific benefits does it deliver?
I really can't take any credit for NomNom; it was Jesse who saw the opportunity and worked with a few of our developers to bring the first version to market. He recognized that while any brand would want a unique front-end experience and customized features, much of the underlying technology and integrations could be pre-built to accelerate our ability to launch online ordering and loyalty applications. Since 2015 we have continually invested in the NomNom technology accelerator which served as the start point for some of the best digital experiences in the restaurant industry.
What new technology capabilities are you most excited about — and should restaurant owners and operators also be most excited about — now that the industry is hopefully returning to normalcy?
Over the past few year's technology has caught up with the vision for a better, digitally enabled guest experience that restaurant leaders have envisioned for years. With online ordering hitting critical mass, where restaurants are seeing anywhere from 10% to 50% of their transactions coming from known customers, we now have the first-party data to deliver contextually relevant experiences and communications. It is not necessarily a modern technology, but the ability to operationalize this new resource of customer data represents an opportunity to transform the way brand engage with their guests both in and out of the store.