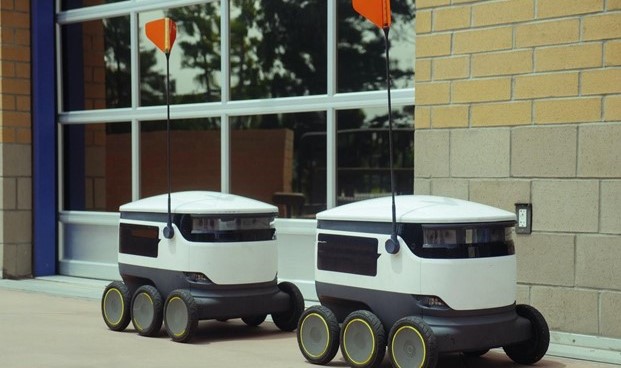 Self-driving vehicles have always seemed futuristic. Even a decade ago, as they began to emerge, there were too many bugs and kinks to work out for many people to take them seriously.
However, self-driving delivery vehicles have come a long way in recent years. Since 2020, the technology behind self-driving vehicles has continued to grow. So much so, that major corporations have started exploring self-driving technology for their delivery services.
What does that mean for your business? If you're a restaurant owner looking to expand your business and your audience, self-driving delivery vehicles might sound like a good idea — but, is it the right solution for small businesses? Can this technology replace human labor, and what are the potential drawbacks if you were to give it a try?
Let's talk about some of the potential pros and cons of self-driving delivery vehicles, and what they might mean for the restaurant industry at large.
Almost every major automobile manufacturer has already dabbled in self-driving technology. Many of them are trying to jump on the self-driving EV trend that is making the industry "cool" and exciting again. The end goal for every car maker nowadays, it seems, is to produce a vehicle that can travel from point A to point B with nothing more than the input of an address.
It's an exciting prospect, not only for the casual commuter but for businesses. However, is it truly a realistic endeavor?
In some ways, yes. When most people think of food delivery, pizza is the first thing that comes to mind. One of the major players in the pizza industry – Domino's – has teamed up with Nuro in Houston, Texas. Nuro is a self-driving delivery company, becoming widely known for autonomous food delivery bots.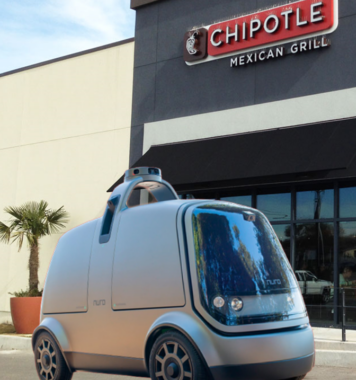 While these robots don't look like other cars on the road and can only reach speeds up to 45mph, they are changing the way some people see the future of food delivery. Chipotle has even invested in Nuro, and Chipotle has already opened a digital-only kitchen in New York, which could be served by Nuro's vehicles.
So far, Nuro has only launched in several states and mostly gone through "trial runs." However, with things going smoothly for the company, there is no doubt other robotics manufacturers will follow suit and make this a more common method of delivery.
Food delivery services have always been important. In 2019, it was reported that Pizza Hut was collaborating with FedEx to use the latter's SameDay Bot for deliveries. After 2019, when the pandemic hit, food delivery services became more popular than ever.
At the height of the pandemic, many restaurants relied on third-party delivery services to help them meet demands. While these services ensure customers received their orders in a timely fashion, they come with drawbacks, including:
High commission fees
A lack of control over customer experience
A greater risk for an overwhelming influx of orders
Risk of damage to the vehicle
Because of the cost and lack of control, some restaurants want to step away from using third-party services. However, the alternative is to hire in-house delivery drivers. That requires more manpower, spending money on vehicles (or paying for fuel for your drivers to use their own), and making sure you have an ordering service set up that makes it easy for your customers to select what they want.
If you can't afford to lose an existing employee to delivery or to hire someone new, autonomous vehicles like the SameDay Bot can be a solution. After an initial investment, you can reap the rewards of robotics. Self-driving delivery vehicles can improve upon customer experience, cut down wait times, and make it easier for your business to run smoothly without having to sacrifice employees.
Speaking of investments, major ones aren't always feasible for small, mom-and-pop-style restaurants. So many businesses in the food service industry had to hang on for dear life throughout the pandemic. Though things are getting back to normal, not every small business can make such a large investment as a self-driving vehicle. One bad financial endeavor could cause your business to fold completely.
Even the Nuro robots can be a risky investment. Small models can cost anywhere from $2,500-5,000. If they aren't well-received in your community or you have troubles with them, it's an investment that won't see great returns.
Looking to full-fledged self-driving vehicles is an even greater risk. Many family businesses rely on one main source of income, meaning these investments are a lot to think about for small businesses While major corporations like Amazon, Walmart, and Domino's can afford to play around with their money and try different delivery options, it may not be worth it to take a risk, just yet.

If you can't afford a vehicle, you could consider delivery drones. Late last year, Flytrex raised $40 million in Series C funds for its restaurant delivery drone. The funds, which brings their total to $60 million, will purportedly be used to expand services through the US. Flytrex has been flying its drones in North Carolina since late 2020.
As technology continues to advance, self-driving delivery vehicles will undoubtedly continue to change and become more sophisticated, too. As autonomous vehicles become more popular (and reliable), the price tag will also come down, making them more accessible to individuals and small businesses alike.
In the meantime, keep watching how the scope of food delivery changes. There may be investments along the way that are safer and more cost-effective that will boost your delivery services without breaking the bank.
Jori Hamilton is a Feature Writer for Restaurant Technology News. She has over 8 years of experience in the restaurant and fine dining industry and has worked at a number of well-known establishments over the years. Jori covers a wide range of subjects but because of her past industry experience, she takes a particular interest in covering topics related to restaurant productivity, FOH and BOH management, and restaurant technology. To learn more, follow her on Twitter and LinkedIn.
Are you an industry thought leader with a point of view on restaurant technology that you would like to share with our readers? If so, we invite you to review our editorial guidelines and submit your article for publishing consideration.