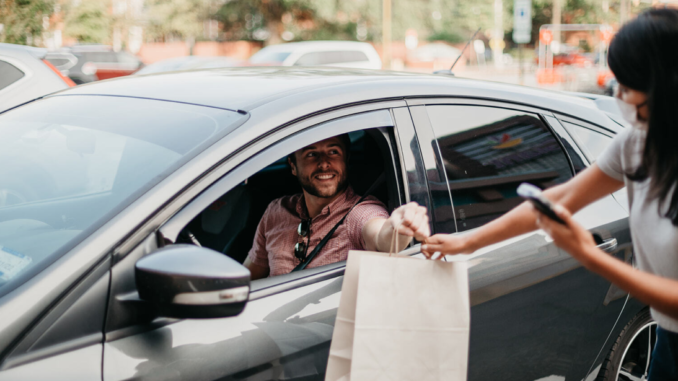 According to the U.S. Department of Energy, private vehicles waste 3 billion gallons of fuel each year through idling, which adds about 15 million tons of carbon dioxide to the atmosphere each year. If idling stopped tomorrow, it'd be the equivalent of taking 5 million vehicles off the road. Without knowing when a customer (or delivery driver) is arriving for pickup, businesses are often forced to fulfill the order once the customer arrives on site. When this occurs, the average time a vehicle is spending idling at the curb is approximately 8 to 10 minutes. With cars emitting fumes while idling, the longer a customer waits for their order, the more significant the carbon dioxide emissions. Using technology to predict arrival times and fulfill orders in the order customers arrive cuts car idling times by nearly 80%. With many businesses doing more than 50% of their business off-premise, this has an enormous impact on the environment. At the same time, restaurants are shedding $162 billion annually in food waste costs, while 40% of food in the US goes uneaten.
In response to these alarming statistics, technology solution provider Radius Networks has launched the Flybuy Sustainability Program. The program is designed to help restaurants make their brand more eco-friendly through operational improvements using the Flybuy Platform to reduce waste and food loss, and minimize carbon emission from idling cars.
With Flybuy, restaurants can minimize food spoilage and remakes by providing the tools to achieve a more efficient and eco-friendly operation. When a restaurant does not know exactly when a customer is arriving to pick up their order, they run the risk of preparing an order too soon or prematurely pulling things from the freezer. Often when this occurs, staff is forced to throw out the product and remake it fresh for the customer. Flybuy has been proven to reduce remakes and throwaways by over 40%. This not only helps the business achieve their eco-friendly goals, but results in reducing costs, saving labor, and improving the customer experience.
"Restaurants, retailers, and grocers are all facing challenges associated with sustainability and environmental impact," says Marc Wallace, Radius Networks CEO. "Applying the right technology to maximize operational efficiencies can directly affect a company's carbon footprint and have a massive impact on the environment. Flybuy is helping some of the world's biggest brands face these challenges and achieve sustainable practices. This is core to our company's values at Radius Networks, and we are constantly innovating with this in mind."