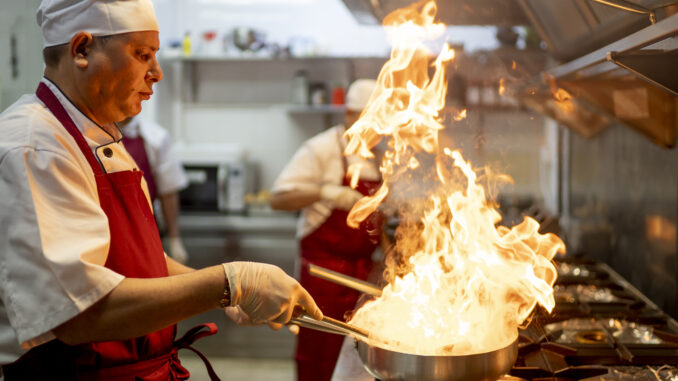 Now more than ever, success in the commercial kitchen and food service space is tied to facility safety. The effects of global lockdowns have hit the hospitality sector especially hard, and restaurants continue struggling to make up for lost business or to stay in business at all. With owners and operators forced to put time and resources towards addressing new challenges brought by the pandemic, it's even more critical that they have efficient tools to help mitigate the risk of a devastating fire event.
With this challenge in mind, fire protection technology providers have introduced smarter detection and suppression solutions that provide peace of mind, operational efficiency, and compliance with necessary codes and standards like UL300/ULC300 and NFPA 96. One recent innovation, electric fire detection technology, can support these needs while also providing flexible, low-maintenance fire safety. Here are five ways electric detection technology is simplifying and advancing commercial kitchen fire protection:
1. Maintenance and cleaning operations are designed for convenience and reliability
Restaurant owners and operators can't be burdened with complex fire protection system maintenance. They need to focus their time serving customers, not constantly keeping systems in working order. Compared to traditional mechanical systems, electric detection technology makes necessary cleaning easier by not requiring deactivation of the entire fire protection system for cleaning. A singular hood or multiple hoods can be disengaged for cleaning and, if not manually reengaged after cleaning, a fail-safe timer automatically resets the system. Electric detection also allows for longer intervals between replacement of detectors compared to mechanical systems, translating into less maintenance and more operational uptime.
Another highly beneficial feature is the system's ability to automate reminders for routine cleanings and maintenance, with 24/7 troubleshooting. With these features in place, the fire protection system remains ready if a fire event occurs and requires less downtime during cleaning and maintenance.
2. Versatile appliance protection under one hood helps prevent mis-activation
One of the unique challenges in commercial kitchen protection is that multiple appliances can be situated under the same hood – like a wood-fueled burner and an electric range – but each appliance requires its own unique, temperature-rated fire detection device. Recently developed electric detection technology addresses this by using innovative connector assemblies to assign temperature ratings to individual appliances under one hood. Having a detector assigned to each appliance's ambient temperature rating helps make sure fire suppression is more reliable and reduces the chance of premature activation or late activation due to an incorrect temperature rated detector.
Existing linear detection technologies often have a range of 155 F (68 C) to 500 F (260 C), but recent electric thermal detection can achieve a larger range of up to 725 F (385 C). This is beneficial, as many appliances have unique operating temperatures. The larger range helps ensure all appliances are protected at the appropriate temperature ratings.
3. Targeted zone suppression reduces unnecessary disruptions
The National Fire Protection Association (NFPA) states that, in the case of a fire event, all suppression systems should discharge simultaneously in a single hazard area. With new, configurable fire protection technology, users can program which hood systems activate based on design. This isolation of specific hazard zones means other cooking zones can stay operational, reducing cleanup, food waste and downtime.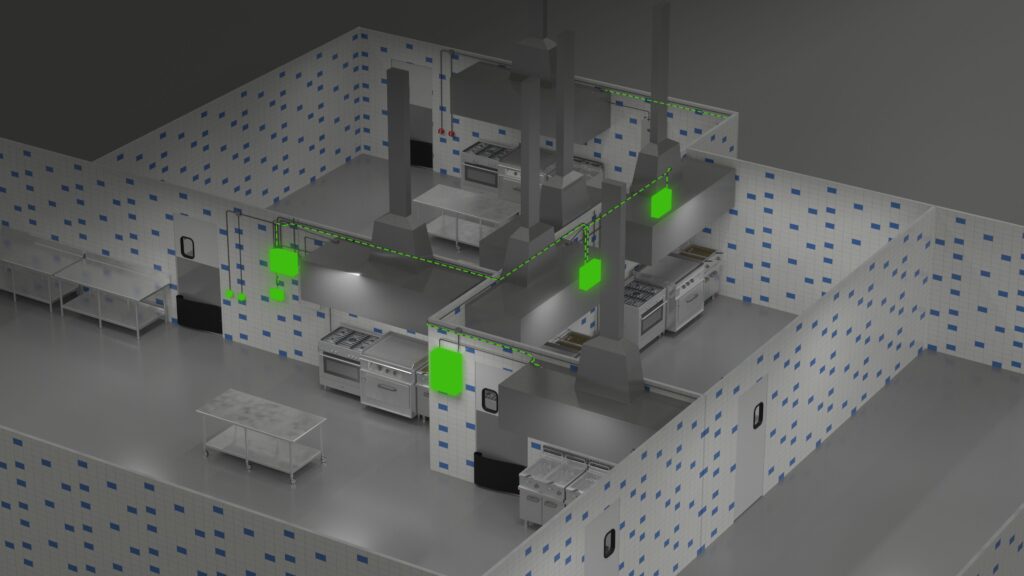 4. Smarter zone protection improves system response
Commercial kitchens have multiple hazard zones, which include different cooking stations that can present fire risks such as fryers, stoves, ovens and other equipment spaces. For optimal safety and convenience, these zones should be individually monitored and offer the ability to track each zone's operational status via a single interface in real time. Real-time status updates can give operators a sense of security knowing that if there is a fire event, the system will react appropriately and provide immediate notification.
Alongside monitoring, the latest electric system offering can also identify alarm conditions, silence alarms, reset systems and engage cleaning mode. Unlike systems in the past, electric detection technology is scalable, so as a kitchen expands over time, the fire detection system can easily be scaled to help protect new equipment and hazard zones.
5. Electric detection is seeing real world success
The City Foundry STL (CFSTL) food hall in St. Louis, Missouri is already seeing the value of intelligent electric detection. The facility houses 20 food stalls and seats 500 diners. Since each food stall has its own kitchen and a range of different cooking appliances, electric detection technology is the clear solution.
The food hall shares space in a multipurpose complex alongside other restaurants, entertainment, retail and office spaces. With kitchens that are close to each other and to patrons, the risk of property damage and human injury due to a fire event are increased.
CFSTL wanted to protect the food hall, surrounding facilities and occupants with a fire protection system specifically designed for the unique challenges they faced. The selected electric detection system was designed to be used with the ANSUL R-102 suppression system, ensuring it met necessary codes and standards such as UL300/ULC300, NFPA 96 and NFPA 17A.

Offering intelligent, centralized monitoring and customizable linear detection for up to 16 hazard zones, the system allows users to continuously monitor all cooking stations in real time. Using only two centralized display units, contractors were able to install more than 25 detection circuits for all kitchen hoods and accompanying ducts in the food hall. Upon detecting a fire event, the controllers are programmed to simultaneously actuate the connected fire suppression system and send notification of the specific actuated zone to the display. When activated, optional relays also shut down electrical equipment and electric gas valves.
To handle the wide range of cooking equipment used between stalls, the system's linear detection wires allow temperature customization for each appliance, with multiple color-coded temperature ratings set up in a single zone. Maintenance is streamlined with 24/7 troubleshooting, service notifications and a hood-cleaning mode. If the food hall adds new vendors or cooking equipment changes, the system can be reconfigured and expanded as needed.
The future of fire protection includes intelligent, configurable and compliant systems. Electric fire detection technology minimizes downtime, increases visibility and reduces maintenance costs, all with a level of customization that was previously unattainable. By improving safety and reducing costs for the food service industry, an electric detection system is a smart, reliable solution for even the most complex cooking environments.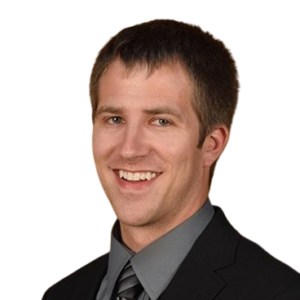 Adam Walker is global product manager of Restaurant Systems for Johnson Controls, the global leader in smart, healthy and sustainable buildings. With a global team of 100,000 experts in more than 150 countries, Johnson Controls offers the world`s largest portfolio of building technology and software as well as service solutions. Its ANSUL RED Technology provides complete, scalable multizone fire protection for modern commercial kitchens, while also being easy to manage, simple to maintain, seamless to integrate and meeting multiple, globally mandated approvals.