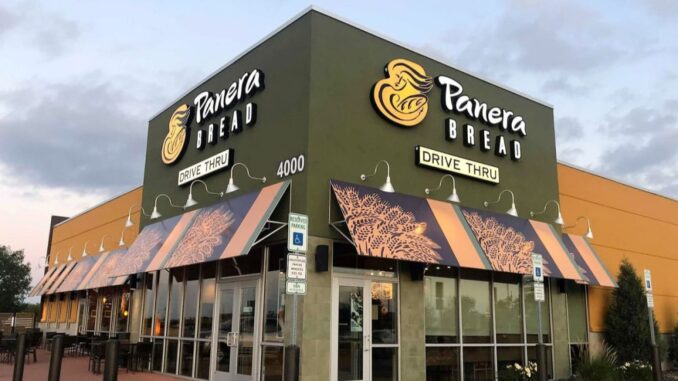 Panera Bread, which operates 2,118 bakery-cafes in 48 states and in Ontario, Canada under the Panera Bread or Saint Louis Bread Co. names, has begun testing AI technology in drive-thru lanes with the stated aim of improving and enhancing the guest experience. The voice AI ordering technology for drive-thru orders has been implemented in select Panera bakery-cafes in the greater Rochester, New York, with plans for a larger rollout in the near future.
The voice AI ordering technology, dubbed Tori, was developed by technology solution provider OpenCity. It takes orders as normal at the drive-thru speaker, with Panera associates on standby to assist if needed to troubleshoot any issues. According to a press statement, drive-thru guests can pull up to their Panera drive-thru, place their order as usual with assistance from Tori and pay the Panera associate for their favorite menu items at the drive-thru window. The addition of this technology at the drive-thru will help to cut down wait times, improve order accuracy and allow associates to focus on freshly preparing guests' orders. The goal is to maximize efficiency and increase speed of orders.
Panera has been working toward this goal for some time now with the help of next-generation technologies. In June, for example, Panera opened its first "Panera To Go," a new restaurant format offering digitally-enabled convenience for pick up and delivery orders. The Chicago-based restaurant is the first of three so-called "Panera To Go" test locations scheduled to open this year.
Panera To Go is a digital-only restaurant with a reduced front of house where customers and delivery drivers can easily pick up orders from dedicated pick up and delivery shelves. Designed for densely populated areas that cannot accommodate a dine-in restaurant, the new format allows Panera to meet the demand in these areas for easy off-premise options.
With less front-of-house duties and simplified operations, Panera To Go workers are solely focused on meeting the unique needs of a guest on-the-go. Panera plans to open two additional Panera To Go locations in California and Washington D.C. this year, and will also evaluate adding in kiosk and catering orders to the new format in the future. According to the company, the intention of Panera To Go restaurants is to service all dayparts including breakfast, as applicable.
"We strive to make it easy for our guests to access Panera's chef-curated menu, in the most convenient way. Panera To Go creates yet another access point for our guests, via Rapid Pick-Up or Delivery, in locations where Panera has not historically operated," said Eduardo Luz, Chief Brand & Concept Officer, Panera Bread, in a press statement.
As of the end of 2021, 44% of Panera locations included a drive-thru, and the company has continually innovated to add new access points in response to the growing demand for off-premise dining. Panera launched "Rapid Pick-Up" nationally in 2016, giving guests the convenience to order ahead and pick up their prepared order on a dedicated shelf in the dining room.
In 2020, the Missouri-based company launched "Panera Curbside," a geofence-enabled service that allows guests to have their order delivered directly to their car. The new restaurant model rolling out nationwide features a dual drive-thru with a dedicated pick-up lane among other digitally-powered elements.
Recently, the brand has been actively testing ghost kitchens, with five currently operational nationwide and more planned to open this year. The "Panera To Go" concept differs from ghost kitchens in that the new format offers a branded front-of-house experience where guests can quickly pick up digital orders on their own. Ordering and payment for orders are available on Panera's digital channels via web or on the Panera app.
AI technology in drive-thru lanes is simply the latest technology initiative aimed at maximizing efficiency, which, all goes well, should ultimately translates into cost reduction and increased revenue, while enhancing the guest experience. "At Panera, improving our guest experience is always our priority and we are using this innovative technology to help enable a faster, more accurate order for each of our drive-thru guests," said Debbie Roberts, EVP and Chief Operating Officer, Panera Bread. "The potential of AI drive-thru technology is incredibly exciting for us – we are eager to evaluate the performance of these tests and the possibility of expanding this technology in additional bakery-cafes."