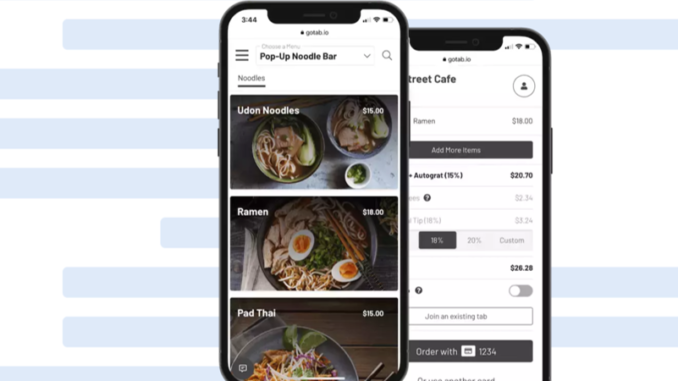 Restaurant technology provider GoTab, based in Arlington, Virginia, is nearing completion of a Series A round of funding, raising $15 million, according to Axios. CEO Tim McLaughlin told the outlet that the round will include both new and existing investors, and that the company's valuation is approaching nine figures.
The proceeds from the funding round will reportedly be invested in product development, sales, and marketing, with the goal of bringing the company to cash flow positive. This marks the third round of funding for GoTab, which has previously raised $9.5 million. In 2020, the company raised a $6 million seed round, and in July 2021, it closed a $3.5 million round from undisclosed angel investors at a $68 million valuation, according to PitchBook.
GoTab's all-in-one restaurant POS, unveiled in September 2021, is designed to enable operators to tailor a guest-initiated experience or a server-initiated experience, enabling both parties to start and access the ordering tab and giving everyone flexibility to place orders however they wish. GoTab's technology also provides restaurants with a menu of solutions that can adapt to a wide variety of restaurant needs. For instance, operators might want to start with online food ordering capabilities or a standalone food takeout and delivery system which integrates to their existing point of sale system.
One of the ways GoTab differentiates its point-of-sale solution is by giving restaurants the ability to split tabs. It also offers unique features such as fraud detection and risk management, which are not commonly built into such offerings. The cloud-based solution can also manage multiple points of origin, routing orders at large venues to the nearest kitchen, for example. GoTab's customer base includes concert venues, food halls, large restaurants, breweries, and hotels.
Investors continue to show interest in technology startups that help consumer-facing companies automate or improve the customer experience. GoTab's ability to provide a unique and efficient point-of-sale solution for large venues and extended experiences is likely a major factor in its success in securing funding. With the additional funding, GoTab will be well-positioned to continue its growth and expansion in the restaurant technology space.