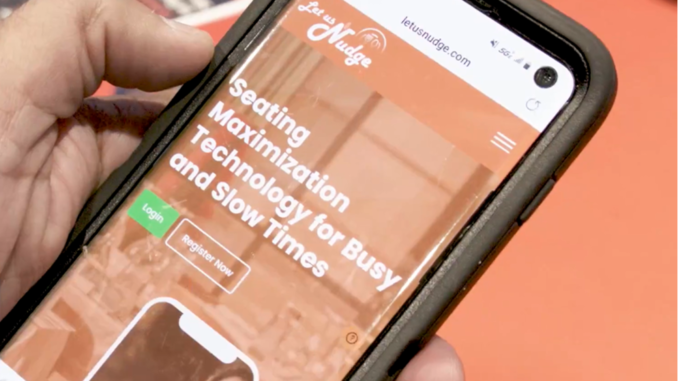 Restaurant seating maximization technology provider Let us Nudge, has launched its Nudge@Home platform backed by NudgeAI. The startup, which currently works alongside well-known brands, offers a first mover solution to help restaurants close lost revenue since 2020.
Let us Nudge, which serves large franchise chains, fine dining and small family-owned restaurants, launched with its in-restaurant solution, Nudge Table Turnover. Nudge Table Turnover optimizes restaurant traffic and frequency by gently nudging customers during busy times to aid in table turnover with incentives. The Nudge Table Turnover solution has helped restaurants increase revenue by 20%.
Nudge@Home allows for restaurants to nudge customers at home with incentives to visit the restaurant, such as discounts, free food, new menu items and more. The customers can accept or deny the nudge and if accepted, the restaurant receives a notification the customer is headed in.
Both solutions are powered by NudgeAI, a patent-pending SaaS technology that delivers real-time data and analytics to help restaurant owners and operators improve their targeted marketing and campaign management. According to SmallBiz Genius, 95 percent of restaurants feel technology can improve restaurant efficiency, including food cost management, staffing and consumer traffic flow.
"We are thrilled to announce the launch of our Nudge@Home platform," states Rehan Khanzada, Founder and CEO of Let us Nudge. "As restaurants continue to bounce back from the pandemic, we know that owners and operators are continuously looking for ways to get more customers in the door. With the expansion of our Nudge@Home platform powered by AI, we are seeing highly relevant interests and behaviors with customers when it makes sense.
"This addition has opened the door to additional pilots with several restaurant chains that are interested in utilizing our technology."