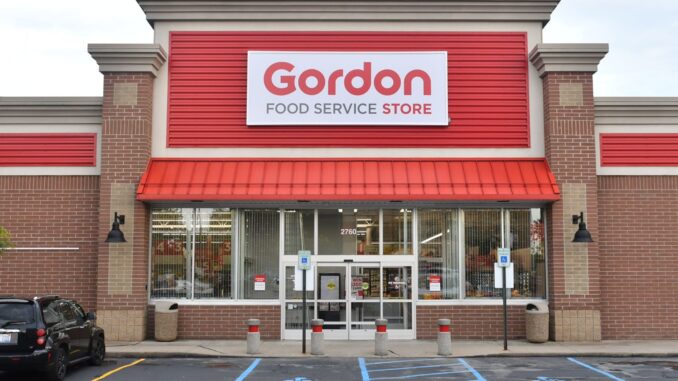 Gordon Food Service, the largest family-operated broadline food distribution company in North America, has formally announced its partnership with meez, the creator of a first-of-its-kind digital professional recipe tool, and the launch of their powerful new tool, Gordon Culinary Pro, following a year-long collaboration.
Gordon Culinary Pro, powered by meez™, enables chefs and culinary teams to create and organize their recipes efficiently as well as train staff quickly. Foodservice operators can view theoretical food costs, track recipes and ingredients, as well as share photos and videos of recipes for staff training. Customers that already utilize the original Recipe Manager service from Gordon Food Service will now enjoy all the same benefits, plus the additional features of this new tool.
Gordon Culinary Pro offers users a host of benefits that will enable them to:
Keep recipe costs accurate, enabling better decisions
Cut training time and costs
Simplify recipe management and version control
Improve consistency of execution
Reduce food waste caused by scaling errors
Streamline collaboration among the team and multi-unit operations
"Our customers want and deserve enhanced insight and inspiration into what is at the heart of their business – their ingredients, their recipes and their menus," said Tommy Gordon, North American Director of Digital Products and Services at Gordon Food Service. "Partnering with meez, and leveraging technology in innovative ways, we can give our customers the precision and flexibility of exact weights and measures, paired with the ability to order and purchase those required products in a cost-efficient, straightforward way."
"Having first piloted this unique tool internally, we knew that partnering with meez to create Gordon Culinary Pro would deliver a powerful solution to better satisfy our customers' needs. We're delighted to now be able to offer restaurants across the US this best-of-breed tool," said Gordon.
Gordon Food Service is among the largest foodservice distributors in North America serving more than 100,000 restaurants and culinary professionals. Now, thanks to the partnership with meez, restaurants and chefs can utilize superior recipe and ingredient management technology, understand their recipe costs, and ultimately build better margins.
"When we first met the meez team, we were impressed by not only their innovative use of technology but by the strength of their leadership team and vision," said Rich Wolowski, President & CEO of Gordon Food Service. "There is nothing else like this out there, and we're pleased to bring this game-changing technology to our customers."
Josh Sharkey, CEO of meez and twenty-year industry veteran said, "It was immediately apparent from the first time we began speaking with the Gordon Food Service team that the success and happiness of their customers was of the utmost importance to them, and part of the fabric of how they operate. This resonated deeply with our core value of operational empathy for kitchen professionals."
meez's technology is already deployed in more than 1,200 kitchens worldwide, spanning fine dining and fast casual restaurants, culinary schools, ghost kitchens, and catering companies. With tens of thousands of active customers, it is market-proven to significantly increase profit margins for kitchens of all sizes by several thousands of dollars per month and per location.
"The meez team could not be more excited and grateful for the opportunity to partner with Gordon Food Service with the launch of Gordon Culinary Pro powered by meez. Our mission with the partnership is to help the many incredible restaurant and foodservice operators and their dedicated Gordon Food Service teams, manage cost of goods, profit margins, and operational efficiency through faster training, execution, and innovation," said Sharkey.