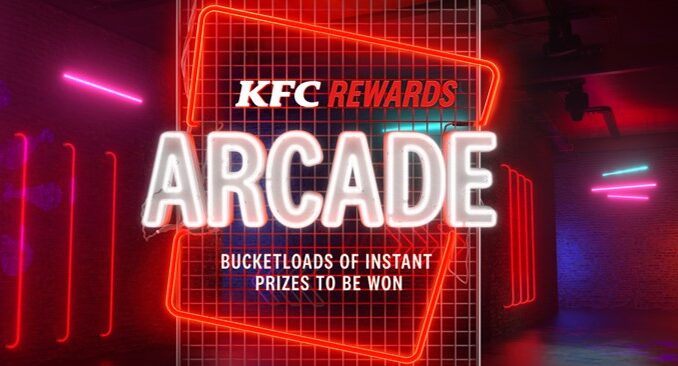 KFC UK & Ireland launched its revamped loyalty program, Rewards Arcade, with Antavo, the Enterprise Loyalty Cloud and has seen phenomenal results. Wanting to upgrade its existing stamp collection program, KFC worked with Antavo to bring a unique gamification experience to its customers to encourage greater loyalty and engagement.
The KFC Rewards Arcade, found exclusively in the KFC app, includes games reminiscent of the arcade and gives people the chance to play-to-win various menu items, including a 6-piece bargain bucket, wings, burgers and wraps, whenever they make an order in-restaurant, online or at a drive-thru.
Today's loyalty program built with Antavo has seen a vast improvement in engagement in comparison to their previous one. For the new program:
70% of customers would recommend KFC Rewards Arcade to friends and family.
40% redemption rate since the revamp – 6% more than the previous program.
53% increase in app download since Rewards Arcade launched.
31% of customers claimed to use the app more since the new KFC Rewards Scheme was introduced.
26% increase in weekly active app users.
Based on customer feedback, KFC learned that in the previous program it took too long for customers to collect stamps and earn rewards. Therefore, they didn't visit KFC enough times, forgot to scan the app and overall, saw very little value in the program.
To tackle this, KFC wanted to create a gamified loyalty program that would involve every customer, new or existing, from the start. With an incredibly well-considered app that encourages multiple uses per day, they built a craving for chicken while increasing app downloads and repeat customer purchases for a higher customer lifetime value.
Antavo's Enterprise Loyalty Cloud was chosen because of its in-depth rewards and gamification modules, and user-friendly and flexible Workflows and algorithms. Antavo's Workflows are the blueprints on Antavo's platform where program managers can configure each step of the user journey making for an agile and unique experience. In KFC's Reward Arcade, two interconnected Workflows were deployed; the first determining each customer's chance of winning and the second, regulating the types of rewards winners will receive.
The Workflows utilize an easy drag-and-drop model removing the need for coding specialists or IT professionals, as well as allowing KFC to continuously optimize the performance of Rewards Arcade as they gain more insight. This flexibility resulted in the project delivery being accelerated by over 100%.
When it came to revamping the loyalty program, KFC had three top priorities:
To allow customers to win instantly and more often.
To engage customers in an entertaining way.
To improve KFC's data acquisition.
The Rewards Arcade's creative gaming model uses KFC's known fun and vibrant brand image and puts it into the 3D space with classic arcade-style games. With a set percentage chance of winning a randomized reward, the Reward Arcade keeps experience-driven customers engaged for longer, which also provides an effective arena to communicate and introduce new features and games.
It all works through the app, which invites customers to play a game after every order thus helping to broaden the appeal and encourage greater ongoing engagement.
By introducing an instant-win element into their loyalty program, all KFC customers are rewarded including those who have only made one purchase and customers can play, win and claim their prize immediately. This approach helps the customer feel valued and appreciated from the start and provides instant gratification for their interaction that goes beyond the transactional.
KFC also included an opportunity for members to share their rewards with a friend, helping to build relationships and the online communities – another clever contributing factor to sustained engagement.
Customers can play twice a day in the Rewards Arcade's for a chance to win a prize, encouraging customers to interact with KFC more frequently and across different channels. This crucially enables the brand to collect customer data more holistically and in an omnichannel approach that builds better insight.
Ruby Huang, KFC CRM & Loyalty Lead comments that "Antavo helps KFC bring the gamified loyalty program to life, and we have already seen great results. What is more, the Antavo platform is very user-friendly and all the algorithms are configurable, providing KFC with the flexibility and efficiency needed to continuously optimize the performance of the KFC Rewards Arcade."