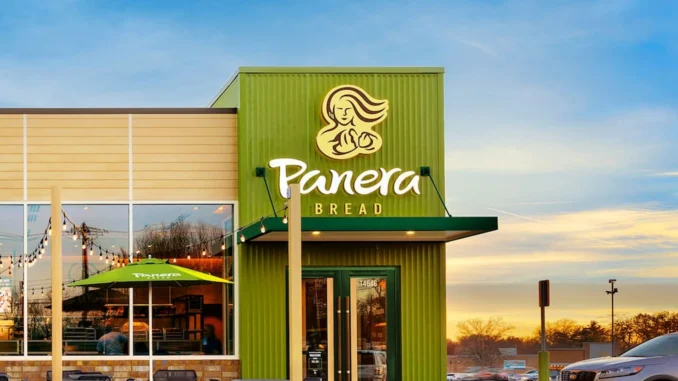 Panera Bread, which operates 2,118 bakery-cafes in 48 states and in Ontario, Canada under the Panera Bread or Saint Louis Bread Co., has launched Drive-Thru Pick-Up, combining the ease of the digital ordering experience with the convenience of the drive-thru window. Guests can now choose the Drive-Thru Pick-Up option when ordering ahead on the Panera app or website to get their order at the drive-thru without leaving their vehicle.
Digital sales at Panera represent more than 50 percent of total system sales, and with more than three million average transactions each week from digital channels including the app, kiosk, and web. Panera bakery-cafes featuring Drive-Thru Pick-Up will still offer the traditional Drive-Thru experience with the ability to order at the Drive-Thru screen. With Drive-Thru Pick-Up, guests who order ahead can simply announce their name at the speaker and pull ahead to the window, which allows for an even faster and more convenient way to pick up their order.
"Panera pioneered the idea of digital ordering in the restaurant industry, and for years, our guests have loved the option to order ahead and pick their items up on the Rapid Pick-Up® shelf," said Chris Correnti, SVP, Channels and Guest Experience, Panera Bread, in a press statement. "Now we're extending that convenience to the drive-thru, giving our guests another fast and convenient way to get their favorite Panera meal."
Panera has continually invested in the digital guest experience, creating new ways to order and receive food, including in-cafe kiosk, Rapid Pick-Up, Contactless Dine-In, and now Drive-Thru Pick-Up. The Panera app is one of the top-rated restaurant apps, and MyPanera, Panera's loyalty program that began in 2010, has more than 53 million members.
In March of this year, Panera began testing Amazon's palm-scanning technology in St. Louis as a faster way for customers to connect to their loyalty program and pay. Amazon One, the payment system that works by reading users' palm prints, has already been implemented in dozens of Amazon-owned Whole Foods locations, Amazon Go stores, and some stadiums and arenas.
The technology company has faced backlash from consumers and privacy experts for its use of biometrics, which use biological measurements to identify someone. However, Panera reportedly chose Amazon's technology because customers have to opt-in, and a person can't be identified by their palm alone. Panera's loyalty program has more than 52 million members, representing a big expansion opportunity for Amazon One. The palm scanners are located near the restaurant's registers. To use them, customers need to link their loyalty program accounts to Amazon One and enable loyalty identification and payment for their accounts.
Panera expanded the test to more restaurants over the next few months, including some operated by franchisees. The company believes that the payment plus loyalty identification is the secret sauce that can unlock a personalized, warm, and efficient experience for its guests in cafes, says George Hanson, Panera Chief Digital Officer. The fast-casual chain is the first national restaurant to integrate loyalty identification and payment into Amazon One, and the move may make it more attractive to investors, as it is currently privately owned by JAB Holding, the investment arm of the Reimann family. Panera attempted to go public last year, but it fell through due to market conditions. However, the company comfirmed in a press report just last week that it is again eyeing an IPO.
The use of biometric technology by Amazon has raised privacy concerns among consumers and privacy experts, who have warned that even palm scans can be a risk because that data is stored in the cloud. For example, Red Rocks Amphitheater in Colorado dropped Amazon One from the venue after privacy groups pushed it to reconsider. Recently, an Amazon Go customer filed a lawsuit alleging that the retailer broke the city's law that requires it to post signs informing customers that it's using facial recognition.

Panera is often among the first restaurant chains to test new technology solutions, especially ones aimed at maximizing efficiency and increasing the speed of orders. Last September, for example, it began testing AI technology in drive-thru lanes with the stated aim of improving and enhancing the guest experience. The voice AI ordering technology for drive-thru orders has been implemented in select Panera bakery-cafes in the greater Rochester, New York, with plans for a larger rollout. The technology, dubbed Tori, was developed by technology solution provider OpenCity. It takes orders as normal at the drive-thru speaker, with Panera associates on standby to assist if needed to troubleshoot any issues. Drive-thru guests can pull up to their Panera drive-thru, place their order as usual with assistance from Tori, and pay the Panera associate for their favorite menu items at the drive-thru window.
Last June, Panera opened its first Panera To Go, a new restaurant format offering digitally-enabled convenience for pick-up and delivery orders. The Chicago-based restaurant is the first of three so-called "Panera To Go" test locations scheduled to open this year. Panera To Go is a digital-only restaurant with a reduced front of house where customers and delivery drivers can easily pick up orders from dedicated pick-up and delivery shelves. Designed for densely populated areas that cannot accommodate a dine-in restaurant, the new format allows Panera to meet the demand in these areas for easy off-premise options.
With fewer front-of-house duties and simplified operations, Panera To Go workers are solely focused on meeting the unique needs of a guest on-the-go. Panera plans to open two additional Panera To Go locations in California and Washington D.C. this year and will also evaluate adding in kiosk and catering orders to the new format in the future. According to the company, the intention of Panera To Go restaurants is to service all dayparts, including breakfast, as applicable.
Restaurant technology innovation and adoption is nothing new for the 30-year-old company. Recent rollouts include updated ordering kiosks, automatic loyalty identification, and a fully digitized menu both in-cafe and in the drive-thru.
In 2020, the company launched "Panera Curbside," a geofence-enabled service that allows guests to have their order delivered directly to their car. The new restaurant model rolling out nationwide features a dual drive-thru with a dedicated pick-up lane among other digitally-powered elements.
Recently, the brand has been actively testing ghost kitchens, with five currently operational nationwide and more planned to open this year. The "Panera To Go" concept differs from ghost kitchens in that the new format offers a branded front-of-house experience where guests can quickly pick up digital orders on their own. Ordering and payment for orders are available on Panera's digital channels via the web or on the Panera app. The rollout of innovations like palm-scanning technology at the checkout counter and AI technology in drive-thru lanes should ultimately translate into cost reduction and increased revenue while also enhancing the guest experience, which is exactly what the company needs to show Wall Street as it gears up for its second attempt at an IPO later this year.