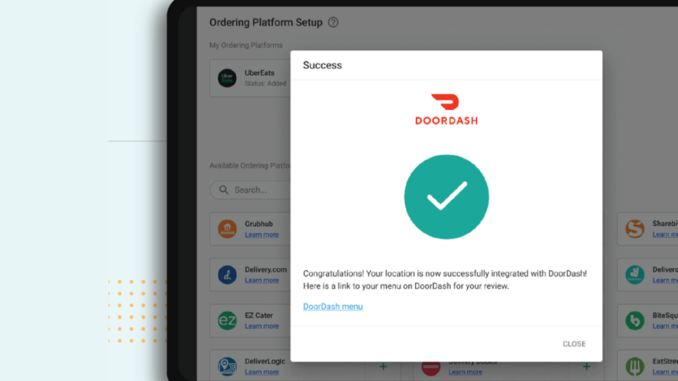 ItsaCheckmate, the center of a restaurant's digital ordering business, unveils it now supports Self-Serve Integration Onboarding with DoorDash as a vital part of its next-generation open-API Marketplace platform.
In November 2022, ItsaCheckmate announced the launch of Marketplace, a ground-breaking technology distribution platform allowing restaurants to add multiple ordering platforms through a simple user interface, connecting already integrated menus directly to their Point-of-Sale system. The platform's objective is to enable ItsaCheckmate customers to take locations live on new order sources themselves, with convenience and speed.
Staying true to its ethos of having deep-rooted ecosystem partnerships, ItsaCheckmate has worked closely with DoorDash to launch this new feature, reducing the average onboarding time significantly. This feature also lets restaurants control when a location should go live. They can choose any day of the week, including weekends, previously limited to only twice a week.
Committed to providing unmatched digital ordering and integration solutions, ItsaCheckmate is a trusted partner in driving sustainable growth and profitability in the hospitality industry. It powers scalable first-party ordering, guest engagement solutions, and seamless integrations with leading third-party platforms, helping Restaurants truly master omnichannel digital ordering. Its solutions are supported by robust analytics and reporting tools, which enable Restaurants to manage and protect every dollar of revenue while optimizing operations. ItsaCheckmate also houses a next-generation plug-and-play Marketplace solution, enabling restaurants to continually evolve their digital ordering strategies, keeping pace with industry trends. ItsaCheckmate's suite empowers operators to control online orders and menus directly from their POS, ensuring real-time updates, increased profits, reduced order errors, and improved customer satisfaction. ItsaCheckmate proudly works with nearly 25,000 global restaurant locations, integrating with 50+ POS systems and 100+ ordering platforms, including industry leaders like UberEats, DoorDash, and Grubhub.
"We are thrilled to unveil our latest collaboration with DoorDash," said Brett Jones, Vice President of Product Development, ItsaCheckmate. "This self-serve onboarding feature is a milestone achievement that enables our customers to effortlessly activate DoorDash, one of the country's most popular local commerce companies, with remarkable speed and simplicity. Our partnership with DoorDash has enabled us to provide this cutting-edge feature, which will surely provide our customers with significant benefits, including time savings and increased revenue."