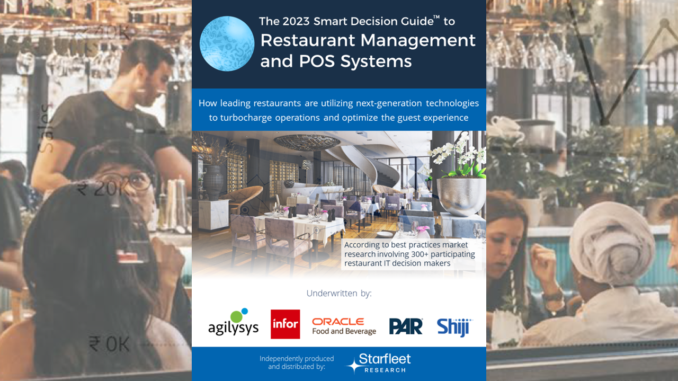 Starfleet Research, the leading provider of best practices IT research and recommendations for the hospitality industry, has announced the release of The 2023 Smart Decision Guide to Restaurant Management and POS Systems (now available for complimentary download).
The Smart Decision Guide reflects the current state of the industry, focusing on how restaurants are utilizing next-generation technologies to adapt to the new normal — and prepare for a brighter future.
The 2023 Smart Decision Guide to Restaurant Management and POS Systems marks the sixth edition of this popular title, widely regarded as the industry's most authoritative and comprehensive how-to resource for maximizing success with restaurant point of sale (POS) systems and related technologies.
Previous editions have been downloaded by thousands of senior hotel executives, general managers, revenue managers, IT directors and other decision makers seeking to upgrade their hotel technologies and have served as an invaluable resource. In fact, 92% of hotel executives rated the previous edition as "valuable" or "very valuable."
The 2023 edition is completely revised, updated and expanded from previous editions. Fifty pages in length, it explores how leading restaurants are utilizing next-generation technologies to turbocharge operations and optimize the guest experience.
A next-generation system empowers restaurants to streamline their operations, enhance the quality of the customer experience, and boost profitability. In fact, according to market research conducted by Starfleet Research for this Smart Decision Guide, 86 percent of full-service restaurants, and 73 percent of quick service and fast casual restaurants, achieved "significant" or "dramatic" improvement in revenue performance after deploying a next-generation restaurant management and POS system.
The best of these systems go beyond operational efficiency and revenue performance improvement; they also enable restaurant operators to adapt to changing consumer expectations, such as contactless interactions and personalized experiences.

This Smart Decision Guide (click here to download) provides a roadmap for success in purchasing and utilizing a next-generation restaurant management and POS. It offers insights for evaluating technology solutions, practical guidance for selecting the right system, and valuable pointers for maximizing the value of the investment, based on best practices market research. By embracing the power of next-generation technology, restaurant owners and operators are positioned to overcome present hurdles and future-proof their businesses, paving the way for increased growth, efficiency, and profitability.
The research is based on data collected from 322 qualified survey respondents. The content was independently produced, providing for unbiased, fact-based information. The underwriters of the new Smart Decision Guide, all of whom also participated as underwriters of previous editions, are the following industry leaders: Agilysys, Infor, Oracle Food & Beverage, PAR and Shiji.
Starfleet Research is the IT market research arm of Starfleet Media, parent company of the industry-leading publications Restaurant Technology News and Hotel Technology News.
Does your company have news it would like to share with our readers? If so, we invite you to review our editorial guidelines and submit your press release for publishing consideration.